Andrew Cuomo
The backlash to the Cuomo backlash has begun
Some political countercurrents are helping Gov. Andrew Cuomo weather the nursing home political storm.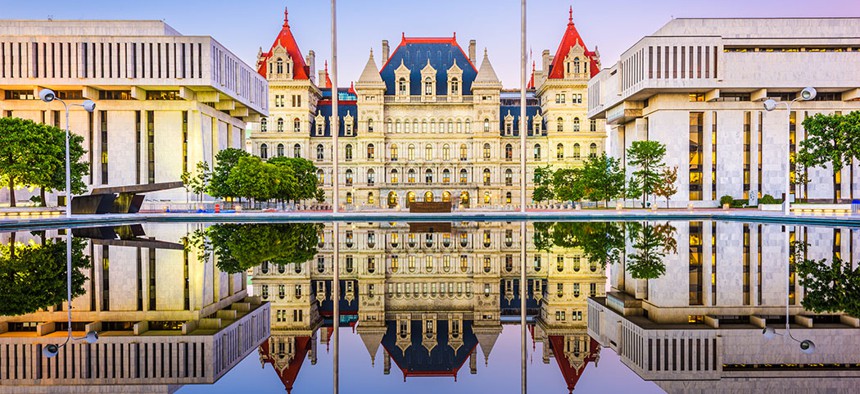 Nursing home deaths remain the dominant topic of political conversation in New York state. Members of the Assembly are meeting today to discuss whether to repeal the emergency powers state lawmakers granted Gov. Andrew Cuomo last year, though any repeal appears unlikely to happen until next week at the earliest. A package of bills is expected to pass the state Senate this afternoon that would enact a litany of changes to congregate living facilities – including a new requirement that the state Department of Health report all deaths involving nursing home residents. The governor for his part is demanding that his own reforms should be included in the upcoming state budget.
While it remains to be seen how much the nursing home scandal might hurt the governor and his chances for reelection, some political countercurrents are already developing as some state lawmakers want to focus more on the pandemic and the budget rather than increasingly bipartisan calls to impeach the governor.
"Clearly there's more to do on the nursing homes," Assembly Member Patricia Fahy of the Capital Region told Politico New York. "But right now, people care first and foremost about jobs and vaccines." State lawmakers and activist allies are also looking to invest their political energies on raising taxes on the wealthy, legalizing recreational marijuana and reforming the criminal justice system.
Longtime political watchers meanwhile note how the ongoing political storm over nursing homes has brought more attention to Cuomo's personal political style that a growing chorus of critics liken to bullying. "(New Yorkers) have seen him get impatient with partisan politics and disingenuous attacks, and New Yorkers feel the same way," Cuomo spokesperson Rich Azzoparditold The New York Times. "They know you must fight to change the status quo and special interests to make progress, and no one has made more progress than this governor." Cuomo'srecent vow to be even more "aggressive" with his critics in the state Legislature suggests he is not going to change anytime soon.
Past scandals over an ethics commission, a bid-rigging scheme and Cuomo's reported interference in the inner workings of the Joint Commission on Public Ethics have highlighted how political problems have come and gone, yet Cuomo is still standing. "The 2022 Democratic primary for governor isn't until at least another 16 months," political consultant Bradley Tusk wrote in the Daily News. "Unless criminal investigations produce indictments just ahead of or in the middle of the primary, Cuomo's reelection will not be dominated by this one issue." The governor's ongoing popularity with voters highlights how a scathing report on nursing homes by state Attorney General Letitia James did not seem to damage his standing with the liberal voters who hold the keys to his political future.
And while Cuomo's critics on both sides of the ideological spectrum are keeping the nursing home scandal in the headlines, there is already the chance that they could overextend themselves. Democrats in the state Senate already got a taste of that weeks ago when someone among them reportedly floated the idea of using the threat of subpoenas as leverage in the state budget process, an idea that Cuomo quickly compared to extortion. Cuomo's recent attacks on Assembly Member Ron Kim have highlighted how the governor can counterattack by highlighting unflattering information about his critics. Some political insiders say some among them might even have it coming. "There are a lot of people living in glass houses right now," one legislative staffer told City & State of reports in the media of the governor's poor treatment of staffers. "It's really frustrating to see the hypocrisy."
If lawmakers focus more attention on the pandemic or the budget, they could divert political energy from ongoing efforts to investigate Cuomo or remove him from office. They might help Cuomo get through his political troubles relatively unscathed in the weeks and months ahead.