New York State
What the repeal of walking while trans ban means for LGBTQ rights
Activists say a new era of equal rights is beginning in New York.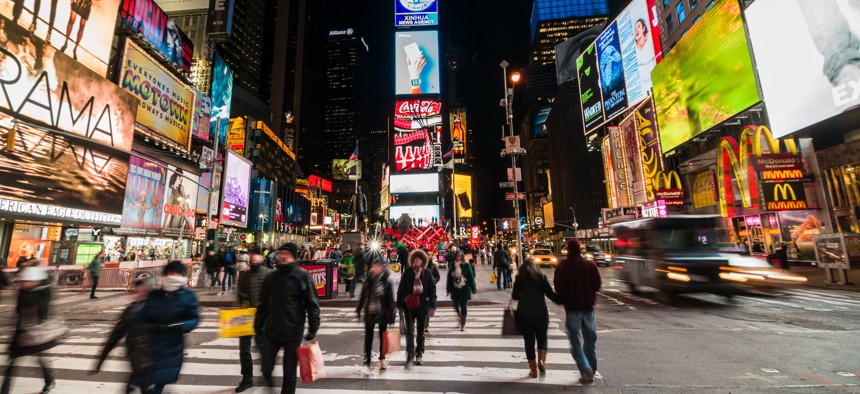 Advocates have had great successes over the past decade in securing the same rights for LGBTQ people as straight and cisgender people. State lawmakers legalized same-sex marriage in 2011. The Democratic takeover of the state Senate in 2018 paved the legislative way for the passage of the Gender Expression Non-Discrimination Act early the following year, which outlawed discrimination on the basis of sexual orientation and gender expression in workplaces, housing and public accommodations across the state. That push continues under the new Democratic supermajorities in the state Legislature. "It's one of the longest preexisting bills prior to the Democratic takeover," state Sen. Brad Hoylman of Manhattan said in an interview about legislation taking aim at a state law opponents have dubbed the walking while trans ban.
The Feb. 2 passage of legislation to repeal the 1976 "loitering for the purposes of prostitution" statute could mark an important turning point in the decadeslong effort to ending discrimination based on sexual orientation and gender identity in New York state. However, any final decision depends on state lawmakers winning over Gov. Andrew Cuomo, who included several LGBTQ-friendly proposals in his state budget, to their version of the legislation. (Editor's note: Cuomo signed the bill shortly after this story was published.)
The bill that passed the state Senate and Assembly would seal the criminal records of people convicted of prostitution-related offenses – while the version of the legislation included in Cuomo's proposed budget does not. Activists are urging state lawmakers to hold the line on the issue. "We need to go back and kind of undo some of those wrongs that have happened," Amanda Babine, executive director of the advocacy group Equality New York, said in an interview. A spokesperson for the governor did not respond to a request for comment by publication time, but the governor has expressed a willingness to expunge criminal records in a previously passed law loosening state marijuana laws, which suggests that he might budge on this issue. In the meantime, the current loitering law continues to exact a heavy toll. "In 2020, there were only six arrests made under the current statute – further underlining the archaic nature of the law and need for its repeal," Assembly Member Amy Paulin of Westchester County, who sponsored the bill in the chamber, said in a statement.
Getting New York to ditch the statute could make a big difference in getting other states to pass their own versions of the law, according to activists. "I'm a Black woman of trans experience," Kiara St. James, co-founder and executive director of the New York Transgender Advocacy Group, said in an interview. "I've been profiled simply for standing out with my girlfriends in Midtown, and police officers assuming that we were sex workers." The law also gave people outside of law enforcement their own weapon to use against transgender and gender-nonconforming people. "Men and women knew that all they had to do was tell a police officer that (you) were solicited, even if you weren't, and we will be locked up or harassed and we will move away," St. James added.
Final passage of the repeal means LGBTQ advocates have one less bill to worry about when it comes to winning equal rights. "Once we get it passed, there is going to be a whole raft of legislation," Hoylman said. This could include renewed efforts to expand gender identities (which was included in one budget bill) on driver's licenses, expand gender-neutral bathrooms at public colleges, and legislation making schools more inclusive of children's own gender preferences. Such efforts are all important in their own ways, according to Babine, but taken together they reflect a growing need to focus on tweaking landmark laws passed in recent years. "We have overcome so many hurdles, (but) some of these policies are still lacking in the implementation of them," she said of laws like GENDA, which have limited purview over incarcerated people and school children. One proposal in Cuomo's state budget would "prohibit judges from considering issues of sexual orientation and gender when deciding what is in the child's best interest in custody cases."
Democratic control of the state Legislature and the executive branch mean that such legislation is likely to pass even if there are some differences between Cuomo and legislators on bills like the repeal of the walking while trans ban. Yet, despite Democrats' newfound power in New York and the election of President Joe Biden, the political winds are blowing against increased rights for LGBTQ people in some areas of the country. The conservative majority on the U.S. Supreme Court could even jeopardize progress in the Empire State, according to Hoylman. "It's possible, unfortunately, that issues like adoption and so-called conversion therapy and support for LGBTQ youth and First Amendment grounds to oppose LGBTQ equality may get a second look," he said.
Confronting reactionary politics while improving civil rights for LGBTQ people could come down to activists maintaining the same level of political energy moving forward as they exhibited during the years that culminated in the passage of landmark laws like GENDA and the repeal of the walking while trans ban. But the coronavirus pandemic adds another way to highlight how the fight for LGBTQ rights is really part of much larger efforts to create a more equitable society, according to St. James. "We have to learn new ways of creating this new normal," St. James said. "We have to also make sure that we are not leaving anyone behind."
Powered By
NEXT STORY: Burning questions for the District 24 special election