Andrew Cuomo
Where things stand with Cuomo's nursing home scandal
Several plotlines have emerged as the governor's political headaches multiply.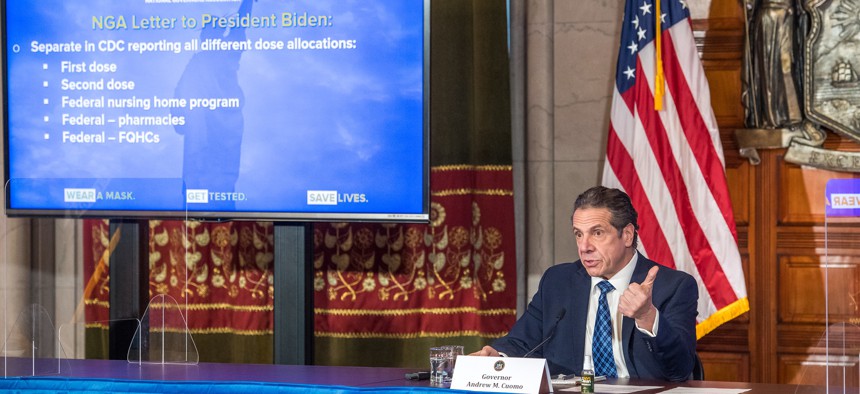 The political scandal surrounding COVID-19 deaths among nursing home residents was once a relatively straightforward matter. State lawmakers and others asked Gov. Andrew Cuomo to release more data. His administration said they needed time to fulfill the request. The impasse lasted for months until state Attorney General Letitia James released a scathing report three weeks ago on the state's handling of nursing home deaths – and things have only gotten more complicated from there.
There are now several subplots to the growing maelstrom surrounding the governor's handling of COVID-19 deaths. Federal investigators have launched an investigation. Democratic lawmakers are in revolt. The national media is turning on him after nearly a year of mostly positive coverage. Political foes like New York City Mayor Bill de Blasio and U.S. Sen. Ted Cruz are scoring as many political points as they can at the expense of the three-term governor.
City & State has a breakdown of what all these different threads mean on the day after the release of a transcript detailing a conversation last week between top Cuomo staffers and state lawmakers, the governor's subsequent attacks on Assembly Member Ron Kim and news that federal prosecutors are investigating the governor.
What does the transcript show?
Cuomo aides said all sorts of interesting things about the state's response to COVID-19 during their Feb. 10 Zoom conversation with state lawmakers, but only one section suggests the administration was withholding information about nursing home deaths. "We weren't sure if what we were going to give to the Department of Justice or what we give to you guys ... was going to be used against us," Secretary to the Governor Melissa DeRosa said. Yet, her comments could be read in two ways. One way could mean that members of the administration were intentionally withholding data from the DOJ. Or, maybe they were just afraid of Twitter attacks from then-President Donald Trump? The Associated Press reports that some career prosecutors with the DOJ were also feeling queasy about why Trump pushed the agency to request information from the Cuomo administration about nursing home deaths.
So what are federal investigators doing now?
It remains unclear just how big of a connection there is between the DOJ requests for information from last summer and an investigation by the FBI and the U.S. Attorney's Office for the Eastern District of New York that was first revealed by the Times Union on Wednesday. It remains unclear though what potential crimes investigators might be considering. "The probe by the U.S. attorney's office in the Eastern District of New York is apparently in its early stages and is focusing on the work of some of the senior members of the governor's task force," the Times Union wrote, citing an anonymous source. Why is Eastern District of New York, based in Brooklyn, getting involved? One reason is that the acting head of the Southern District of New York, which covers Manhattan and areas to its north, is DeRosa's mother-in-law Audrey Strauss.
How are state lawmakers reacting to Cuomo's attacks on Assembly Member Ron Kim?
Assembly Member Ron Kim, a Queens Democrat, spent much of Thursday morning making media appearances the day after Cuomo attacked his integrity during a conference call with reporters. Cuomo has said that he could bite his tongue no longer after months of criticisms by Kim, so he called him up last weekend. The governor said he was only trying to get Kim to correct comments made to the New York Post while Kim said the governor threatened his career and physical safety. A wave of supportive statements from Democratic colleagues and other progressive notables following Cuomo's comments to the press.
What are the legislative leaders up to?
Assembly Speaker Carl Heastie and state Senate Majority Leader Andrea Stewart-Cousins appear to be balancing outrage among the members with their needs to maintain a working relationship with the governor as the state budget process continues. Democratic members of the state Senate though have been making moves behind the scenes to rescind Cuomo's emergency powers next week. That would add additional pressure on Heastie. Some members of his conference appear cool to the Senate's idea of establishing a 10-member commission to approve future emergency orders by the governor. It hardly helps the speaker's position that some political observers are now comparing the conciliatory statement that he issued after Cuomo's Wednesday attack on Kim to the reaction that former Speaker Sheldon Silver had when former Gov. Eliot Spitzer went after Assembly Member Bill Magnarelli.
Wait, U.S. Sen. Ted Cruz is in on this action?
The Texas lawmaker and his GOP colleagues are aiming to kill two birds with one stone by calling for President Joe Biden's attorney general nominee, Merrick Garland, to commit to investigating Cuomo's handling of nursing home deaths. He is hardly the only one who is looking to nationalize the scandal. State Republican Party Chair Nick Langworthy – who spent much of late 2020 and early 2021 encouraging efforts by then-President Donald Trump to overturn the results of the presidential election – scheduled two press conferences Wednesday outside the Albany and Rochester offices of U.S. Senate Majority Leader Chuck Schumer, who does not appear to be eager to comment on the matter. The growing outrage in conservative media is even giving longtime Western New York GOP operative Michael Caputo a second chance at political relevance after he left the Trump administration last year following a controversial Facebook rant.