New York City
Another Cuomo scandal and a pot deal reached
Rounding up the week's political news.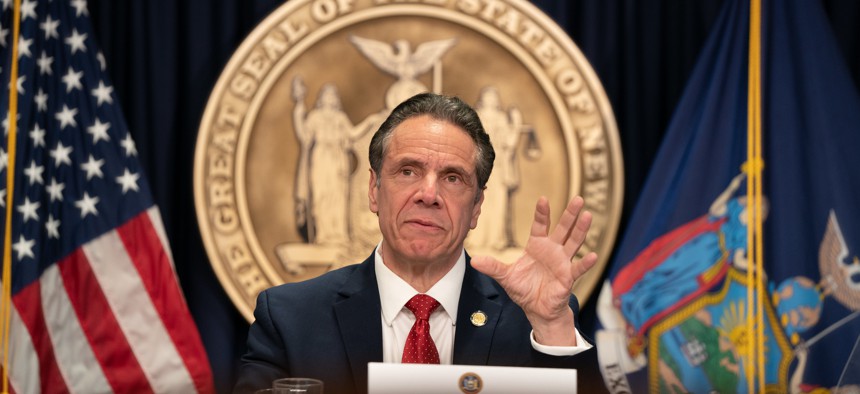 It was a busy week in New York. New York City had two special elections in the Bronx, and since no candidate got more than 50% of the vote, that means the contests will be decided with ranked-choice voting. Gov. Andrew Cuomo announced that nursing homes will once again allow visits, almost exactly a year after a controversial Health Department directive instructing nursing homes to accept patients recovering from COVID-19. Plus, we got some dolphins in the East River as a treat.
Keep reading for the rest of this week's news.
Another Cuomo scandal 
The hits keep coming for Gov. Andrew Cuomo, as each week seems to bring a new scandal. According to multiple reports, Cuomo and the state Department of Health provided priority coronavirus tests at the beginning of the pandemic to those with ties to the governor, including his family members and a pharmaceutical company president manufacturing COVID-19 tests for the state. At the time, the supply of testing kits was extremely low, as was the state's capacity to perform the tests, and Cuomo was urging New Yorkers not to get tested unless they were exposed to someone who had the virus or they were feeling ill. After the news about the alleged preferential treatment broke, Assembly Member Charles Lavine, chair of the Judiciary Committee, said the impeachment investigation would include these new reports. Earlier in the week, the committee held a meeting to introduce the lawyers from the law firm Davis Polk & Wardwell who would be helping to conduct the investigation. At that meeting, Lavine warned that the investigation would likely take months, rather than weeks.
Pot deal reached
Although the bill language remained unpublished as of Friday, state lawmakers and the governor reportedly reached a deal to legalize recreational marijuana, with plans to pass a bill before the budget. According to reports, the deal reflects many of the aspects included in the proposal previously introduced by Assembly Majority Leader Crystal Peoples-Stokes and state Sen. Liz Krueger, known as the Marijuana Regulation and Taxation Act. The deal would set aside 40% of tax revenues for a social equity community grant fund, with 40% of that money going to education and 20% going toward drug treatment and education. The deal would also permit people to grow up to six plants at their private residence, purchase up to three ounces of marijuana and would impose a 9% sales tax at the state level and a 4% sales tax at the local level for municipalities that choose to impose it. Additionally, towns, cities and villages would be able to opt out of sales, a change from the governor's proposal this year that gave that option to entire counties.
Nursing home immunity close to repeal
The state Senate passed legislation to repeal a law that was part of last year's budget that provided immunity to nursing homes and hospitals related to care of patients with COVID-19. Although some of those protections were partially repealed last year, this legislation would fully eliminate the legal protections that were previously established. The measure unanimously passed the state Senate after already passing the Assembly. The bill now awaits a signature from Cuomo, who has not signaled what he will do.
Police reforms passed in NYC 
The New York City Council passed a package of police reform bills, including one that would roll back qualified immunity for police officers. The legal doctrine has long been used by police officers to protect themselves against lawsuits that they violated someone's constitutional rights. Although ostensibly meant to help officers perform their duties without fear of being sued for actions they may be forced to take, qualified immunity has made it incredibly hard to hold police officers accountable for alleged instances of brutality. While the legislation does not completely eliminate qualified immunity, it establishes that it cannot be used as a defense against charges of excessive force. Mayor Bill de Blasio said he plans to sign the bill. It was part of a larger package that codified de Blasio's police reform plan required by the state. The reforms drew scrutiny from both police unions, who said they handicap cops, and criminal justice activists, who said it didn't go far enough.
3K expansion in NYC
De Blasio pledged the city's preschool for 3-year-olds program would expand to all of the city's community school districts by the fall, a culmination of one of the mayor's landmark programs and a major part of his legacy. It's an offshoot of his universal pre-K initiative, and one of the few big successes de Blasio can tout as he prepares to leave office. The expansion comes thanks to federal money from the latest COVID-19 stimulus package.
Powered By
NEXT STORY: What to know when pot goes legal