New York State
As Cuomo's woes pile up, Stewart-Cousins and Heastie now call the shots
The center of political power shifts towards the state Legislature as an impeachment investigation is the latest sign that state lawmakers are increasingly in charge.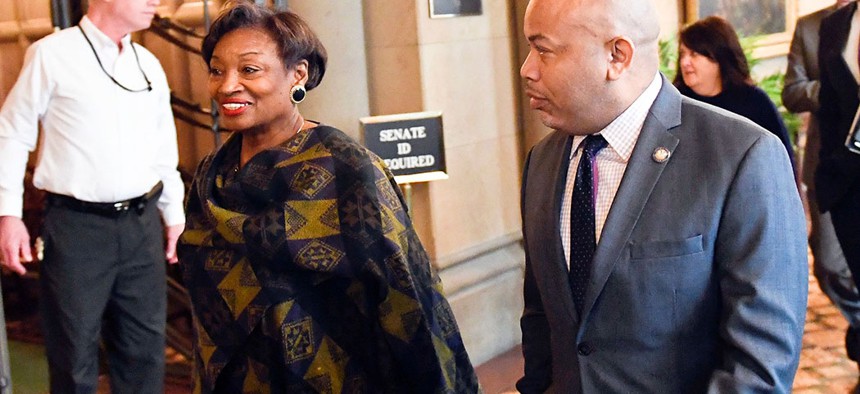 Saturdays have have been something special for Gov. Andrew Cuomo for quite some time. If the last four weekends are any indication, the increasingly embattled governor better watch out for another bombshell especially now that the likes of Rep. Alexandria Ocasio-Cortez and Jerrold Nadler and Long Island Democratic state senators are joining calls for his resignation following accusations of sexual harassment and assault. Oh yeah, and this story about workplace abuse just came out in New York Magazine.
"There is still a question of the truth. I did not do what has been alleged period. I won't speculate on people's motives," Cuomo told reporters during a March 12 conference call. "I have not had a sexual relationship that was inappropriate."
It is bad enough that the Assembly has started an impeachment investigation alongside the ongoing probe overseen by Attorney General Letitia James, but now the governor is increasingly finding that his tired-and-true political survival strategies are not working like they used to. Past staff are speaking up. Legislators are pushing back and his decade-long grip on power appears to be loosening like never before.
Cuomo will likely remain the focus of state politics through the weekend, especially if new allegations of misconduct, or anything having to do with nursing homes or safety concerns at the Mario M. Cuomo Bridge, surface anytime soon. Yet, there are a few reasons to believe that state Senate Majority Leader Andrea Stewart-Cousins and Assembly Speaker Carl Heastie are going to be the people driving the political conversation moving forward.
The governor has not made any public statements since the Times Union reported this week that he allegedly "aggressively groped" an aide at the Executive Mansion a few blocks away from the Capitol, but he has said that he never touched anyone "inappropriately" and is not going to resign. Stewart-Cousins and Heastie are the only two people who can truly make him leave, which has stirred up lots of talk about what it means for budget negotiations and Cuomo's eventual political fate.
"The reports of accusations concerning the governor are serious," Heastie said in a March 11 statement. "The committee will have the authority to interview witnesses, subpoena documents and evaluate evidence, as is allowed by the New York State Constitution." Stewart-Cousins called for Cuomo to resign last weekend, which presumably would mean that she would push for his removal from office, even though she will not get to actually vote in a future impeachment trial because she would have to temporarily assume the duties of lieutenant governor per the state Constitution. 
Members of the Assembly could end up impeaching the governor, which would make Lt. Gov. Kathy Hochul the acting chief executive, by a majority vote. An impeachment trial of state senators and members of the judiciary could then remove him permanently from office if two-thirds of them vote for conviction. While there appear to be enough votes to do both in theory, based on the number of lawmakers who have said Cuomo should go because of one type of alleged transgression or another, calling for his resignation or impeachment is still different than actually voting on an actual legislative resolution. Political uncertainty appears likely for weeks if not months at the very least. It depends on how fast Heastie and James want to go on their respective probes.
The governor meanwhile is stuck in a tough spot and state lawmakers appear to be using this to their full advantage. Proponents of legalizing recreational marijuana suggest they could pass their hot-button proposal even before the April 1 deadline. They may or may not have the votes to do that, but the suggestion of acting alone could make the governor offer additional concessions on the issue moving forward. A similar dynamic could play out with a proposed package of criminal justice reform that would make more people eligible for parole and place new limits on solitary confinement. Democrats also appear eager to push the governor hard on raising taxes on the wealthy though not nearly as hard as activists on the political left want them to. 
Protests outside the New York City offices of Heastie and Stewart-Cousins is another sign of how increased leverage against Cuomo puts more political pressure on the legislative leaders from the political left. "Every year the Assembly and Senate have cited the governor as the primary obstacle to reversing the tragedies of historic homelessness and overdose in New York State," Paulette Soldani, political director at advocacy group VOCAL-NY, said in a March 12 statement. 
Cuomo is going to remain governor for at least for a while longer given his past statements,remaining political strength and the likely speed of the ongoing investigations. Yet, four weekends' worth of bad stories have undoubtedly undermined the position of the longtime master of Albany. The upcoming days could determine whether he really is as politically wounded as a growing number of people think he is and what Stewart-Cousins and Heastie – the other two of the "three people in a room" who call the shots in state politics – do next as pressure grows on Cuomo to just give it all up and go. 
Powered By
NEXT STORY: Survey: Queens voters felt good about ranked-choice voting