Andrew Cuomo
Cuomo investigations move forward and one-house budgets approved
Rounding up the week's political news.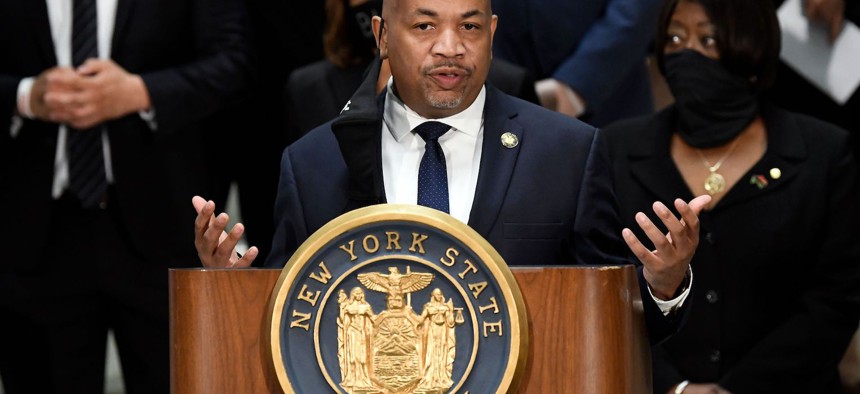 The week started with some Sunday breaking news: Larry Schwartz, an adviser to Gov. Andrew Cuomo who is leading the state's vaccine distribution, called county executives to gauge their loyalty to the governor amid his growing scandals, while still discussing vaccinations. And it made at least some of them uncomfortable and led to backlash. The week ended with a new Quinnipiac University poll that found 49% of New Yorkers still oppose his resignation, but his approval ratings are hitting historic lows – all while Cuomo is singing "Happy Birthday" to an ally and laughing it up with retired baseball players at press conferences without reporters present. Keep reading for the rest of this week's news.
Cuomo investigations move forward
Assembly Speaker Carl Heastie and Assembly Judiciary Committee Chair Charles Lavine announced they had hired a law firm to help with the chamber's impeachment investigation. But their choice of Davis Polk & Wardwell was met with immediate backlash because of its ties to a Cuomo ally. Dennis Glazer, who is married to Court of Appeals Chief Judge Janet DiFiore, was a partner at the firm for over 30 years. Debra Katz, the lawyer for Cuomo accuser Charlotte Bennett, called it "an unacceptable conflict of interest." The announcement came after a contentious Assembly Democratic gathering about the impeachment investigation was leaked. During the meeting, which took place shortly before the speaker announced the Assembly would launch an investigation rather than begin a formal impeachment inquiry, Heastie touted the importance of "due process" when defending the plan to move forward with an investigation. Some members said the move was just a stalling tactic to buy Cuomo time. Lindsey Boylan, the first former Cuomo staffer to accuse him of sexual harassment, said she would not cooperate with the Assembly investigation, calling it a "sham." She is however participating with the state attorney general's investigation and has spoken with investigators. Other accusers, including Charlotte Bennett and Ana Liss, have also spoken to the attorney general's office. When he became aware of the leak, Heastie abruptly halted voting on the floor to gather his members into another closed-door meeting, where he told them he would not hold any more virtual meetings with the whole conference, instead only planning to hold smaller group meetings. The Executive Chamber has hired lawyers to represent its staff in the ongoing investigations being conducted by the Assembly and the attorney general. Cuomo's office is also conducting its own investigation into the groping allegations made against the governor by a staffer who remains anonymous.
One-house budgets approved
The state Senate and the Assembly approved their one-house budget resolutions, offering competing visions for state spending. Both chambers proposed significant spending increases, bringing their proposed budgets to over $200 billion. The budgets included $8.2 billion in new taxes, far more than the $1.5 billion in temporary tax hikes that Cuomo had put forward but still falling well short of the $50 billion that progressives want. The proposals include higher income taxes for the wealthy, a pied-à-terre tax on second homes, new capital gains tax and increasing the estate tax rate – although some differences exist between the two chambers' proposals. Both chambers have also put forward far more education funding, both in Foundation Aid and in additional money to fulfill the 2006 Campaign for Fiscal Equity ruling, which has been an ongoing battle. Notably absent from the resolutions was legislation to legalize recreational marijuana. Lawmakers, including state Senate Majority Leader Andrea Stewart-Cousins, say they're close to a deal with the governor with a few sticking points including the number of plants a person can grow for their own use and how to deal with impaired driving. They expect legislation to pass before the budget.
Solitary confinement bill passes
A bill to end the use of long-term solitary confinement in New York passed both chambers of the state Legislature after years of advocacy. Criminal justice advocates have pushed for the Humane Alternatives to Long-Term Solitary Confinement Act that would stop the use of segregated confinement for more than 15 days. The United Nations says that confinement for longer than that constitutes torture. The legislation has been opposed by corrections officers, who argue that doing away with long-term solitary confinement puts them in danger and they don't have faith in the alternatives that the bill would create. The legislation now awaits action from the governor.
More COVID-19 reopenings
Each week, more and more of the state opens back up. Cuomo finally lifted the last remaining yellow zone restrictions that still existed in New York City. He announced that large outdoor stadiums – including Citi Field and Yankee Stadium – could open at 20% capacity, in time from the Mets and Yankees home openers. The governor also opened indoor fitness classes at 33% capacity – something that New York City Mayor Bill de Blasio was not happy about. And Cuomo dropped the 11 p.m. curfew for bowling alleys and gyms, but kept them in place for bars and restaurants.