Andrew Cuomo
Cuomo still controls the state response to COVID-19
A just-enacted law gives state lawmakers a bigger role, but the governor remains the driving force.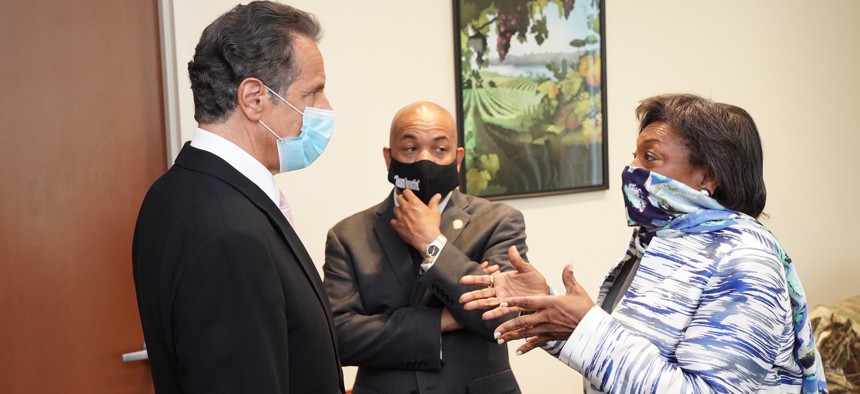 In the second year of the coronavirus pandemic, Gov. Andrew Cuomo will no longer be able to effectively rule by decree on everything from hospital capacity to cocktails to-go, thanks to the recent repeal of his emergency powers put in place one year ago.
Losing those expanded emergency powers does reduce the governor's options when it comes to controlling the state response to the pandemic, but the new law still leaves him with a lot of power. He can still extend existing public health orders and lawmakers are still stuck in the position of either going along with him, or taking some form of proactive action to stop him. The bottom line is that Cuomo will remain in the driver's seat for making pandemic policy. 
The bill signed into law March 8 blocks Cuomo from issuing any more executive orders under the sweeping emergency powers state lawmakers approved the day after the first confirmed case of the coronavirus in New York state. While he can still extend existing orders for an infinite number of 30-day increments, the state Legislature now gets more time to respond. 
Legislative leaders have described the changes less as a rebuke of the governor, whose administration has been accused of covering up COVID-19 deaths in nursing homes, and more as a much-needed recognition of ongoing progress against the coronavirus. "I think everyone understands where we were back in March (2020) and where we are now. We certainly see the need for a quick response but also want to move toward a system of increased oversight and review. The public deserves to have checks and balances," state Senate Majority Leader Andrea Stewart-Cousins said in a March 5 press release. "This legislation creates a system with increased input while at the same time ensuring New Yorkers continue to be protected." 
Legislators could theoretically take a bigger role in managing things like indoor dining capacity, vaccine eligibility or whether existing microclusters should remain in place. But, while the details of the new law are complicated, they suggest that the governor will continue to drive pandemic policymaking. Here are four reasons why.
State lawmakers always had the ability to "terminate" any executive order issued by the governor.
Under the expanded emergency powers they approved in 2020, state lawmakers could overrule any gubernatorial order made under that law by passing a resolution, which the governor cannot veto, by majority votes in both houses. This remains the case under thenew law. Yet, legislators have not exercised this power a single time since the pandemic began. 
Once they began reconvening during the pandemic in the late spring, legislators did begin asserting themselves against the governor through the normal legislative process on a range of issues from voting rights to whether a phone interview suffices to check someone's eligibility for public assistance. The late 2020 effort to extend a statewide rent moratorium is a good example of where legislators took action that superseded existing gubernatorial orders. 
Lawmakers still got an easy out when it comes to managing unpopular decisions.
The governor can no longer issue new orders under the emergency powers approved in March 2020, but he can still modify or extend dozens of existing orders in 30-day increments as long as they are related to "managing the COVID-19 pandemic." What types of policies meet that could be a matter of interpretation, though the Cuomo administration would also have to provide a "detailed explanation" of how any changes would affect efforts to control the "spread and/or reduction of the COVID-19 virus, facilitate vaccine distribution or administration, or require the use of face coverings," according to the legislative language he signed into law on March 8 of this year. This gives legislators an easy out when it comes to continuing public health measures that are already in place – especially when they concern relatively unpopular measures like restrictions on social gatherings or mask mandates. However, they might have to address more tangential matters like existing orders allowing to-go drinks from bars or risk letting them expire in early April.
Under the new law, Cuomo can extend his emergency orders. If the Legislature doesn't like it, they could reconvene and pass a resolution overturning the changes. But they would need to pass a bill of their own to enact a policy of their own. The governor would still have his regular emergency powers – those that predate COVID-19 – in the event of any future crisis. 
The Legislature only gets an advisory role in approving these extensions and changes.
The new law requires the governor to give legislative leaders, committee heads and local leaders (in situations affecting a specific place) at least five days' heads up before any changes could be made. While he could take or leave whatever comments they make, he would no longer be able to unveil sweeping changes in state law with no warning like he could for the past year when legislators, reporters, and the general public heard of new decisions at the same time, whether via press releases or Cuomo's much-watched COVID-19 briefings. 
It all depends on how proactive they want to be. 
Let's say, for the sake of argument, that the governor and lawmakers really disagree about something. For example, the governor (hypothetically!) wants to allow indoor dining in non-New York City restaurants to operate at 100% capacity. State lawmakers want it at 50%. Who would win in such a stand-off? 
The new rules give the governor a few straightforward options. He could do nothing and allow current restrictions to expire once the current 30-day period concludes. However, that might mean allowing restrictions on New York City restaurants to expire as well. That is not exactly what he wants to happen, so he tells city officials, legislative leaders and their health committee chairs how he wants to change the rules and hopes they raise no hell in the next five days. And even if they do, he implements the policy anyway and dares them to overrule him.
Lawmakers could challenge the public health merits of the change through the judicial system. They could pass a resolution nullifying the governor's changes. They could even pass a bill the day before he is even able to implement them. If he vetoed that bill, they could override him by a two-thirds vote in each chamber. It all just depends on how proactive state lawmakers really want to be against a governor whose powers, while reduced, remain formidable.