Andrew Cuomo
Eyes turn to potential Cuomo impeachment and federal aid headed to NY
Rounding up the week's political news.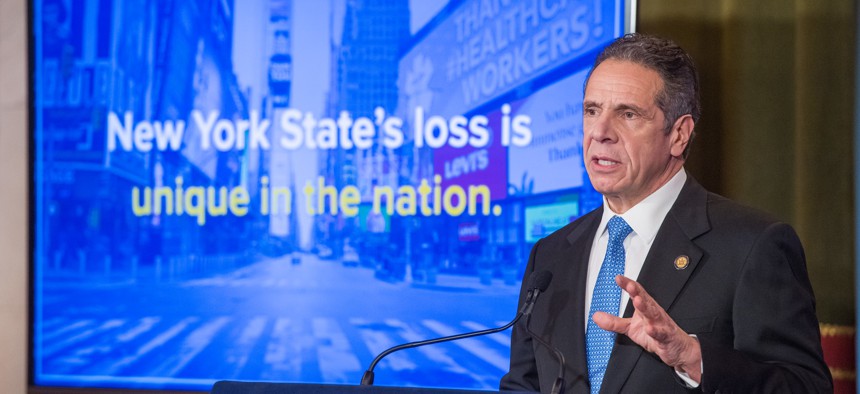 It was inevitable that something like this would happen. As more and more women come forward accusing Gov. Andrew Cuomo of sexual misconduct, driving talks of resignation and impeachment, some on the internet are pushing a totally unfounded conspiracy theory that this is all a ploy to get Cuomo out of office so Donald Trump can be pardoned. Which … doesn't make sense? This "Cuo-Anon" conspiracy, as Assembly Member Ron Kim called it, doesn't hold up to scrutiny. But the allegations against Cuomo are very real, as are the potential consequences for him.
Keep reading for the latest on the scandals, and everything else that happened this week.
Impeachment inquiry 
After weeks of building pressure, Assembly Speaker Carl Heastie authorized an impeachment investigation into Gov. Andrew Cuomo, to be conducted by the chamber's Judiciary Committee, over recent sexual misconduct accusations and his alleged cover-up of COVID-19 nursing home deaths. Heastie's announcement doesn't mean the Assembly is actually moving to impeach the governor yet, or even that an impeachment vote is guaranteed to happen, but the historic move brings lawmakers one step closer to the prospect. And it indicates that whatever remaining support Cuomo has in Albany seems to be dwindling. A growing number of state lawmakers have called on Cuomo to resign. Every Republican state senator wants him out, and 59 Democratic legislators released a joint statement reiterating their individual calls for him to step down. New York's two senators, Chuck Schumer and Kirsten Gillibrand, and at least 10 Democratic members of New York's congressional delegation, including Reps. Alexandria Ocasio-Cortez, Jerry Nadler, Jamaal Bowman and Carolyn Maloney, joined in the chorus of calls for Cuomo's resignation. However, nearly two dozen female Assembly members released a statement asking people to wait for the conclusion of Attorney General Letitia James' independent investigation. Their announcement came after details about a sixth accuser came to light that represented an escalation from the previous claims. An unnamed female aide to the governor claimed Cuomo groped her when they were alone in the Executive Mansion last year. The governor's office referred the complaint to the Albany Police Department. This is on top of the ongoing nursing home scandal, which is in part driving calls for Cuomo's resignation and impeachment. In the latest development, the Cuomo administration reportedly tried to get details from the federal government about what numbers they would release about COVID-19 deaths in nursing homes, and whether they would differ from what the state publicly reported. At the time, the state was not including hospital deaths of nursing home residents, which the federal data included.
Next round of COVID-19 relief approved
Congress passed and Biden signed an enormous $1.9 trillion coronavirus relief package that's set to deliver some $100 billion to New York state. In addition to money for struggling small businesses, schools, transit and other things, the stimulus includes direct and unrestricted funds sent to state and local governments. The state will receive about $12.6 billion – a little less than the $15 billion Cuomo had been demanding for months, but still a huge sum that U.S. Senate Majority Leader Chuck Schumer's spokesperson said was more than enough to cover the state's budget deficit. The aid package was approved as budget negotiations begin to ramp up in Albany amid differing opinions about the actual state of New York's finances. The governor's office continues to paint a fairly grim picture, even with the cumulative aid that the state has received, while state Comptroller Thomas DiNapoli said that New York might actually be looking at budget surpluses this year and next, while still warning about a cloudy long-term outlook. New York City will also receive $6 billion, independent of the state's funding.
Vance not running for reelection 
After months of speculation, Manhattan District Attorney Cyrus Vance Jr. announced Friday that he won't run for a fourth term. Although this was the first confirmation he wasn't running, his lack of fundraising and failure to participate in candidate forums indicated the announcement was a long time coming. Eight candidates are running in the Democratic primary to replace him, a race that was crowded long before it was clear that Vance wouldn't run again. Whoever wins the primary is all but guaranteed to become the next district attorney and will likely inherit Vance's investigations into former President Donald Trump. Those investigations have been gaining steam since Trump left office.
More pandemic reopenings
If Cuomo's prospects appear to be getting worse by the day, then the outlook for the pandemic seems to be going in the opposite direction. Cuomo announced that indoor dining can rise to 75% everywhere outside New York City, and 50% in the city itself. He also opened vaccine eligibility to anyone over the age of 60 (previously it was over 65) and to public-facing government and nonprofit employees. At the federal level, President Joe Biden assured Americans that every adult will be eligible for a vaccine by May 1, and that July 4 would hopefully mark "independence from this virus." In New York, the governor said that the state's domestic travel quarantine would end on April 1. In New York City, de Blasio announced that public high school students, the last group of public school students still entirely remote, will start heading back to the classroom on March 22.