Bill de Blasio
Hizzoner is living for Cuomo's downfall
New York City Mayor Bill de Blasio is suddenly telling us what he really thinks about the embattled governor.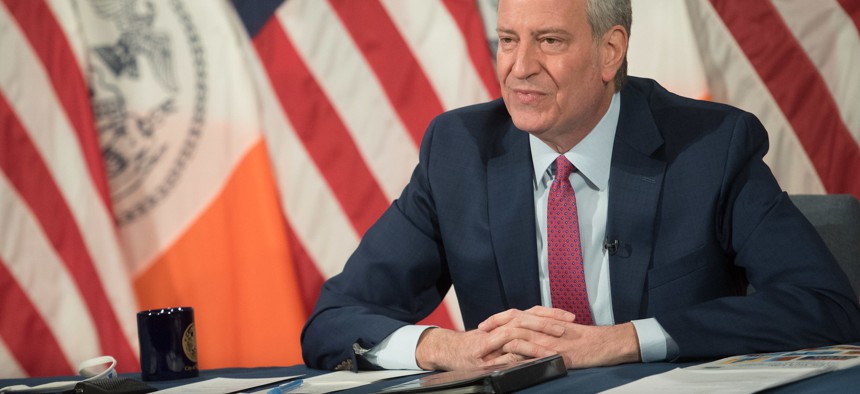 Is it just us or has New York City Mayor Bill de Blasio been more vocal about Gov. Andrew Cuomo's shortcomings recently? 
The mayor, who is often tight-lipped when it comes to the governor, despite their many public disagreements, has been lambasting Cuomo for his handling of nursing homes in the state, as well as his response to the two women who have alleged he sexually harassed them. 
On Monday, the mayor called for a full investigation into the harassment allegations, after a second claim surfaced over the weekend, and he suggested that Cuomo should leave office if the allegations are true. "If someone purposefully tried to use their power to force a woman to have sex with them, of course that person should no longer be in public service," de Blasio said during a radio appearance on Hot 97.
Three weeks ago, the mayor also weighed in on the governor's growing nursing home scandal, after Assembly Member Ron Kim revealed that Cuomo threatened to "destroy" him over a statement he made regarding nursing homes. "A lot of people in New York state have received those phone calls," de Blasio said during an appearance on MSNBC's "Morning Joe." "The bullying is nothing new. I believe Ron Kim and it's very, very sad. No public servant, no person who is telling the truth, should be treated that way.
The mayor also backed numerous other lawmakers calling for a "full accounting of what happened" in nursing homes after the state shared data that indicated over 15,000 nursing home residents died of COVID-19. 
Cuomo and de Blasio have been sparring partners for years, but the governor has typically had the last say on whatever matter they're bickering over, whether it's how the coronavirus crisis should be handled in the city, the subway or the euthanasia of a deer. Since the governor has so much power over the city, de Blasio has often been reluctant to air his grievances in public - even when the governor has criticized him - not even to anonymously trash his adversary, as Cuomo, or members of his staff, have frequently done to de Blasio. 
There have been times when the mayor's frustration with the governor has boiled over and he has openly complained about policy decisions or Cuomo's management style. But it's previously followed from specific disputes, rather than de Blasio just weighing in on Cuomo's actions from the sidelines. 
While Cuomo in the past could rely on de Blasio to be his and the city's punching bag, the current controversies are giving de Blasio a rare opportunity to indulge in something Cuomo frequently does: kicking your enemy when he's down. 
Powered By
NEXT STORY: The 42 days that changed New York