Andrew Cuomo
Stewart-Cousins calls for Cuomo's resignation after two more women come forward
"There is no way I resign," Cuomo said Sunday in the wake of new allegations.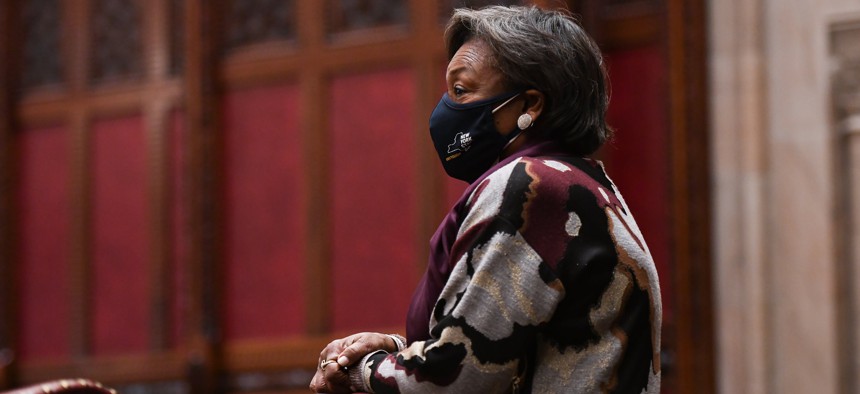 The walls are closing in around Gov. Andrew Cuomo, who this weekend faced new accusations of sexual harassment and inappropriate behavior from two more former aides, bringing the total number of on-the-record allegations to five, four of whom are former staffers. In separate news reports this weekend, two former staffers described inappropriate behavior they said they experienced while working for Cuomo, including inquiries about their personal romantic life and unwanted touching. The new allegations add to ongoing condemnations of a bullying environment that former staffers say the governor has created in his office. 
Over the past two weeks, Cuomo has faced calls to step down from Republicans and mostly progressive Democrats, but on Sunday he faced the most significant calls yet from state Senate Majority Leader Andrea Stewart-Cousins and from Assembly Speaker Carl Heastie. The statements from Heastie and Stewart-Cousins – the latter of which called explicitly for Cuomo's resignation – are dramatic rebukes of the most powerful man in New York from the two next most powerful people in the state, both fellow Democrats. 
Since allegations of sexual harassment have come to light, Stewart-Cousins had stopped short of calling for Cuomo's resignation, but on Sunday she suggested that step is now necessary. "Everyday there is another account that is drawing away from the business of government," Stewart-Cousins said in a statement, addressing not just the allegations of sexual harassment and a toxic work environment, but growing criticisms of the Cuomo administration's transparency about the spread of COVID-19 in nursing homes. "We need to govern without daily distraction. For the good of the state Governor Cuomo must resign."
In his own statement, Assembly Speaker Carl Heastie stopped short of Stewart-Cousins' explicit recommendation that Cuomo resign, but he suggested the governor "seriously consider" it – gentler phrasing that was presumably intended to reach the same outcome but in a manner that would allow Cuomo to save face and pretend it was his own decision. "The allegations pertaining to the Governor that have been reported in recent weeks have been deeply disturbing, and have no place whatsoever in government, the workplace or anywhere else," Heastie said. "We have many challenges to address, and I think it is time for the Governor to seriously consider whether he can effectively meet the needs of the people of New York."
The statements put in jeopardy Cuomo's argument that calls for his resignation are politically motivated and coming primarily from Republicans and the left wing of the Democratic Party with which he has historically feuded. Stewart-Cousins and Heastie, who lead the Legislature's two chambers, are at times critical of Cuomo, but are not among the most progressive members who often publicly butt heads with the governor. While Cuomo on Sunday cited other New York officials – such as U.S. Sens. Chuck Schumer and Kirsten Gillibrand – who have so far said only that Cuomo should face an independent investigation and who have not called for resignation, the calls to resign from Stewart-Cousins and Heastie could trigger other mainstream Democrats to follow. Some Democrats who hadn't yet called for Cuomo's resignation did so after the leaders' statements on Sunday, including state Sen. Liz Krueger, a Manhattanite who chairs the powerful Finance Committee. "I stand with Majority Leader Stewart-Cousins in calling for the Governor to resign," Krueger wrote. "Our state is rightly crying out for truthful, transparent government. The people's business is too pressing to continue to be derailed in this way."
If there's one thing that Cuomo and Stewart-Cousins agree on, it's that these allegations have distracted attention from the daily business of running the state during a pandemic. But while Stewart-Cousins said that's why he should step down, Cuomo maintains that an independent investigation into the allegations must proceed before any conclusions can be drawn, and suggested that dwelling on the matter before that happens is a distraction. "I'm not going to be distracted by this either," Cuomo said at an impromptu press conference on Sunday afternoon, just before Stewart-Cousins released her statement. "We have to get a budget done in three weeks. We have a lot of work to do."
In the new allegations made public this weekend, former staffers for Cuomo describe the governor's inappropriate workplace behavior. Ana Liss, an aide to Cuomo between 2013 and 2015, told the Wall Street Journal that the governor asked her questions about her dating life, touched her and once kissed her hand. Liss described the behavior as inappropriate and said she wished that Cuomo had asked her questions about her work, and not her personal life or appearance. "I just wish – I wish that he took me seriously," she said. 
Liss also pointed to a photo she took with Cuomo during a 2014 reception at the Executive Mansion in Albany – before which she said he called her "sweetheart" and kissed her on both cheeks – where the governor's hand is shown clutching her waist. "Reporters and photographers have covered the governor for 14 years watching him kiss men and women and posing for pictures," Cuomo adviser Rich Azzopardi told the Journal. "At the public open-house mansion reception, there are hundreds of people, and he poses for hundreds of pictures. That's what people in politics do."
Separately, Karen Hinton, who worked for Cuomo when he served as head of the U.S. Department of Housing and Urban Development in the late 90s and early aughts, told The Washington Post that Cuomo asked her questions about her marriage and in one instance in 2000, summoned her to his hotel room and hugged her in an embrace she described as "very long, too long, too tight, too intimate." Hinton did not explicitly describe the encounter as sexual harassment, but referred to it as a "power play." 
Cuomo denied that this happened, and dismissed Hinton's allegations as politically motivated. "What she said is not true," Cuomo said on Sunday afternoon. "She has been a longtime political adversary of mine. Highly critical for many, many years." Spokespeople for Cuomo made similar denials of Hinton's account in the Washington Post story – a response Hinton told the paper was an example of a powerful man protecting himself by attacking his accuser. In that story, the Post also reported that three young women who worked recently in Cuomo's office said that he often asked them about their dating lives, creating an environment they said was degrading to women.
Despite these new accusations coming to light, Cuomo is adamant that he won't step down from office – something Stewart-Cousins, arguably the second most powerful lawmaker in the state next to Cuomo, is now calling on him to do. "There is no way I resign," Cuomo said Sunday, shortly before Stewart-Cousins released her statement. "I was elected by the people of the state. I wasn't elected by politicians. I'm not going to resign because of allegations." As of Sunday evening, Cuomo had yet to respond to Stewart-Cousins and Heastie's statements, and a spokesperson for the governor did not immediately respond to a request for comment.
The allegations detailed this weekend build on the accounts of two former staffers and a woman who met Cuomo at a wedding, who, over the course of the last two weeks, have detailed encounters with the governor in which they said he made unwelcome advances or inquiries about their personal lives. Former Cuomo staffer Lindsey Boylan accused the governor of sexually harassing her, and in one instance forcibly kissing her, which Cuomo has denied. Charlotte Bennett, who worked for the governor last year, said that Cuomo repeatedly asked about her personal life – including questions about being a survivor of sexual assault and about whether she dated older men – and said she viewed some of those comments as Cuomo propositioning her for sex. Anna Ruch, who didn't work for Cuomo but met him at a wedding in 2019, accused the governor of making an unwanted advance and asking if he could kiss her after meeting her. 
Cuomo did not deny the latter two accounts outright. He denied ever touching anyone inappropriately, before going on to acknowledge that he's often affectionate. "You can go find hundreds of pictures of me kissing people: men, women. It is my usual and customary way of greeting," he said last week. Cuomo has now said, in what seems to be a response to Bennett's and Liss' accounts, that he never meant to make anyone feel uncomfortable.
Together, these allegations have intensified calls for Cuomo to step down, which had already begun, at least on the Republican side of the aisle, in response to revelations that Cuomo's office had tried to downplay the number of nursing home residents who had died from COVID-19 in the wake of his controversial decision last spring to require nursing homes to accept patients discharged from hospitals after being treated for the virus. 
While Cuomo now faces an independent investigation into the sexual harassment allegations, which will be overseen by Attorney General Letitia James but led by a private attorney, some say that an investigation isn't enough. Some of those who called for Cuomo's resignation last week were pleased to see Stewart-Cousins join the chorus. "Thank you, @AndreaSCousins," Assembly Member Yuh-Line Niou tweeted on Sunday.
Stewart-Cousins said in an interview with NY1 last week – when three women had come forward – that any further allegations might mean that it's time for Cuomo to step down from office. "Any further people coming forward, I would think it would be time for him to resign," Stewart-Cousins said. Her statement on Sunday didn't go into detail about the new allegations against Cuomo, but previous remarks suggest that, like many women in Albany, she's fed up with the alleged behavior. "Quite honestly, I am so, so disappointed that here we are in 2021 and we are having these conversations on the heels of #MeToo," Stewart-Cousins said last week.