New York State
The Democratic contenders to be the next governor
If Cuomo loses control, here's who could be next.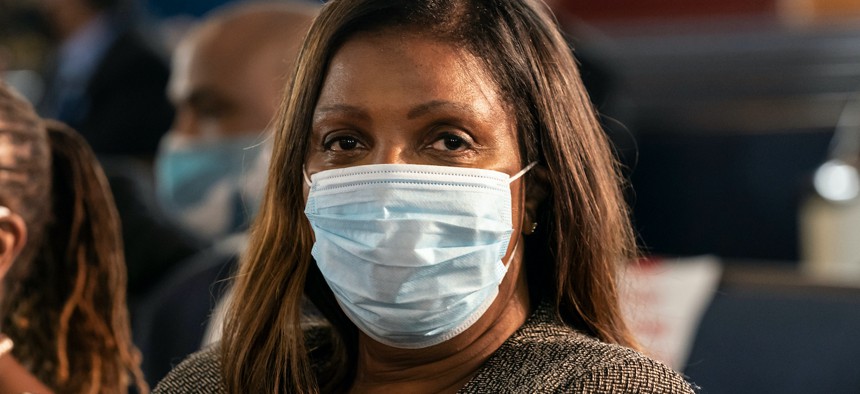 Not long ago, it was hard to imagine a time when Gov. Andrew Cuomo would no longer be governor, as the most powerful politician in the state barrelled towards reelection in 2022. Now, that's changed, after a top aide admitted the governor's office withheld data on deaths from COVID-19 in nursing homes. And then, three women, including two that worked for Cuomo, accused the governor of sexual harassment, while others shared stories of verbal aggression and intimidation from Cuomo and his inner circle. 
Now New York's political class – allies and enemies alike – can picture a time when Cuomo is no longer governor. But it isn't clear when that might come. Calls for his resignation, though bipartisan, have not yet reached a fever pitch, but state Attorney General Letitia James has opened an inquiry in the allegations.
Thus far, Cuomo has said he has no intention of resigning, but that could change if more allegations are made public. Impeachment also seems unlikely, but that too could change quickly. And there will also likely be renewed pressure once the investigation is concluded. If Cuomo holds on, there may be less enthusiasm in the Democratic Party for Cuomo to seek reelection in the primary scheduled for June 2022. If he does seek reelection, he's all but guaranteed to face even stronger opposition than he did in 2018, when Cynthia Nixon earned 34% of the vote, or 2014, when Zephyr Teachout got 33%. In an Emerson College/ WPIX-TV/ NewsNation poll conducted on Monday and Tuesday this week, 64% of New York voters said they wouldn't vote for Cuomo if the election were held today. 
While the Republican Party has its own batch of potential candidates, Democrats from Lt. Gov. Kathy Hochul to the quietest backbencher in the Assembly can now dream gubernatorial dreams. City & State spoke to half a dozen anonymous Democratic insiders with varying perspectives on Cuomo to get a sense of which Democrats may be considering running for governor, and where each of them stands in the state's shifting political sands.
The incumbents
Gov. Andrew Cuomo, Lt. Gov. Kathy Hochul
Cuomo is stubborn, and it seems that nobody who knows him expects that he would resign, unless the political situation got much, much worse than it already is. The governor has nearly $17 million in his campaign account, plus the resources of the state Democratic Party at his disposal. Before the recent bad press, Cuomo was planning to run for reelection and there's a good chance that he still is.
But if Cuomo were to leave office, Lt. Gov. Kathy Hochul would take over until Dec. 31, 2022, the end of the term. If she were already governor, then she may run for reelection, arguing for continuity. But if Cuomo stays in office, and simply decides not to run for reelection, insiders would be surprised if Hochul entered an open field. Her relatively low name recognition and residency in Western New York would be obstacles, when so many Democrats live in and around New York City. 
The statewides
Attorney General Letitia James and Comptroller Tom DiNapoli
Both Cuomo and former Gov. Eliot Spitzer before him were elected governor from the attorney general's office. Attorney General Letitia James, who first took office in 2019, would be in a good position to do the same if the governor's office is open next year – especially if she raises her already-high profile even further by coming down hard on Cuomo. Whether she'd run against Cuomo is an open question. While she has delivered some official criticism of him recently, the pair ran on a ticket in 2018, and it seems unlikely that James would want to give up her current powerful perch for what would surely be a difficult race.
Insiders were split on DiNapoli. While one said he's mentioned the possibility of running in the past, others could never picture the low-profile state comptroller in a bruising gubernatorial race. "The state runs on big personality," an expert said. "He is not that." But no one has ever accused former three-term Gov. George Pataki of having a big personality, so maybe the electorate will be ready for someone more low-key after Cuomo. DiNapoli may want to just stay in his current perch, but another Democratic insider raised the possibility that he'd step aside and help another Democrat get the job if the state goes through a major political shakeup, calling DiNapoli "an inside player to the bitter, bitter end."
The progressives
New York City Public Advocate Jumaane Williams, state Sens. Alessandra Biaggi, Jessica Ramos and Michael Gianaris and Assembly Member Ron Kim 
Cuomo has always had critics on the left, and even before this month, there was some behind-the-scenes jockeying to see who would challenge him next year. Williams ran competitively against Hochul in the 2018 lieutenant governor primary, getting 47% of the vote. He might aim higher in 2022, and has been teasing a run. Biaggi, who toppled Independent Democratic Conference Leader Jeff Klein in 2018, has had a publicly antagonistic relationship with Cuomo, and may jump at the chance to unseat another big name. Ramos, Gianaris and Kim also have increasingly high profiles and would love nothing more than to take down a fellow Queens kid. Whereas Nixon and Teachout were only able to beat Cuomo in areas dominated by white liberals, if Cuomo ran again, a progressive candidate of color like Williams may be able to expand their support. 
The Cuomo allies
Steve Bellone and Byron Brown
It's widely known that Suffolk County Executive Steve Bellone wants to be the next governor, but the moderate Democrat has hitched his wagon to Cuomo. He'd never run against the governor, but in an open race, he'd almost surely jump in as a moderate, suburban alternative. 
Buffalo Mayor Byron Brown has also been a strong Cuomo ally, and could try to bring a Western New York perspective to the race, especially if Hochul isn't running. And the Queens-born Brown, who is Black, may be able to appeal to a wider swath of Democratic voters across the state than Hochul. 
The congressional delegation
Sen. Kirsten Gillibrand, Reps. Alexandria Ocasio-Cortez, Hakeem Jeffries, Tom Suozzi, Sean Patrick Maloney and Kathleen Rice
Gillibrand's presidential campaign went nowhere, but she'd be a top-tier contender in a gubernatorial race, thanks to her name recognition and fundraising potential. Ocasio-Cortez might be the most famous politician in America, and has kept her future options open. Governor is unlikely, but anything's possible, especially perhaps if Cuomo sticks around and the left drafts her to take him down. Jeffries seems set to become the next Democratic speaker of the House, but he had flirted with running for mayor before – so maybe governor is possible. Suozzi and Maloney are moderates who have unsuccessfully run statewide before. Rice seems more likely an attorney general candidate – and many saw her call for Cuomo's resignation as an effort to create space for James to move up – but if James remains AG, governor could be an option. 
The mayor and the wannabes
New York City Mayor Bill de Blasio, Andrew Yang
De Blasio will be out of a job at the end of the year, with nothing to do. "Would he try... and humiliate himself?" one insider asked, "I don't know, but he does have that kind of hubris." De Blasio did, after all, very unsuccessfully run for president. The man has been a consistent Cuomo critic, and the resilience of his popularity among Black voters is an asset – but his unpopularity among almost every other demographic is an albatross, as is his persistent role as the butt of media jokes.
Multiple experts also raised the possibility of a Yang candidacy, whether or not he wins his bid to become mayor of New York City. The state would provide an even larger platform to talk about his pet issue, a universal basic income. And nobody would mind that he spent time in New Paltz during the pandemic. For that matter, anybody who comes close to winning the mayoralty would have to be considered a potential gubernatorial candidate. After raising his profile in a losing effort in the 1977 mayoral race, Mario Cuomo ran for governor in 1982 and won – leading eventually to his son's governorship, and the political situation New York is in today.
Powered By
NEXT STORY: Here's Cuomo's 'apology,' annotated