Andrew Cuomo
The end of Cuomo's emergency powers
Lawmakers have an agreement in place to provide greater oversight on the governor's pandemic orders.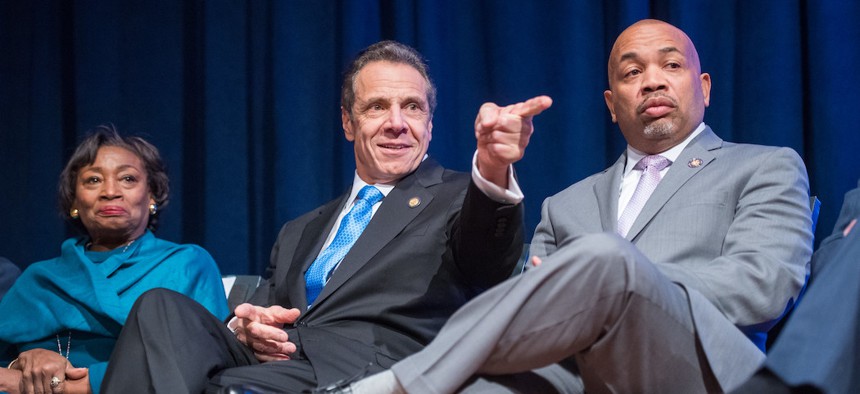 One year ago, state lawmakers approved sweeping new emergency powers for Gov. Andrew Cuomo to confront the impending COVID-19 crisis. Since then, he has issued a multitude of orders that have affected everything from hospital capacity to public schools to the ability of everyday New Yorkers to grab a cocktail on the go. But his reign as the effective pandemic king of New York is coming to an end.
Democratic state lawmakers could vote as soon as Friday on new legislation that would increase legislative oversight over the state's response to the pandemic, but its biggest effect could be symbolic as Cuomo faces increasing pressure to resign over allegations of sexual harassment and his handling of coronavirus deaths in nursing homes.
State Senate Majority Leader Andrea Stewart-Cousins and Assembly Speaker Carl Heastie have framed the issue more as a response to the ongoing decrease of COVID-19 cases rather than a direct rebuke of the governor. "These temporary emergency powers were granted as New York was devastated by a virus we knew nothing about," Heastie said in a press release. "Now it is time for our government to return to regular order." A spokesperson for both leaders confirmed that their respective chambers will take up the legislation either on Friday or Monday.
The new legislation will allow current executive orders to remain in place for an additional 30 days. Cuomo would have to notify Stewart-Cousins and Heastie of any plans to extend or modify those orders and give legislators a chance to respond. Local governments would be given a similar role when gubernatorial orders are specific to them. All current directives will be posted online 15 days after the legislation is passed and any executive order that would be expanded beyond this additional 30 days would have to be "explicitly" related to the pandemic, according to the press release.
But in his first public appearance since Feb. 24, Cuomo today framed the agreement on curbing his emergency powers as an extension. "The legislation extends the emergency power to the point where the federal government declares an end to pandemic," he said. He continued: "We'll give the Legislature notice of any changes we're making five days prior to effect. If it is an emergency change, as determined by the Department of Health, it will be a shorter period of time."
While Cuomo has exerted great power during the pandemic, lawmakers have always had the opportunity to overrule his pandemic orders by a majority vote of both chambers. They have not exercised that right, though they have passed numerous pieces of legislation codifying gubernatorial orders or directly legislating pandemic policy on issues like eviction moratoriums and election law. But bombshell revelations about Cuomo's withholding of nursing home data from state lawmakers, as well as the ongoing sexual harassment allegations, have made a growing number of Democratic lawmakers eager to assert their power over Cuomo as the state approaches the April 1 budget deadline.
Reducing his emergency powers, however, has hardly tamed the push by some Democrats for Cuomo to resign, as a federal probe of nursing homes continues and an investigation into sexual harassment allegations overseen by state Attorney General Letitia James gets underway. Calls for his resignation have been loudest on the political left and right, but there are growing signs that more centrist lawmakers are tiring of Cuomo just weeks after he began tumbling off his pandemic pedestal as the straight-talking, can-do governor who got New York through the worst of COVID-19. "My preference is to let the independent investigation proceed," state Sen. Rachel May of Central New York said today. "It is getting harder and harder to see a way forward to doing our jobs with this governor in place."
Powered By
NEXT STORY: Top aide leaves state COVID-19 task force