Andrew Cuomo
The political forces keeping Cuomo in power
Black voters and a formidable impeachment process are helping the governor hold on to power.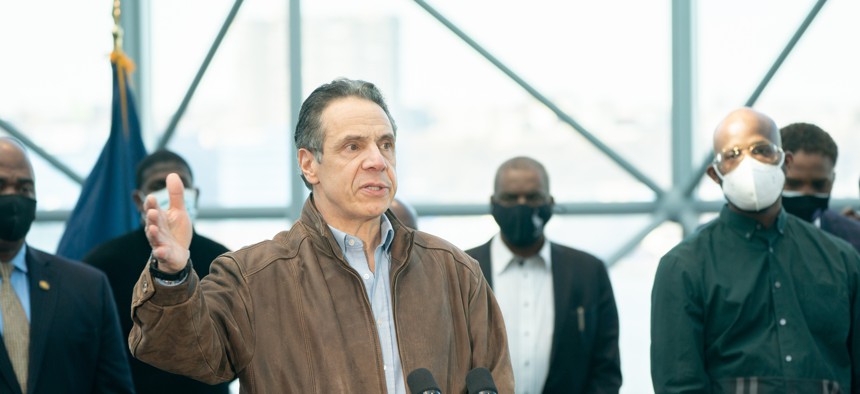 Gov. Andrew Cuomo is facing a growing number of political problems. A federal probe into whether his top aides intentionally hid data on COVID-19 deaths in nursing homes remains ongoing. Multiple women have made allegations of sexual harassment and inappropriate behavior, as the investigation overseen by state Attorney General Letitia James continues. Leading lawmakers like state Senate Majority Leader Andrea Stewart-Cousins said over the weekend that Cuomo must resign, but the three-term governor has already made it clear that he is not going anywhere unless legislators impeach him and remove him from office.
Some of the most powerful people in the state are calling for the governor to resign, but recent political history shows how a president or governor can stay in office even when a litany of political allies are pushing for him to leave. While not a lot of people are sticking up for Cuomo nowadays, his critics don't appear to be close to having the votes to impeach him.
Impeachment requires a majority vote of the 150-member Assembly. While more than a dozen members of the 107-member Democratic majority have called for the governor to resign, fewer of them say he should be impeached over the sexual harassment allegations. Speaker Carl Heastie, who would effectively control whether an impeachment effort received a vote, has yet to explicitly call for the governor to resign and appears reluctant to begin impeachment proceedings anytime soon, especially with the April 1 state budget deadline looming.
"It's not been easy and I am increasingly disturbed," said one anonymous Democratic member of the Assembly who has not called on the governor to resign. "I believe there is a process and I do believe we have an attorney general who has not shown she is willing to step out and be independent."
The governor appears to be hoping that the political storm will come and go – like it did for President Bill Clinton and Virginia Gov. Ralph Northam following their respective scandals. Cuomo has reportedly been calling state lawmakers to request that they refrain from calling for his resignation, while promoting the notion that doing so undermines James. "We support our attorney general, the first woman, and the first African American woman to be elected to this position, as she launches this investigation, and request she be allowed the appropriate time to complete her investigation," reads a letter released today that was signed by more than 20 female legislators – reportedly at Cuomo's behest. Cuomo spokesperson Rich Azzopardi told City & State this afternoon that his office had nothing to do with the letter. "First we saw of it was on Twitter," he said.
Cuomo's standing with Black voters and organized labor appears to be pivotal to his longterm political survival. Powerful unions like 1199SEIU and District Council 37 have not responded to the sexual harassment allegations and revelations about an alleged cover-up of COVID-19 nursing homes deaths. Cuomo ally Hazel Dukes, president of the NAACP New York State Conference, is trying to shore up his support among Black voters. "Calls for the resignation of the (governor) are premature and undermine the duty and responsibility of Attorney General Tish James," reads a statement that Dukes issued through the state Democratic Committee just minutes before the governor held a March 7 conference call with reporters where he pushed back against the accusations and calls for his resignation.
Recent polling has highlighted how nonwhite voters remain Cuomo's strongest supporters. Considering that nearly 2 in 3 registered Democratic voters don't think the governor should resign, it appears that the governor's critics have a long way to go to whip up the level of public outrage that might convince the governor to change his mind about stepping down. Stewart-Cousins' call for his resignation could convince other prominent elected officials to do the same. That, in turn, could lead to Cuomo's standing among voters falling even more in the upcoming weeks.
Yet, getting Cuomo out of office will likely require impeachment in the Assembly and then conviction in the New York Court for the Trial of Impeachments. That process could take weeks if not months to complete. Many state lawmakers say at this point that they are focused on what might come out of state budget negotiations now that Cuomo has lost much of the political leverage he had earlier in the year. Some legislators are focused on helping their constituents recover from the pandemic. Others simply believe that giving the governor due process by waiting on James' investigation is the right way to go. This is especially the case with many Black elected officials and voters who have yet to say one way or another whether the end is coming for Cuomo, according to political consultant L. Joy Williams. "The silence doesn't mean people aren't talking about it or don't have an opinion," she said in an interview. "It's just there are other things happening besides Cuomo again."
Powered By
NEXT STORY: AOC explains it all