New York State
What it would take for Cuomo to resign
The governor is pretty dug in, but certain conditions could make him change course.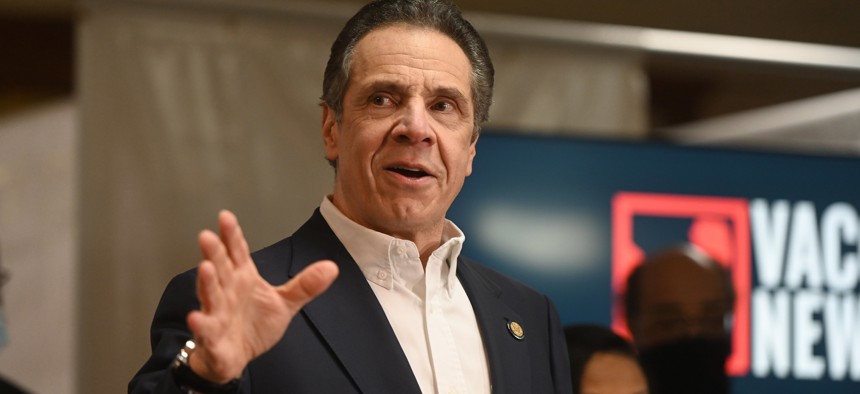 Facing multiple allegations of sexual harassment and criticism of how he handled COVID-19 in nursing homes, Gov. Andrew Cuomo is refusing to resign amid growing backlash, and as he loses support from more and more lawmakers. And short of an impeachment, Albany insiders and observers think that only losing the support of major national figures such as President Joe Biden or support from key Black leaders in New York could change his mind. 
Even lawmakers who have called on Cuomo to resign don't see the governor changing his tune any time soon. "I think it would take an impeachment," Queens Assembly Member Zohran Mamdani, who has called for Cuomo to resign and for his impeachment, said. "I don't think he will resign of his own volition."
The list of elected officials calling on Cuomo to resign seems to grow by the day. It includes fellow Democrats Sens. Chuck Schumer and Kirsten Gillibrand, state Senate Majority Leader Andrea Stewart-Cousins and the majority of the state's congressional delegation. But Cuomo has been adamant about his intention to stay in office as investigations by the attorney general and the Assembly are underway. "It seems like he's crossed the rubicon," Blair Horner, executive director of the good-government advocacy organization New York Public Interest Group. "He's dug in and he believes that he'll be vindicated." Horner said that it may well take a criminal indictment, or a state Senate impeachment trial – if things get that far. 
Cuomo has repeatedly denied the most serious allegations of sexual harassment, including that he kissed former staffer Lindsey Boylan on the lips without her permission and groped a current unnamed aide. While he has said he never touched anyone inappropriately, Cuomo has apologized for comments that may have been "misinterpreted as unwanted flirtation," although has not remarked on the specifics of the alleged statements, including asking one former aide if she slept with older men. "People know the difference between playing politics, bowing to cancel culture and the truth," Cuomo said at a March 12 press conference. "Let the review proceed, I'm not going to resign, I was not elected by the politicians, I was elected by the people." Cuomo has since said he would not further comment on the sexual harassment allegations until the invesigations are complete.
That buys Cuomo some time. At a March 23 Assembly Judiciary Committee meeting introducing the lawyers who will be leading the probe, committee Chair Charles Lavine said "we expect that the timing will be in terms of months, rather than weeks." And an impeachment vote is hardly guaranteed once the investigation wraps up.
One Democratic state senator, who requested anonymity to speculate on the governor's intentions, said that evidence of criminality from the attorney general's report may cause the governor to change course without an impeachment, but acknowledged that too could take months. "He wants to ride this out," said the senator, who speculated that a prominent national figure like President Joe Biden or House Speaker Nancy Pelosi could successfully pressure Cuomo into stepping down. 
Neither Pelosi nor Biden have called on Cuomo to resign. Pelosi said she is waiting for the results of Attorney General Letitia James' investigation, but said that Cuomo should "look inside his heart… to see if he can govern effectively." Biden said that Cuomo should resign if the investigation confirms that the allegations against the governor are true.
But Cuomo is not without support, even as some Democrats and Republicans call for his resignation. In recent days, Cuomo has appeared at a number of closed-press events, surrounded by Black clergy and Black leaders, including former Rep. Charles Rangel, Rev. Al Sharpton and NAACP New York Chapter President Hazel Dukes. A number of Black women in the Assembly signed a letter, calling for James to complete her investigation before passing judgement on the governor. Soon after, a letter signed by Black clergy members, coordinated by former Cuomo aide Charles King, got sent to reporters. 
"It is par for the course when white leaders need some kind of absolution for their sins… they will show up at a Black church or surround themselves by African American leaders and voters, which is sort of a time-honored, but tired, tradition," said one Black Democratic operative who spoke on background to speak candidly. "For the African American leader and voter, it is not necessarily an embrace of the person, so much as it is a defense of the right to due process."
Right now, that support seems to be fairly solid. A recent Quinnipiac poll found that even as Cuomo's approval ratings continue to slip, and a slowly growing number of people support his resignation, the governor's support among Black voters remains strong. Only 19% of Black voters said that Cuomo should resign, compared to 53% of white voters. And his favorability with Black voters was at 66%. But the question becomes at what point could he lose that support? "My sense is that there are three things that could – there's one thing that involves three people that might make that happen," said the operative – if Biden, Rep. Hakeem Jeffries or Rep. Gregory Meeks call on the governor to resign. "I think those three individuals are the key, really, to the governor." Both Jeffries, who is from Brooklyn and serves as the Democratic Caucus chair, and Meeks, who is chair of the Queens County Democratic Party, said they support the attorney general's investigation and that Cuomo should reflect on whether he can still effectively lead the state, but did not actually call on him to resign.
When reached for comment about what might cause Cuomo to change course and resign, a spokesperson for Cuomo referred to past comments by the governor saying he would not resign and asserting his ability to effectively govern.
The point at which the governor feels he cannot adequately carry about his duties is another factor in the equation of whether Cuomo will resign. "I said to the governor, look, one of the vulnerabilities is the argument that you can govern," Jay Jacobs, chair of the state Democratic Party, said of a recent conversation he had with Cuomo. "So if you want to address that, then my recommendation would be to govern and demonstrate that you can govern." Cuomo has said that he is still focused on the upcoming budget and serving the state, and that the allegations against him and the investigations will not interfere with his work. "I don't think there's a person in a better position to help the state get through this period than the experience that I bring to it," Cuomo said on March 12. Jacobs said if Cuomo's ability to govern is impacted, then he should remove himself from the governor's office, at least temporarily. "He certainly has an obligation, if he ever felt that he couldn't, to either step aside or step down," Jacobs said.
Some lawmakers say that the allegations, and Cuomo's resistance to stepping down, are already impeding state operations. "I really, like many others, want to focus on all of our really critical needs, like getting people vaccinated, opening up New York's schools for full-time instruction, revitalizing our local economy, as well as the state economy, and passing our budget," said Assembly Member Judy Griffin of Long Island, who originally resisted calling for Cuomo to resign but now supports his resignation. "All of these different allegations are a distraction from that." The Democratic senator was more blunt. "I just think it's become a circus, it's a circus, Albany circus once again," they said. And the prospect of impeachment proceedings and a state Senate trial also has Albany-area Assembly Member Patricia Fahy concerned. She originally called for the attorney general investigation to run its course, but has since called on Cuomo to step aside while that and other investigations are underway. "I would hope that somehow or another governor then would step aside and we might be able to prevent any kind of prolonged impeachment process," Fahy said. 
Ultimately, control over resignation lies squarely with the governor, no matter how many people demand it of him. "(Cuomo) not only is not afraid to fight, he likes to fight," Horner said. "This is about his legacy, and if he can sort of punch his way through it, he may feel vindicated." And while it's possible that new circumstances could cause him to change course, it's equally possible that nothing makes Cuomo voluntarily step down, leaving it up to lawmakers to force him out, if the will is there. "For him to resign, it's his decision; for us to impeach him, it's ours," Mamdani said. "And I believe more in my colleagues than I do in our governor."
Powered By
NEXT STORY: Impeachment inquiry will continue for "months"