Scott Stringer
Accusation of sexual harassment against Stringer throws mayoral left lane into disarray
Jean Kim, a lobbyist and former volunteer on Stringer's unsuccessful 2001 campaign for New York City public advocate, alleged that he subjected her to sexual harassment and abuse.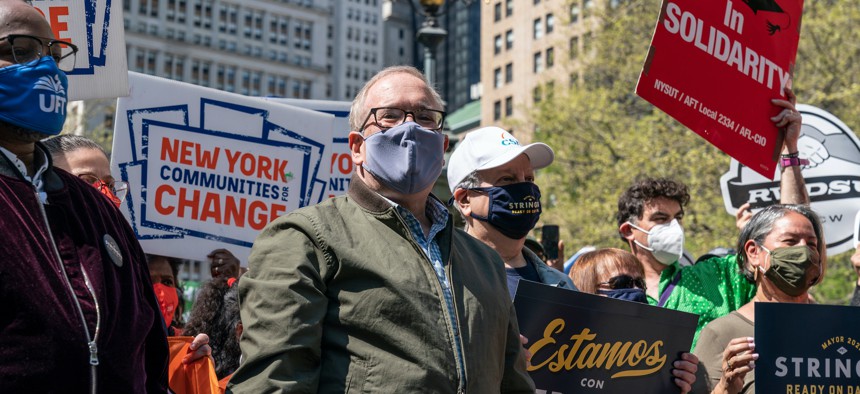 Lagging behind Andrew Yang and Brooklyn Borough President Eric Adams in the polls, but flush with campaign cash and progressive endorsements, New York City Comptroller Scott Stringer seemed to have a shot at winning the race to be the next New York City mayor – but only if the two months before the June 22 Democratic primary went perfectly for him. And the very first thing that had to go right would be consolidating support in the field's left lane against the two moderate front-runners.
Then, on Wednesday, Jean Kim, a lobbyist and former volunteer on Stringer's unsuccessful 2001 campaign for New York City public advocate, alleged that he subjected her to sexual harassment and abuse. Stringer denies the allegations, which include groping and repeated unwanted sexual propositions, but their existence will make it much more difficult for Stringer to claim the mantle as the progressive choice for New York City voters. 
Stringer already faced a challenge: As a lifelong politico, and a white man in a city long overdue and increasingly yearning for a woman mayor and the first person of color to serve as mayor since David Dinkins, it was going to be hard for him to excite young progressives. 
His plan for solving that problem – winning the endorsements of a cadre of young, progressive elected officials, many of them women and people of color – was immediately thrown into doubt. On Wednesday afternoon, one of Stringer's earliest and most vocal endorsers, state Sen. Jessica Ramos from Queens, pulled her support. "We need a leader who can rise to meet the moment and will not be distracted by scandals as our city continues to make its way towards recovery," she wrote in a statement. She did not immediately endorse another mayoral candidate.
This may mean that the left has lost its last, best hope of staving off a centrist in City Hall, or it might mean that this is just the opportunity Stringer's main competitors for the mantle of progressive standard bearer – Maya Wiley, the former counsel to New York City Mayor Bill de Blasio and former nonprofit executive Dianne Morales – needed to break out. 
Both Wiley and Morales issued statements in support of Kim coming forward, but unlike other leading mayoral contenders, such as former Housing Commissioner Shaun Donovan and former Sanitation Commissioner Kathryn Garcia, did not call on Stringer to end his run. "Scott Stringer should stand by his own policy of zero tolerance for sexual harassment and drop out of the mayoral race," Garcia said in a statement.
Ramos was just one of many Stringer supporters put in a difficult position by Kim's accusation. State Sens. Alessandra Biaggi and Julia Salazar and Assembly Member Yuh-Line Niou issued a statement saying they believe survivors, and "demand accountability accordingly." Ramos, Niou, Biaggi and Salazar have all been among Gov. Andrew Cuomo's toughest critics and have called for the governor's resignation amid mounting scandals, including multiple accusations of sexual abuse and sexual harassment. Stringer himself called on Cuomo to resign last month, following multiple accusations of harassment. 
That political positioning is apparently what motivated Kim to make her allegations in public. "I'm coming forward now because being forced to see him in my living room TV everyday pretending to be a champion for women's rights just sickens me when I know the truth," she said at a Wednesday morning press conference outside the comptroller's office at One Centre Street.
Responding to the accusation at a Wednesday afternoon press conference outside his home in the Financial District, Stringer said his situation and Cuomo's are different. "(Cuomo) has been accused of multiple incidences of abusing his office. I do not believe that this incident is in the same category," he said, before reiterating that Kim's allegation "simply is not true.
So far, Stringer is trying to maintain his stature as an ally of women and victims of sexual misconduct. "I want to make it clear that I unequivocally condemn sexual harassment of any kind," he said Wednesday. "Sexual harassment is unacceptable. I believe women have the right, and should be encouraged, to come forward. And they must be heard. But this isn't me. I didn't do this… The behavior described is inaccurate and completely antithetical to the way I have conducted my life."
But Kim's charges will not be dismissed by his colleagues in city politics, especially because Kim, who previously worked as a lobbyist at government relations firm TLM Associates, is known to some of them too. Council Member Stephen Levin, a Maya Wiley supporter from Brooklyn tweeted, "I've known Jean Kim for over 10 years. I commend her for her courage to come forward. I have every reason to believe she is telling the truth and I believe her."
Others are withholding judgment, for now. A prominent progressive Democrat who is supporting Stringer and requested anonymity to speak frankly about a rapidly evolving situation, said that it is too soon to say whether he and his allies will abandon Stringer. "I think that we are deeply concerned about the progressives' chances in this election and I believe that Scott is the progressives' best choice to win here," the Democratic source said. "We've also seen how some of these things have been used against progressive candidates," they added, noting that candidates such as Alex Morse in Massachusetts and Keith Ellison in Minnesota have been damaged by allegations that later did not withstand scrutiny. 
Nonetheless, some voters may see it as confirmation that another white man is the wrong choice for mayor this year. "Obviously it's more difficult because he's running as a progressive candidate who centered domestic violence in his (first TV) ad yesterday, so it puts him in a more difficult position than anyone else," said a progressive political consultant, who also spoke on the condition of anonymity. "In 2021, straight white men are not trustworthy, and he's only confirming the suspicion that everyone has about what happens when straight white men gain power."
Correction: State Sen. Jessica Ramos has not endorsed a mayoral candidate since retracting her endorsement of Stringer.