Could Tusk be Andrew Yang's "agent of the city"?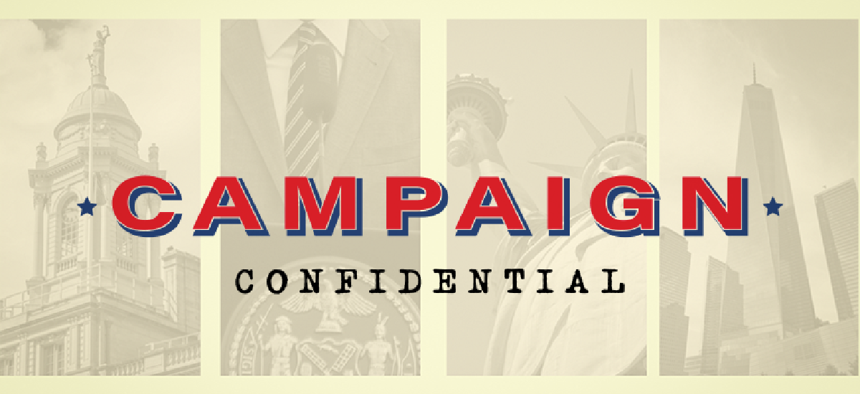 Will Tusk be the next Capalino?
Andrew Yang's two campaign managers, his press secretary, his policy director and multiple senior advisers don't actually work for his New York City mayoral campaign. They're employed by Tusk Strategies, a lobbying firm that's regularly hired by clients to advocate for or against bills that are being considered by the City Council and the mayor. And the arrangement raises concerns about what kind of access this lobbying firm – and the private clients that hire Tusk – would have to the mayor if Yang were to win the election. 
"We believe that it is improper for the same firm to be both a campaign consultant, and then lobby the person that they helped to elect," said Susan Lerner, executive director of good-government group Common Cause New York. Consultants build "a special relationship of trust" with the candidate, and Lerner added they're increasingly cashing in on that relationship.
That's exactly what Yang co-campaign manager Chris Coffey drew attention for in 2018. While employed at Tusk, he had been a paid adviser on New York City Council Member Corey Johnson's effort to get elected speaker in 2017. Johnson won, and Coffey continued to lobby Johnson on behalf of Tusk clients, including the New York City Police Benevolent Association and New Yorkers for Clean, Livable and Safe Streets, a group that opposes the horse carriages in Central Park.
Read more about Tusk's clients – and what Bradley Tusk likes about Yang – here.
By the Numbers
44.4%
Oswald Feliz's winning vote total after ranked-choice voting played out in the City Council District 15 special election in the Bronx. Feliz was declared the victor late Monday night and will be sworn in as a council member soon (along with District 11 winner Eric Dinowitz). How did he win with less than 50% of the vote despite RCV? Exhausted votes. There were 3,976 total ballots. 1,766 voters, or 44.4%, ranked Feliz above second-place finisher Ischia Bravo. 1,362 voters, or 34.3%, ranked Bravo ahead of Feliz. And 848 voters, or 21.3%, ranked neither of the top finishers, and therefore had their ballot "exhausted" before the final round. The full RCV rundown from the Board of Elections is expected to be posted on the site soon.
The Times, a-changin'
For Manhattan borough president, The New York Times endorsed Ruth Messinger in 1989, C. Virginia Fields in 1997, Scott Stringer in 2005 and Gale Brewer in 2013. They all won. This year? Well-read Manhattanites will have to decide for themselves. The Times will not be endorsing in any borough president races, or any City Council races this primary season, breaking tradition. Mara Gay, a Times editorial board member and endorsement maven, confirmed that the Gray Lady is only planning to endorse in primaries for mayor, comptroller and Manhattan district attorney (Sorry, Jumaane). The power of the paper's endorsement varies by race, but few doubt its influence in higher-income districts. And the Times' silence has already affected the Manhattan BP race. One campaign adjusted its spending plan, since it won't have to budget for a last-minute "Endorsed by The New York Times" mailer.
If you ain't first …
Hold on to your pingpong balls – the Board of Elections is holding its random draw for position on the primary ballot tomorrow at 2 p.m. Every candidate wants to be first on the ballot – and don't even get me started on "donkey votes." It's a super small sample size, but the candidate whose name appeared first on the ballotwon two of the four RCV special elections so far this year.
Tide rising in the speaker race
Opponents of the East Side Coastal Resiliency Project, a proposed 2.4-mile flood protection barrier that would run from Midtown to the Lower East Side, filed a Freedom of Information Law request to obtain a government study on the project. What they got was heavily redacted – and they were pissed. Even though she supports the project, Council Member Carlina Rivera, who represents the district, stood up for them and called for an unredacted version – and when Resiliency and Waterfronts Committee Chair Justin Brannan did the same, Rivera's spokesperson threw some shade at him for jumping in late.Still, they got the unredacted study released last week, even as Council Member Keith Powers, who backs the plan and also represents the area in question, stayed out of the redaction battle entirely. Rivera, Brannan and Powers are all likely speaker candidates, and colleagues and stakeholders are watching them closely this year as they navigate these thorny issues. Brannan told City & State he would be willing to call a hearing on the plan if he's elected speaker. Rivera said her office would review the documents and continue to demand that the administration listen to the concerns of advocates and the community.
Endorsement Watch
The city is … his? Jay-Z, Nas and Diddy endorsed Ray McGuire for mayor … the Working Families Party announced its anticipated mayoral endorsement, with Scott Stringer No. 1, Dianne Morales No. 2 and Maya Wiley No. 3 … Rep. Yvette Clarke endorsed Wiley for mayor … Assembly Member Marcela Mitaynes and the Bay Ridge Democrats (separately) endorsed Morales for mayor … the Council of School Supervisors and Administrators and Teamsters Joint Council 16 endorsed Stringer for mayor – though some Teamsters locals are going their own way … Assembly Member Mathylde Frontus also endorsed Stringer … the Uniformed Firefighters Officers Association endorsed Eric Adams for mayor … 314 Action Fund endorsed Shaun Donovan for mayor … Progressive Women of New York announced a slate of endorsements, including Morales No. 1, Wiley No. 2 and Stringer No. 3 for mayor … Rep. Carolyn Maloney endorsed Corey Johnson for comptroller … 32BJ SEIU announced a round of endorsements: Johnson for comptroller, Alvin Bragg for Manhattan district attorney and Vanessa Gibson for Bronx borough president … former Manhattan district attorney candidate Janos Marton and former state attorney general candidate Zephyr Teachout also endorsed Bragg … United Auto Workers Region 9A endorsed Eliza Orlins, who's a member, for Manhattan district attorney and Stu Sherman, who's a member, for City Council District 33 in Brooklyn … former City Council Speaker Melissa Mark-Viverito and Unite Here Local 100 endorsed Tahanie Aboushi for Manhattan district attorney … journalist and activist Gloria Steinem and the National Organization for Women's New York City chapter endorsed Tali Farhadian Weinstein for Manhattan district attorney … Rep. Grace Meng endorses Linda Lee for Council District 23 in Queens … Antonio Reynoso and Alexa Avilés cross-endorsed each other's campaigns for Brooklyn borough president and Council District 38 in Brooklyn, respectively … and UES Progressives co-endorsed Rebecca Lamorte and Billy Freeland in Council District 5 in Manhattan.
Poll Sight
Universal pre-K was a promise from the last open mayoral race in 2013. Could free CUNY come out of this one? A huge majority – 85% – of likely Democratic primary voters agreed that "all children in New York City should have access to free education from pre-K to CUNY." That's according to an online and text poll conducted last month by left-leaning think tank Data for Progress and the progressive PAC Our City, and first reported by Politico New York. Which mayoral candidates also support this idea? John Jay grads Scott Stringer and Eric Adams are all-in for tuition-free college, as is Stony Brook alumnaDianne Morales. Harvard grad Shaun Donovan said "yes," then walked it back, and Dartmouth alumna Maya Wiley says free CUNY – if the state pays for it. Harvard man Ray McGuire, Brown grad Andrew Yang and Wisconsin grad Kathryn Garcia all say affordable – but not free.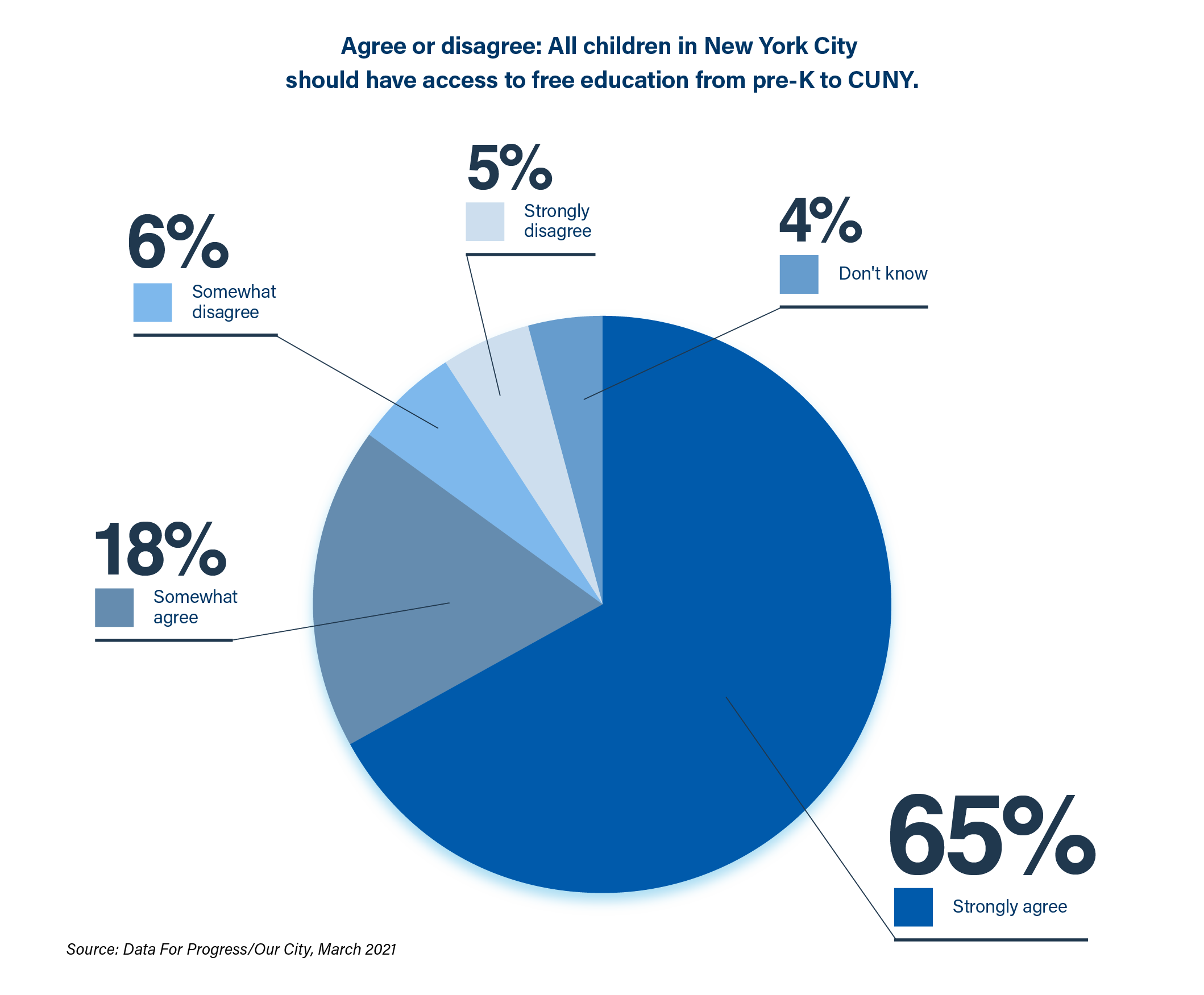 Staffing Up
Dianne Morales' mayoral campaign continued its hiring spree. New staffers include former Council District 15 candidate Elisa Crespo and former 15th Congressional District candidate Samelys López as co-Bronx borough organizers, Emerald Snipes – daughter of Eric Garner – has joined as a "Fund the People" organizer, Ramses Dukes as organizing and relational director, Carmen Kunkel-Quesada as field operations manager, Wesley O'Neal Vasquez as NYCHA coordinator, Alice Volfson as a neighborhood organizer coordinator and Clare Cecil, who is working on scheduling and advance … Graham Nolen is campaign manager for Elizabeth Crowley's run for Queens borough president … Erica Vladimer has joined Mark Levine's Manhattan borough president campaign as director of communications … Bella Norvig has joined Eliza Orlins' Manhattan district attorney campaign as a field organizer … Jordan Allyn has joined Justin Krebs' run for Council District 39 in Brooklyn as deputy campaign manager.
Got tips? Email JColtin@CityandStateNY.com or SKashiwagi@CityandStateNY.com or send a DM to @JCColtin or @SydneyKashiwagi
District Data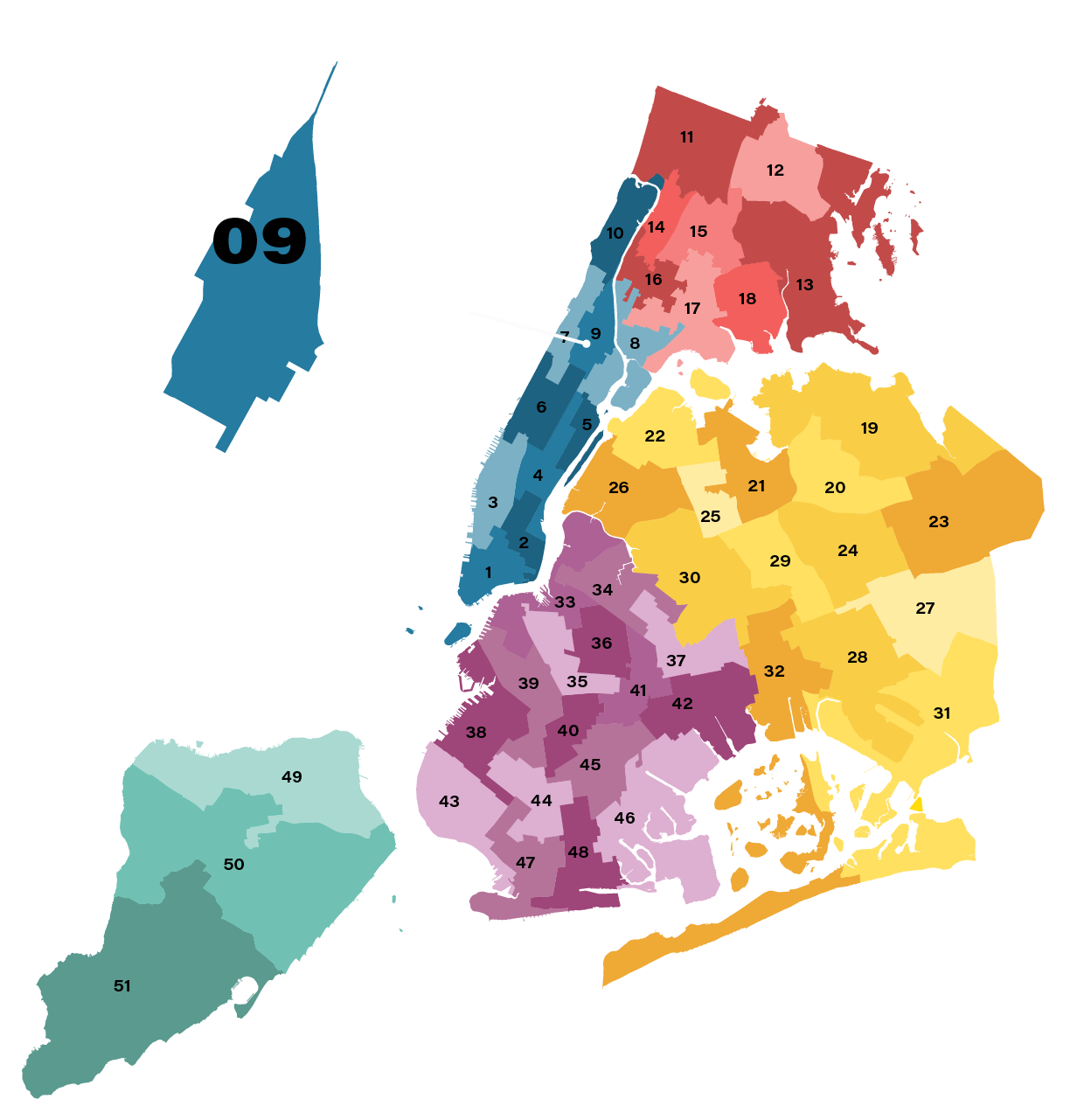 City Council District 9 in Upper Manhattan, covering neighborhoods including Harlem and East Harlem
Current council member: Bill Perkins, since 2017, who's running for reelection
2010 census demographics: 47.5% Black, 24% white, 19.7% Hispanic, 5.8% Asian
Housing: 84.4% renter-occupied, 15.6% owner-occupied
2017 special election results: Perkins: 34%, Marvin Holland: 18.4%, Athena Moore: 14.8%, Larry Scott Blackmon: 11.8%, Cordell Cleare: 9.5%, Dawn Simmons: 5.1%, Charles Cooper: 3%, Todd Stevens: 1.6%, Caprice Alves: 1.5%
2017 primary election results: Perkins: 49.9%, Marvin Holland: 19.6%, Cordell Cleare: 17.5%, Tyson-Lord Gray: 8.3%, Marvin Spruill: 2.4%, Julius Tajiddin: 1.9%
Who's running: Bill Perkins, William Allen, Cordell Cleare, Joshua Clennon, Billy Council, Pierre Gooding, Kristin Richardson Jordan, Alpheaus Marcus, Ruth McDaniels, Bernadette McNear, Athena Moore, Mario Rosser, Sheba Simpson and Keith Taylor. Bill Perkins has well-documented memory issues that have raised questions about his fitness for office. City & State rated him as the worst council member of 2019, and he has not yet registered as a candidate with the Campaign Finance Board, potentially violating city law. Still, he has filed petitions to appear on the ballot and is considered the favorite, due to his name recognition and incumbent status in the crowded field. Perkins' former chief of staff, Cordell Cleare, is running again after falling short in 2017 and has a key endorsement from 1199SEIU. Athena Moore, who also fell short in 2017, and William Allen are also well connected in the district. Kristin Richardson Jordan, a poet and publisher, has raised more money than anyone in the field, and is running on what's probably the most progressive platform, and Mario Rosser, who works at LinkedIn, has raised the second-most money and has the support of the Black Lives Caucus.
Twitter Posting
I'm judging elected officials based on the design of their Ramadan memes
Welcome to City & State's Campaign Confidential newsletter, where Senior Reporter Jeff Coltin – with help from staff reporter Sydney Kashiwagi – is covering the run-up to New York City's hugely consequential 2021 municipal elections for mayor, City Council and more.
Weekly, on Wednesdays. Sign up here.