New York City
How some Cuomo critics are handling the Stringer allegations
Nearly two dozen state lawmakers have endorsed the accused mayoral hopeful and called on the governor to resign.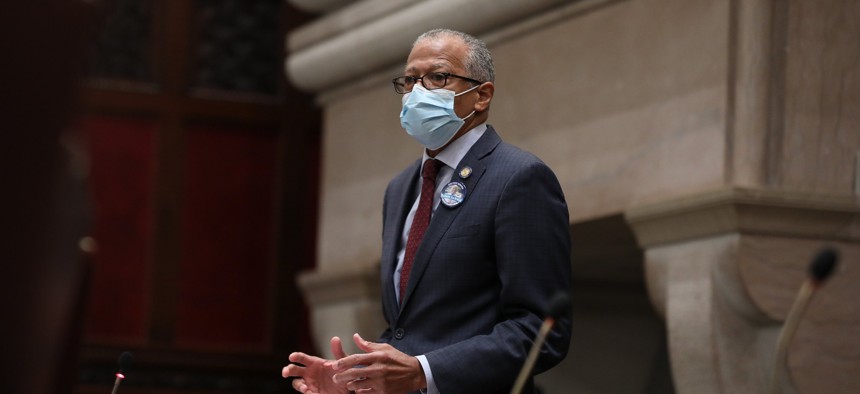 Allegations of sexual assault against New York City Comptroller Scott Stringer have put a lot of his political supporters in an awkward position as the June 23 Democratic mayoral primary nears. This includes nearly two dozen members of the state Senate and Assembly who have endorsed Stringer and also called on Gov. Andrew Cuomo to resign in part over allegations of groping and sexual harassment. 
Legislative supporters of the mayoral hopeful have reacted in a variety of ways to allegations made by Jean Kim, who worked on Stringer's 2001 public advocate campaign, that he kissed her without consent, reached under her clothes and aggressively propositioned her for sex. Some state lawmakers are pulling back their endorsements. Others are still considering their options.
News of Kim's allegations broke less than 36 hours ago. The only legislative Stringer endorser to unequivocally rescind her endorsement thus far appears to be state Sen. Jessica Ramos of Queens, an early backer of Stringer's campaign and a vocal critic of the governor. "We need a leader who can rise to meet the moment and will not be distracted by scandals as our city continues to make its way towards recovery," Ramos said in a statement yesterday. State Sen. Jabari Brisport of Brooklyn announced this morning he "suspended" his endorsement of Stringer as his second preference in the newly adopted ranked choice voting system. 
Most of their Stringer-backing colleagues, however, have issued statements expressing support for Kim for coming forward, but haven't said anything about whether Stringer – who has denied he did anything wrong – should drop out of the race or resign as comptroller. While the allegations against him resemble some of those against the governor, there are a few reasons why some legislators are sticking by Stringer for now. 
About two months passed between the first allegations of sexual misconduct made against Cuomo in December by former aide Lindsey Boylan (a candidate for Manhattan borough president) and when a long list of legislators who currently support Stringer called on him to resign following accusations made by multiple women. "I am taking the time to reflect on what I will say and when," Assembly Member Carmen De La Rosa of Manhattan, who is running for the City Council, said in a statement. State Sen. Robert Jackson of Manhattan said something similar in a statement of his own. Stringer told reporters yesterday that no more allegations will be made against him, but it seems likely that additional legislative supporters will withdraw their endorsements if additional accusers come forward.
It should be noted that Cuomo faces scandals beyond sexual misconduct alone. There are also outstanding matters like alleged self-enrichment and a cover-up of COVID-19 deaths among nursing home residents. Assembly Member Richard Gottfried of Manhattan noted this when he called on Cuomo to step down earlier this year. Gottfried has endorsed Stringer but has not issued any public statement yet about the allegations against his longtime political ally. City & State was unable to find any public statements regarding the allegations against Stringer from state Sens. Brian Kavanagh of Manhattan and José M. Serrano of Manhattan as well as Assembly members Robert Carroll of Brooklyn, Catalina Cruz of Queens, Diana Richardson of Brooklyn, Linda Rosenthal of Manhattan, Nily Rozic of Queens and Amanda Septimo of the Bronx. All of them have called on Cuomo to resign and endorsed Stringer. None responded or were willing to speak on the record. Another Stringer endorser, Assembly Member Mathylde Frontus of Brooklyn, issued a statement yesterday saying the accusations against him "must be taken seriously and fully investigated."
State Sens. Alessandra Biaggi of the Bronx and Julia Salazar of Brooklyn and Assembly Member Yuh-Line Niou of Manhattan acknowledged their history of high-profile advocacy for victims of sexual violence. "As survivors of childhood sexual assault, we believe survivors," they said a joint statement. "Our commitment to a harassment free government, workplace, and society is steadfast, and our zero tolerance standard regarding sexual assault applies to abusers like Andrew Cuomo, if not more so, to our friends." An editorial in the Daily News Editorial Board noted that their statement said nothing about what specifically should happen with Stringer. A statement from state Sen. Gustavo Rivera of the Bronx similarly voiced support for Kim and survivors while avoiding the question about whether Stringer should drop out or not. 
"The only person in the world who benefits from equating this allegation against Scott with Governor Cuomo's abuse of his staff is Governor Cuomo," Salazar told City & State in a statement. "That said, it has only been 24 hours since Jean Kim had the opportunity to speak out. In my tweeting out of the statement yesterday, I said that I completely support Jean in doing that, and completely means that I support an accountability mechanism that she supports. A lot of people are appointing themselves as spokespeople for the person who made allegations here, which isn't justice and isn't responsible or right. I think the responsible thing is to support her and to support the accountability mechanism that she is requesting." Kim told reporters yesterday that Stringer should drop out of the mayor's race and resign as comptroller. 
Cuomo might be able to make some use of the disconnect between what his critics have said about his alleged misdeeds versus Stringer's, according to Democratic political consultant Hank Sheinkopf. "Hypocrisy comes in all kinds of parties, ideologies, genres, races, shapes and sizes," he said in an interview. "It's the political protection racket. If you like somebody, you feel like their misdeeds are not as significant." A spokesperson for the governor did not respond to a request for comment.
Update: An earlier version of this story did not include Assembly Member Mathylde Frontus' response to the allegations against Scott Stringer.
Powered By
NEXT STORY: What do district leaders do?