New York City
Rudy Giuliani's questionable business entanglements
From representing dubious foreign clients to making suspicious donations.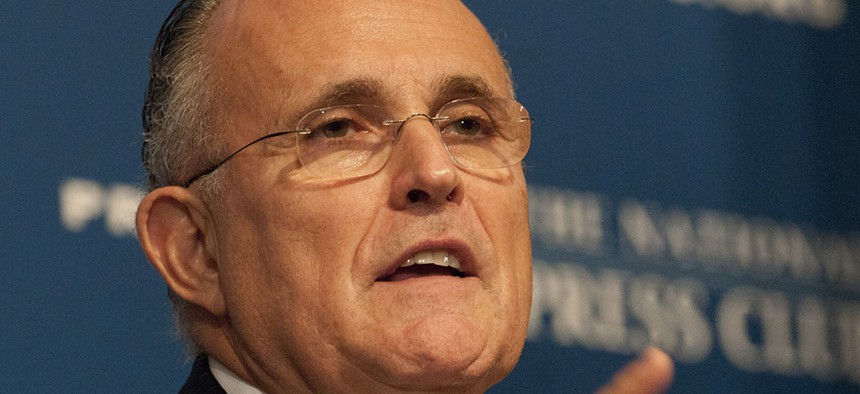 Early Wednesday morning, former New York City Mayor Rudy Giuliani's Manhattan home and his nearby office were raided by the Federal Bureau of Investigations, who seized cell phones and computers from both locations.
One of Giuliani's neighbors, Michele Herbert, who was present during the raid, said she saw FBI agents "bringing out a lot of stuff."
The materials collected were obtained via search warrants, as a part of an ongoing probe into Giuliani's involvement in the Trump-Ukraine scheme that resulted in President Donald Trump's first impeachment in 2019. 
"It's a clear indication that they're very close to indicting him," Danya Perry, a former federal prosecutor, told Bloomberg Law. "Much thought has gone into this, and executing the search warrant is almost the last step in the playbook."
This is hardly the first time that Giuliani has been the subject of scrutiny for his involvement in Trump's effort to extort interference on his behalf in the 2020 presidential election from the Ukrainian government. The New York Times reported, "The federal authorities have largely focused on whether Mr. Giuliani illegally lobbied the Trump administration in 2019 on behalf of Ukrainian officials and oligarchs, who were helping Mr. Giuliani's dirt-digging campaign."And Ukrainegate is just the latest in a long line of other suspicious business practices for which the former mayor has been criticized.
In case you're not all caught up, here are the latest updates on Giuliani's ethically or even legally dubious business interests and associations. 
Giuliani's firm is being investigated by the feds
On Nov. 25, 2019, the Washington Post reported that federal prosecutors in the Department of Justice's Southern District of New York office are investigating Giuliani's dealings with Lev Parnas and Igor Fruman, who both already face campaign finance charges and accusations of making false statements to the Federal Election Commission.
"The federal investigation into two associates of Rudolph W. Giuliani is exploring a wide range of potential crimes — including wire fraud and failure to register as a foreign agent — as prosecutors dig into the pair's interactions with the president's personal lawyer and the main pro-Trump super PAC," the Post reported, referring to Parnas and Fruman and America First Action, the pro-Trump ­super PAC set up by the president's advisors. 
Investigators were also looking into possible crimes including destruction or alteration of documents, aiding and abetting federal crimes and foreign contributions to U.S. candidates. Giuliani has denied committing any of these crimes. 
Parnas and Fruman are expected to go on trial in October for a series of alleged campaign contribution violations.
Lobbied the Justice Department on behalf of a wealthy Venzeulan 
During his visit to Madrid, in August, 2019, to meet with an aide to Ukranian President Volodymyr Zelensky, Giuliani also met with wealthy Venzeulan energy executive Alejandro Betancourt López, according to the Post. Betancourt López solicited Giuliani to contest the Justice Department's money laundering and bribery allegations against him. 
In September, Giuliani and several other lawyers met with the chief of the Justice Department's criminal division on behalf of Betancourt López, arguing that he should not be slapped with criminal charges due to a $1.2 billion money-laundering suit filed the year before. The lawsuit alleged that top executives who worked for a Venezuelan state-owned oil company – such as Betancourt López – attempted to steal money and lauder it through real estate and other investments in Miami. Betancourt López, was not charged in the case. Although he was mentioned in the actual complaint, he has yet to be convicted of any crimes.
Intended to work with Ukraine's top prosecutors
In the same month Giuliani was working with Yuri Lutsenko, Ukraine's top prosecutor, to investigate the Bidens, Giuliani was in the midst of securing a deal to represent Lutsenko for $200,000, the Post reported
The pair began hammering out an agreement in January and February, during meetings to discuss the information provided by Lutsenko regarding the Bidens and allegations that Ukraine had interfered with the 2016 American presidential election. During this time, Lutsenko was also pursuing the recovery of assets he believed were stolen from Kyiv. 
Lutsenko having Giuliani as his representation would have benefited him by giving him more direct access to U.S. officials through the attorney's relationship with the president, while Giuliani would have profited from Lutsenko's insights that could prove damaging for the president's political opponent – and a sizeable pay day. 
Though, the deal ultimately fell through, a draft of a retainer agreement from March reportedly revealed that Giuliani Partners would have received $300,000 from Ukraine's Ministry of Justice for recovering stolen assets. Giualiani has asserted that he did not provide services or receive any payments from Lutsenko or Ukraine.
Trump removes Giuliani as his personal lawyer
In February, a Trump advisor announced that Giuliani was no longer representing him as his personal attorney. Interestingly, Trump decided to keep working with him – at the steep cost of $20,000 per day – even after his sweaty press conference that occurred after the general election, when Giuliani falsely alleged that President Joe Biden had stolen the election.
Effort to revoke Giuliani's license to practice law 
On Jan. 6, Giuliani publicly encouraged Trump supporters to attack the U.S. Capitol to stop certification of the presidential election. In response, New York state Sen. Brad Hoylman requested that the state court system disbar Giuliani for his part in the "violent insurrectionist attack on the United States Capitol." However, nothing has come of the request yet.
Powered By
NEXT STORY: How some Cuomo critics are handling the Stringer allegations