Andrew Cuomo
Advocates: Cuomo has ignored people with disabilities too often
Funding has remained relatively flat for some programs despite the growing need.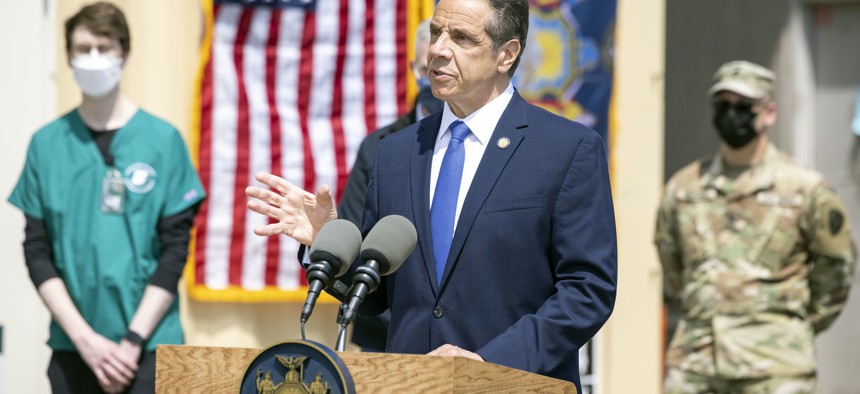 Humor and Gov. Andrew Cuomo have not always gone well together in recent years. One incident of note was the way the governor talked about his brother, CNN host Chris Cuomo, to a group of state Democratic Party dignitaries in 2018. "It's actually a funny story," the governor said. "He was found at our front door in a basket and he was 16 years old. So he has certain development issues."
The governor has delivered high-profile policy victories for historically disadvantaged groups. His record includes the legalization of same-sex marriage, criminal justice reforms, expansions of the social safety net like paid family leave and a domestic terrorism law aimed at combating antisemitism. But advocates for people with disabilities offer mixed reviews about his record during three terms in office. "The past several years have been tough," state Senate Disabilities Committee Chair John Mannion of Syracuse said in an interview. "As it relates to people with disabilities, they seem to be the first to get caught and the last to be invested in."
Cuomo's record with people with disabilities belies the image he projects as a justice warrior. Their needs have gone missing in gubernatorial pet projects. Legislators and advocates warn state support for key programs has remained relatively flat in recent years despite the growing need. And then there are the times when people with disabilities have faced the governor's political wrath for seemingly no real reason.
His once-celebrated COVID-19 briefings last year were a good example of this last point. "We are Americans at the end of the day," he said on March 17, 2020, at the onset of the coronavirus pandemic. "That's who we are and that's who we are when we are at our best so this hypersensitivity about politics and reading every comment and wanting to pit one against the other – there is no time for this." Yet, this message was not reaching deaf people because the Cuomo administration had not hired an American Sign language interpreter yet. "They didn't want to extend the service," Jessica Barlow, a senior staff attorney at Disability Rights New York, said in an interview. "He seems to be rather dismissive of the disabled community." A lawsuit by the advocacy group eventually forced the governor to share the screen with a sign language interpreter.
The episode highlights a disconnect between the rhetorical support that the governor offers people with disabilities and the concrete help that he delivers to people with physical or intellectual disabilities. "You can talk the talk, but walking the walk is where the money is," Matthew Shapiro, associate director of public affairs at the National Alliance on Mental Illness, said of the governor in an interview. The recently passed $212 billion state budget offers a few examples of how Cuomo has leveraged funding for programs benefiting people with disabilities to meet the greater political end of passing a budget to his liking.
About 1 in 5 New Yorkers have some type of disability, according to the state Department of Health. Those numbers cover a range of conditions from blindness to mobility issues to autism spectrum disorder, but the people who arguably need the help of state government the most are the more than 100,000 New Yorkers who receive services from the state Office for People with Developmental Disabilities. "Every year, we have to fight to just maintain the budget," Assembly Member Thomas Abinanti of Westchester County, who chairs the Committee on People with Disabilities, said in an interview. This included getting the governor to back down from a proposed $93 million reduction for the office's services. Lawmakers and activists also had to push Cuomo to give up on deferring a cost-of-living adjustment for nonprofit workers who deliver services on behalf of the agency.
"He seems to be rather dismissive of the disabled community." – Jessica Barlow, a senior staff attorney for Disability Rights New York
The governor justified these proposed cuts because of the budget deficit that existed before billions of dollars arrived from the latest federal stimulus package and higher taxes on wealthy New Yorkers. And once the money arrived, any increases for programs benefiting people with disabilities had to be balanced with restoring cuts to other government agencies while directing resources to the state's recovery from the pandemic. Yet, hundreds of millions in federal stimulus funding for supportive services remain unused after state legislators made the governor give up control of it, according to Abinanti. "He made a big, big deal in his budget (proposal) about a crisis response program – didn't fund it," Abinanti added. "There was no money in the budget to fund it."
A provision in the state budget permits the state to direct more stimulus money toward programs benefiting people with disabilities once federal guidance is received, according to Department of the Budget spokesperson Freeman Klopott. "This administration cares deeply about supporting New Yorkers with developmental disabilities and their families," he said in a statement. An 8% increase for the Office for People with Developmental Disabilities in the new state budget, and other increases for certain support services, are two demonstrations of the administration's commitment, he added.
This hardly means that the governor had done nothing for people with disabilities during his time in office. His early years included pushing for accessible New York City taxis and updating the outdated "handicap" symbol created four decades ago. Cuomo established the Justice Center for the Protection of People with Special Needs in 2012 to monitor state agencies and nonprofit contractors for abuse. Despite some scandals, the state as a whole appears to be doing a lot better at taking care of people with disabilities compared to decades ago when it operated state institutions like Willowbrook on Staten Island. The recently passed budget for example increased the minimum wage for caregivers, which could reduce staff attrition rates. Ongoing efforts by the Cuomo administration include a $710 million investment in salaries since 2015 as well as ongoing expansions of programs promoting employment, independent living and community-based residential programs.
Yet, advocates say the governor has ignored the needs of people with disabilities on gubernatorial pet projects like public transit. The governor has notoriously micromanaged projects down to the blue and yellow subway tiles used by the Metropolitan Transportation Authority, which Cuomo controls through his appointments to its board, and a subway tunnel repair project under the East River.
Just a quarter of subway stations are currently accessible, with plans to make the transit system fully accessible by 2034. Three lawsuits against the MTA by the Center for Independence of the Disabled New York remain ongoing because the governor will not work together with the advocacy group, according to Executive Director Susan Dooha. "We are disappointed with the governor," she said in an interview. "We think that the governor and his appointees on the MTA board should instead be looking proactively how they can reach an agreement with the community."
Dooha added other sources of gubernatorial frustration. Cuomo's self-imposed cap on Medicaid spending growth limits how much money the state spends on services for people with disabilities, like long-term care. Other policies have affected people with disabilities, such as the pace of distributing COVID-19 vaccines in prisons and jails whose populations have higher numbers of people with disabilities compared to the general population. The COVID-19 death toll in congregate facilities was made worse by a policy allowing patients discharged from hospitals to be sent to recover at congregate living facilities, similar to the governor's controversial policy on nursing homes. This comes after the administration has blocked additional funding for oversight programs in past years, according to Dooha. "The starvation of the Long Term Care Ombudsman Program is another signal from this administration that it doesn't value that protection of people with disabilities," she added.
People with disabilities and their advocates have plenty of fiscal grievances with the governor. They also lament how he has not applied his political talents to their various causes as much as they would like. Sometimes, they just want the governor to stop making jokes at their expense, like that time several years ago when dwarfs asked the governor to avoid "Mini Me" attacks on his political rivals moving forward. Longtime political insiders like Abinanti say gubernatorial recognition is evidently hard to come by for people with disabilities. "They're not at the top of his list or at the bottom of his list," Abinanti said. "He sees services for people with disabilities as a place to cut and save money."
Abinanti, who has a child who is autistic, was also frustrated with the governor's track record of making jokes at the expense of people with disabilities. The governor never apologized to Abinanti when he demanded an apology after Cuomo joshed a crowd of political supporters about his brother's purported "development issues." Three years later, Abinanti is seeing a connection with how the governor is using his questionable sense of humor as a shield against allegations of sexual harassment from multiple women. "He never admits he is wrong," Abinanti said. "He never apologizes. Just look at the 'apology' to the women who accused him of wrongdoing. Almost like it was their fault for taking his 'humor' the wrong way!"
– With reporting by Jasmine Sheena
Powered By
NEXT STORY: RCV makes strange bedfellows