New York City
Cuomo's book deal and the NYC mayoral race gets nasty
Rounding up the week's political news.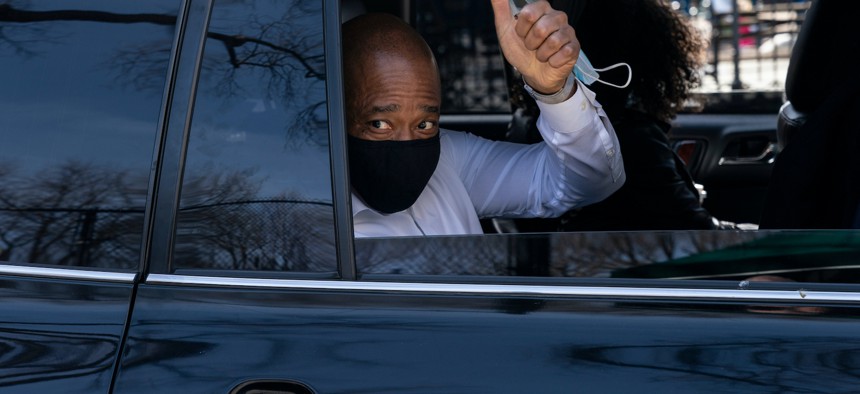 New York City Mayor Bill de Blasio really seems to be suffering from a case of senioritis. Last week, he decided he would eat a burger and fries for breakfast on camera because Shake Shack was giving out gift cards for vaccinations. This week, Blaz thought he'd rep his Brooklyn pride and showed up to his daily press conference decked out in a Nets snapback and Nets jersey under his unbuttoned shirt. He wanted to promote the latest incentive to get the vaccine – the chance to get tickets to the Nets playoff game – but instead became an instant meme. It seems that with just a few months left in office, Hizzoner has just decided he's going to live his best life.
Keep reading for the rest of this week's news.
Cuomo's multimillion dollar book deal
After months of questions and speculation, Gov. Andrew Cuomo released the details of his deal to write a book about his leadership during the COVID-19 pandemic. Earlier reporting from The New York Times put the deal at about $4 million, but when Cuomo released his taxes, he revealed that he netted even more – $5 million over two years. He got about $3.1 million last year, which totaled over $1.5 million profit after taxes. He donated $500,000 to the nonprofit United Way of New York with the rest going into a trust for his daughters. Cuomo is set to receive the remaining $2 million this year, but hasn't said what he intends to do with the money. Asked about accusations that he profited off the COVID-19 pandemic that left tens of thousands dead in New York alone, Cuomo said the idea was "stupid" and that it was "offensive" to even ask the question. The governor is currently under federal investigation into whether he used tax dollars to help write the book by having state employees work on it on the clock as part of a broader inquiry into whether Cuomo withheld data on COVID-19 nursing home deaths.
Cuomo investigations move ahead
The governor isn't just getting investigated over his book. Other inquiries are moving along as well. State Attorney General Letitia James has subpoenaed several of the women who have accused Cuomo of sexual harassment or assault to testify under oath as part of her probe into the claims. It's a sign that her investigation is moving into a new phase. Meanwhile, federal prosecutors, the same ones who are looking into how Cuomo wrote his book, have expanded their inquiry to include whether the administration provided priority COVID-19 testing and rapid results to the governor's friends and allies. More negative press came with a new report that Chris Cuomo, the governor's brother and CNN anchor who frequently hammed it up with the governor on his show during the height of the pandemic, advised his brother on how to respond to sexual harassment allegations.
AG investigation into Trump's business goes criminal
But Cuomo isn't the only person getting bad news about investigations into misconduct the past week. The state attorney general's office announced that it's probe into former president Donald Trump's family business has become criminal after previously being a civil investigation. James is now working alongside the Manhattan district attorney's office with its criminal investigation as her office continues its civil inquiry as well. And although the shift only recently came to light, the attorney general's office has been criminally investigating the chief financial officer of Trump's company for several months already.
NYC mayoral race gets nasty
Months of cordial mayoral forums between the eight leading Democratic candidates for New York City mayor are being left behind as the primary enters the home stretch and those running are not pulling any punches. After a New York Times piece calling into question Brooklyn Borough President Eric Adams fundraising practices, Andrew Yang and Maya Wiley called on the Campaign Finance Board to investigate. Yang, the current front-runner, has until now largely avoided directly attacking any of his opponents, instead allowing surrogates to do it. Adams struck back by criticizing Yang's own fundraising practices and potential ethics violations from his run for president, asking the CFB to look into him instead. All the while, most leading candidates have massive super PACs supporting them funded by millionaires and billionaires all over the country as they point fingers about unethical fundraising and influence of money in politics.
Powered By
NEXT STORY: City Council District 37 race readies for a rematch