New York City
Democrats duke it out in person and top court nominee met with opposition
Rounding up the week's political news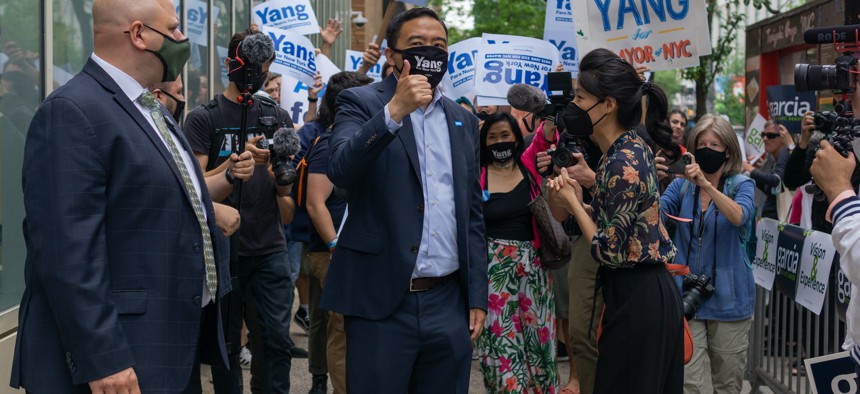 Small business owners be warned: Andrew Giuliani might show up without notice to campaign for governor. That was the case for the owner of Perreca's Bakery, a famous locale in Schenectady that also steers clear of politics and campaigns. Apparently, a campaign staffer made a vague call in the morning about a friend in town wanting to stop in without mentioning Giuliani or the candidacy. Later that day, Giuliani showed up to stump. Needless to say, it caught the owner by surprise. Keep reading for the rest of this week's news.
Democrats duke it out in person
Democrats vying to be the next mayor of New York City faced off in a raucous debate, the second of the election cycle, and the first to be held in person. Crime and policing took center stage in the debate as candidates offered differing views of how to address concerns around raising crime and calls to reform the New York City Police Department. Candidates including Andrew Yang and Ray McGuire reiterated their opposition to the defund movement, with Yang saying that the NYPD needs to go on a recruitment drive and increase the size of the force. Yang and Brooklyn Borough President Eric Adams, the two front-runners, bore the brunt of the attacks during the debate, with Adams questioned over his recent support for the return of stop and frisk, and Yang questioned over his qualifications. During a particularly tense back and forth between the front-runners, Yang accused Adams of being the subject of multiple corruption investigations, with Adams hitting back on Yang's lack of participation in municipal elections.
Adult Survivors Act passes in state Senate
A follow-up to the Child Victims Act made it through the state Senate, one of several bills the chamber passed as the session draws to a close. The Adult Survivors Act is similar to the Child Victims Act – reforming statutes of limitations for sexual assault and creating a look-back window to bring cases. The Adult Survivors Act is for those who were older than 18 when they were abused. The bill has not yet passed in the Assembly. The Sexual Harassment Working Group wrote a letter blasting the Assembly for what they considered stalling this and other recently passed state Senate bills to strengthen sexual harassment laws. The state Senate also passed legislation, introduced after the Cuomo administration reportedly circulated personnel documents about Lindsey Boylan in the wake of her allegations of sexual harassment against the governor, that would outlaw the retaliatory release of employees' personnel files. It still awaits a vote in the Assembly. The upper chamber also passed a slate of gun control legislation, including a 10-day waiting period and a bill that would increase the penalties for illegal gun sales and manufacturing.
Opposition to Court of Appeals pick
Gov. Andrew Cuomo recently announced his picks to fill two empty Court of Appeals seats, nominating Nassau County District Attorney Madeline Singas and state Supreme Court Justice Anthony Cannataro, who is also the administrative judge for the Civil Court of New York City. They now need to go to the state Senate for confirmation, but opposition to Singas is brewing among progressives who don't want to see another career prosecutor on the state's top court. Left-wing activists are organizing a campaign to convince the state Senate to vote against her confirmation, and it seems to have begun to gain traction among some of the chamber's most left-leaning members. State Sens. Julia Salazar, Gustavo Rivera and Jabari Brisport have already said that they oppose Singas' nomination and would vote against her. If eight more Democrats join in opposition, they could successfully block her from the Court of Appeals. But for now, her confirmation is moving along as discussions are beginning for the special election to replace her in Nassau County.
Second women describes groping by Stringer
Several weeks after Jean Kim alleged that New York City Comptroller and mayoral candidate Scott Stringer groped and kissed her without her consent in 2001, a second woman has come forward, describing a similar experience. Teresa Logan worked at a bar that Stringer co-owned in the 1990s and said that he sexually harassed her, and groped and kissed her without consent. Stringer said he doesn't recall having ever met Logan.