Campaign Confidential
Malliotakis' silence has SI GOP mad
After spending more than a decade out of politics, former Staten Island Rep. Vito Fossella made what could be a decisive comeback Tuesday in Staten Island politics.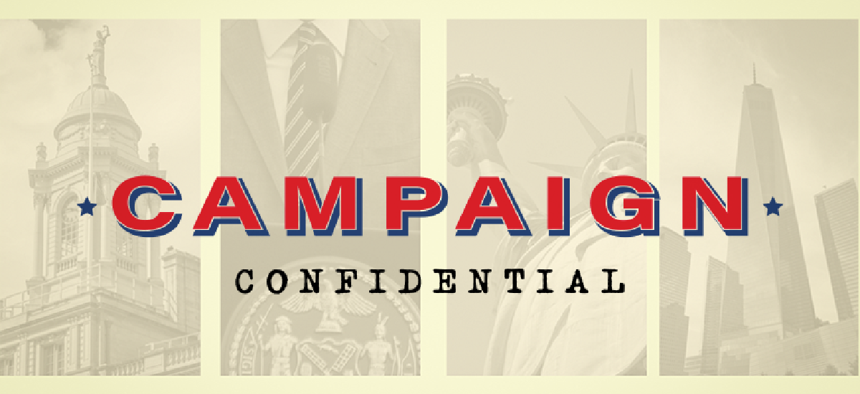 A Trump, Vito Fossella and Nicole Malliotakis saga
After spending more than a decade out of politics, former Staten Island Rep. Vito Fossella made what could be a decisive comeback Tuesday in Staten Island politics. His narrow lead in the Republican primary for borough president proves, politicos said, the strength of not just Fossella's name, but the strength of his last-minute backer on Staten Island: former President Donald Trump. By the end of Tuesday night, Fossella led New York City Council Minority Leader Steven Matteo, who was backed by the Staten Island Republican Party, by 211 votes, or about 1.2 percentage points, in a race that is still too close to call.
Republican sources say the party is fine if either Fossella or Matteo win but are unified in their anger against one Republican politician: first-term Rep. Nicole Malliotakis, who didn't endorse Matteo, nor any candidate in what is arguably Staten Island's most coveted local political seat. (She also did not attend the party's watch party on election night). If Fossella wins or loses, they say that Malliotakis' inaction paves the way for Fossella to mount a Staten Island Republican Party-backed primary challenge against her next year, given his name recognition and ability to secure a Trump endorsement.
One party source who helped organize for Malliotakis during her congressional race last year said they haven't heard from her since early this year and won't help her again since she didn't help the party. "We did for her, she doesn't want to return it, it's basically a fuck you,"the source said. "I do think there are a lot of Republicans who feel a little bit burned by Nicole because of how missing she was this cycle," the source continued. "Next year, it would be hard to find people willing to come out and help her to organize the same way." 
By the Numbers
About 930,000
The number of estimated votes cast in the Democratic mayoral primary, once everything is counted. That would be the highest number of votes in a mayoral primary since 1.1 million Democrats came out in 1989 to help the city's first Black mayor, David Dinkins, unseat the incumbent Ed Koch. And if anything, this year's total is an underestimate, since more mail-in ballots are expected to trickle into the Board of Elections in the coming days, adding to the 111,119 received as of Thursday night. About 180,000 Democrats voted early, and about 641,000 did so on Tuesday. But while the raw number of votes exceeded expectations, the percentage of Democrats that turned out wasn't all that high, historically, given how much the party's enrollment has grown over time.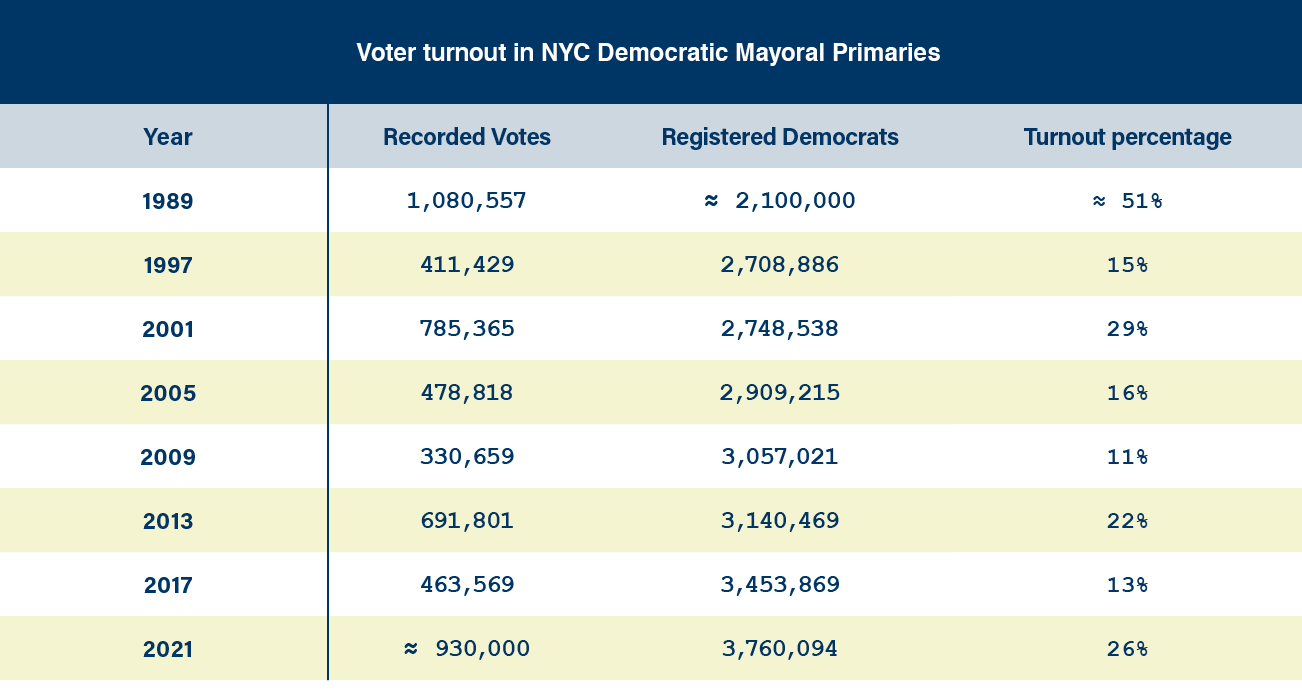 Could they have just handed out cash instead?
Is your vote worth $1,300? The numbers aren't official yet, but as it stands right now, Nabaraj KC, running in City Council District 19 in northeastern Queens, seemed to have the worst dollar-to-vote ratio in the city, raising $197,732 and earning just 153 votes – $1,292 per vote. KC, an entrepreneur and realtor who says he's the first Nepali American to run for the council, got just 1.46% in the six-way Democratic primary. He maxed out on public funds, bringing in $168,888, once again raising the hackles of critics like consultant Patrick Jenkins who think the system is too generous. But fully privately funded candidates can underperform too. Susan Damplo, an administrative law judge who didn't take public funds, raised $197,274 and got 282 votes – so $700 per vote. And it's not just the little guys. Ray McGuire raised nearly $12 million and got just 18,503 votes. That's $646 per vote. And if you include the $5.7 million a super PAC spent to support him, then it's $956 per vote. And Shaun Donovan raised $279 per vote on his own, but if you include the super PAC his dad funded, it's $654 per vote. In comparison, even when you include the $7.6 million super PACs spent for him, Eric Adams was at $75 per vote.
What to expect when you're expecting
After a day off in his pajamas – and maybe a bath with rose petals – Eric Adams acted like a presumptive mayor on Thursday, making pronouncements before the media and riding a bike to a street renaming. It's easy to make Adams' case as the mayor-in-waiting, with a 9-point lead on Maya Wiley. And while recent polls suggest that either Wiley or Kathryn Garcia could slightly close the gap between themselves and Adams when voters' ranked choices are factored in, Adams' relative popularity in second- and third-choice votes should be enough to leave him on top. But victory is possible for both Wiley and Garcia and neither is about to give up – especially to a man who has never seemed all that jazzed about ranked-choice voting. But this period of three mayors may not last long. The full, official results, including the absentee ballots, which make up about 12% of the total votes, aren't expected until July 12. But the Board of Elections will release the full in-person voting results on June 29 – likely at the commissioners' weekly 1:30 p.m. meeting – which should give a clearer sense of whether Adams picked up enough other ranked votes to win.
Returners prevail, mostly
Easiest way to win a City Council seat? Be a former City Council member. Manhattan Borough President Gale Brewer, who served on the City Council for 12 years until she was term-limited in 2013, won handily on Tuesday night, securing 54% of the first-place votes in District 6 on the Upper West Side. Darlene Mealy emerged in the District 41 race in Central Brooklyn with 57% of first-place votesagainst incumbent Alicka Ampry-Samuel. Months after winning his former seat in a special election, three-term veteran James Gennaro finished the night with 60% of the vote, leading Moumita Ahmed in the District 24 race in eastern Queens. In East New York, Assembly Member Charles Barron is vying to replace his term-limited wife, City Council Member Inez Barron. He's leading Brooklyn Democratic machine candidate Nikki Lucas with 47% of the vote. And Tony Avella, who also served in the state Senate, is on a likely path to victory, holding 37% of the vote in northeastern Queens. The one loser? Ruben Wills, currently down 32 percentage points to incumbent Adrienne Adams in Southeast Queens, but he's really a winner after a court reversed his felony conviction earlier this year. And another veteran will have to wait. Democrat Sal Albanese was uncontested in Staten Island's Council District 50, but it's historically been held by Republicans and he may face a tough contest in November.
District Data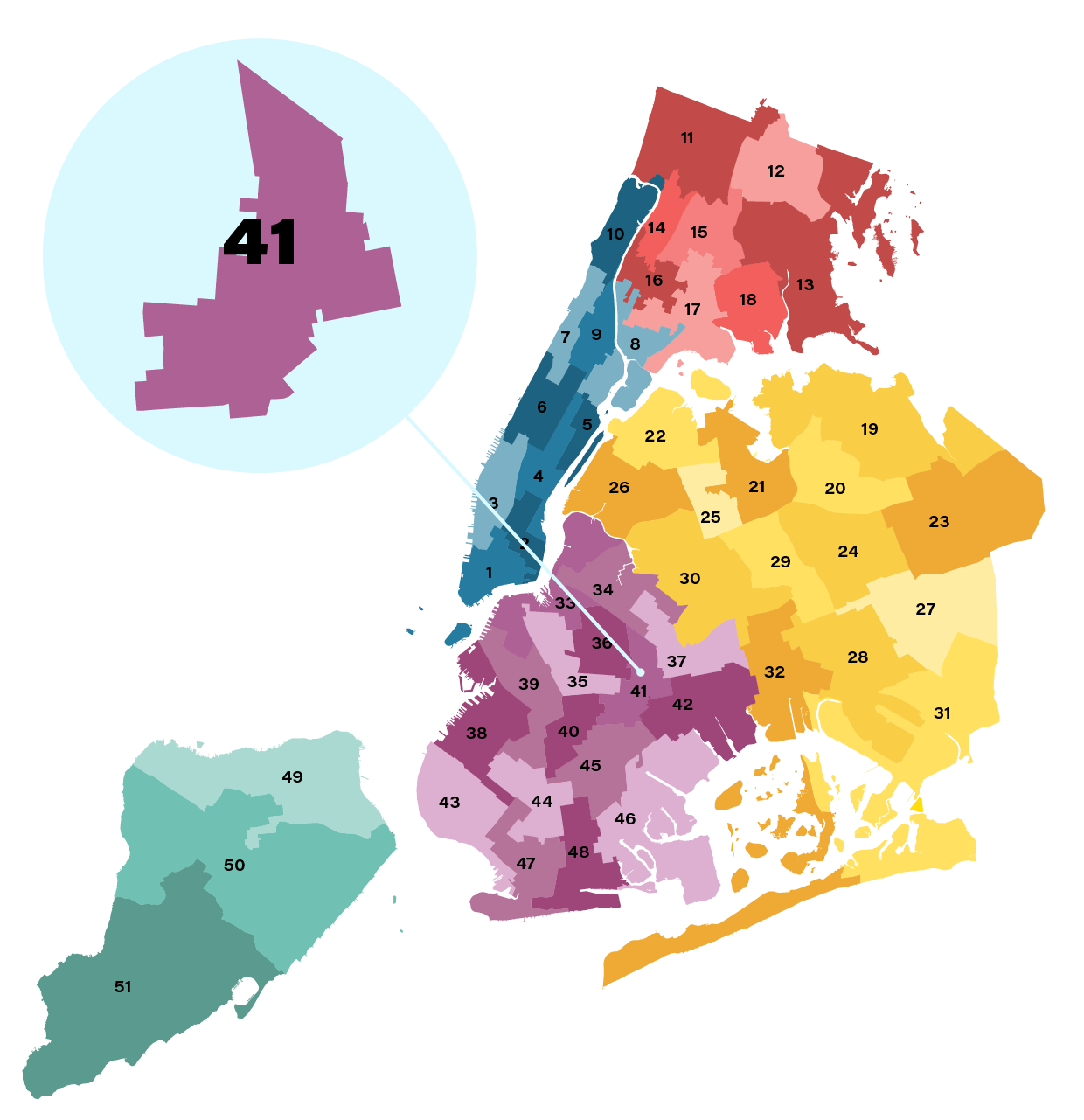 City Council District 41 in central Brooklyn, covering neighborhoods including Bedford-Stuyvesant, Brownsville and East Flatbush
Current council member: Alicka Ampry-Samuel, since 2018, who ran for reelection
2010 census demographics: 81.1% Black, 14% Hispanic, 2.1% white, 0.7% Asian and Pacific Islander
Housing: 82.9% renter-occupied, 17.1% owner-occupied
2017 primary election results: Alicka Ampry-Samuel: 31.2%, Henry Butler: 22%, Cory Provost: 11.2%, Moreen King: 8.5%, Deidre Olivera: 8.5%, Royston Antoine: 5.7%, Victor Jordan: 5.3%, David Miller: 4.9%, Leopold Cox: 2.9%
2021 preliminary primary election results: Darlene Mealy: 57.3%, Alicka Ampry-Samuel: 42.1%
Who's running: Even though Darlene Mealy had held the seat for three terms, from 2006 through 2017, Ampry-Samuel – the incumbent, an attorney and political ally of Rep. Yvette Clarke – was expected to cruise to victory. After all, she had just won a crowded primary four years before and had been eyeing a run for speaker of the City Council in 2022. But Mealy – who is a district leader and an ally of former party leader Frank Seddio – didn't want that to happen, and her years of elected experience may have given her the edge over Ampry-Samuel, even if City & State did rate Mealy as the worst member on the City Council in 2017. With just two weeks to go until the primary, Mealy had only reported spending an almost impossibly little $1,260 – while Ampry-Samuel had spent 97 times that amount – $122,451. But Mealy got an influx of $82,062 in public funds just five days before the primary, and must have put it to good use. Ampry-Samuel feels "shocked and disappointed," she told Campaign Confidential in a text message. "The community deserves more and we've gained real momentum. With just two years in office before the pandemic, it's hard to compete with someone in elected office for the last 16 years." Will she challenge Mealy in the general? "If given the chance … I would. But I am uncertain of the possibilities at the moment."
Twitter Posting
"You slid into my mailbox so I figured I'd slide into your DMs."
Hope they sent that to every candidate that sent them mail during the election