New York City
New York hits vaccination benchmark and the final NYC mayoral debate
Rounding up the week's political news.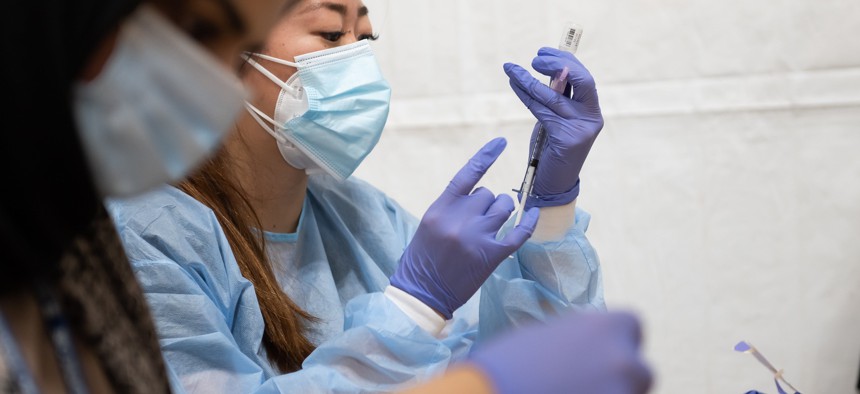 Did you hear the news? The pandemic is all but over with low rates COVID-19 cases and increasing vaccinations. New York City Mayor Bill de Blasio announced a ticker tape parade scheduled for next month to honor the essential workers who kept New York running and treated the sick during the worst of it. And Gov. Andrew Cuomo arranged for impromptu firework shows across the state to commemorate essential workers and celebrate how far the state has come since the height of the pandemic last spring. Sure, both leaders are careful to say that the pandemic isn't over, more vaccinations are needed and New Yorkers need to stay vigilant, but they really seem to feel good about where the city and state are at right now. Keep reading for more on that, and the rest of this week's news.
New York hits vaccination benchmark
Gov. Andrew Cuomo announced that 70% of New York adults have received at least one dose of the COVID-19 vaccine, a benchmark he had set for the lifting of most remaining pandemic restrictions. In a celebratory press conference, Cuomo all but announced "mission accomplished" with regards to overcoming the coronavirus pandemic. Even with the relaxed restrictions that remove social distancing requirements and capacity limits, Cuomo said the state will continue to increase vaccination levels in communities where rates remain low. However, Cuomo still has not rescinded the state of emergency he declared over a year ago, which gives him expanded powers and authority. Republicans are calling on the governor to end the emergency declaration and give up the power that allows him to suspend laws and amend current executive orders regarding the pandemic.
A return to homeless normal
With restrictions lifting and vaccination rates up, New York City Mayor Bill de Blasio announced that the 8,000 homeless people who had been living in individual hotel rooms during the pandemic will be transferred back to congregate shelters. They had originally been moved to avoid living in close quarters that would lead to COVID-19 outbreaks, but the decision had been met with backlash from some people who lived near the hotels they had been relocated to. De Blasio's new decision to place them back into congregate shelters was met with resistance from advocates for the homeless, as well as those who had been living in the hotels.
Final NYC mayoral debate
The eight leading candidates running for mayor of New York City took to the stage for one final debate before voters head to the polls on June 22. Andrew Yang focused his attacks on front-runner Brooklyn Borough President Eric Adams, with whom he has been consistently close in recent polling. Yang specifically touted his endorsement from the Captains Endowment Association, Adams' own old police union. Candidates also traded barbs over how to tackle homelessness and mental illness, leading to an exchange between Yang and Comptroller Scott Stringer, during which Stringer called into question Yang's preparedness for the position of mayor. When asked about what they considered the worst ideas they've heard on the campaign trail, defunding the police was a main point of contention, while Maya Wiley accused Adams of wanting to bring back stop and frisk.
New Percoco news emerges
Former top Cuomo aide and honorary third son of Mario Cuomo who was sent to prison for taking bribes, Joe Percoco, was in the news again thanks to new reporting about who has been paying the tab for his lawyers. Turns out, Cuomo's sister Madeline had been raising money for his defense and appeal, as well as for his children, before the pandemic from close friends and allies of the governor and the Cuomo family. For years, questions have swirled about who has been footing the bill for Percoco's many court-related fees, especially since his lawyers said he had been on the verge of bankruptcy. Madeline Cuomo said that she never told her brother about her efforts, and the governor denied having any knowledge.
Powered By
NEXT STORY: Bill Perkins, despite barely running, may win again