New York City
State lawmakers wrap up and Adams' residence called into question
Rounding up the week's political news.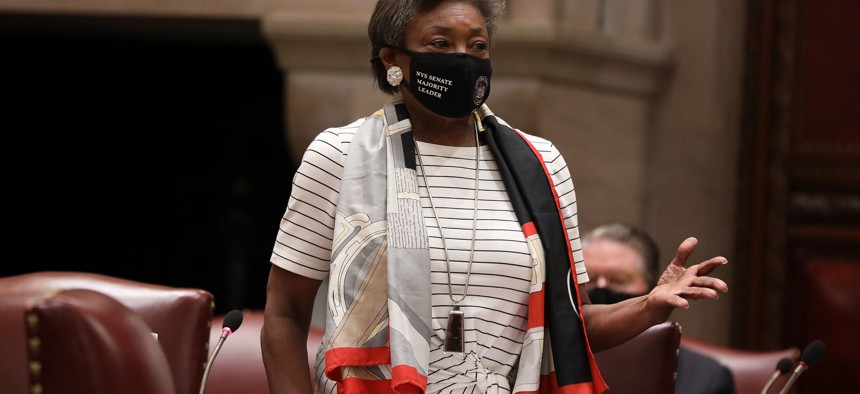 Early voting starts today, which means it's most New York City voters' very first chance to try out the swanky new ranked-choice voting system. In order to help make sure they are prepared, Mayor Bill de Blasio decided he would offer a live demonstration during one of his daily press conferences. He held up a large poster with a ballot for ranking New York's best pizza toppings. De Blasio's rankings? Green peppers, olives, sausage, mushrooms, pepperonis. And absolutely no pineapple, which "doesn't belong on pizza." In the end, after offering New Yorkers the chance to vote online, pepperonis came out on top. For the rest of the week's non-pizza news, keep reading.
Session wraps up
Lawmakers in Albany closed the book on 2021, ending the legislative session with a flurry of bills getting passed, from larger agenda items to the mundane things like street renamings. The final days were somewhat chaotic as deals fell through at the last minute. Namely, lawmakers said they reached a deal to pass the Clean Slate Act, which would automatically seal the criminal records of many people. After discovering a technical mistake that required fixing, lawmakers initially seemed to reach a deal with Gov. Andrew Cuomo to pass the updated version with a message of necessity along with a bill of his to split the MTA leadership that had already been tabled. But the session ended without either getting approved. Other big ticket items that failed to pass both houses included the Adult Survivors Act, which would suspend the statute of limitations to give sexual abuse victims a chance to file civil lawsuits, a slate of sexual harassment and assault reforms, and several parole reform bills. One parole reform bill did make it through: The Less is More Act would reduce the use of incarceration as punishment for technical violations. The Legislature also passed measures to increase early voting locations, speed up absentee ballot counting, create a lockbox for opioid settlement funding to be used for addiction treatment and legislation that would allow people to sue gun manufacturers. The state Senate also voted to approve many appointees from Cuomo, including his two picks for the Court of Appeals. That included former Nassau County District Attorney Madeline Singas, who faced opposition from a number of Democrats and got approved in a surprisingly close vote.
Where in the world is Eric Adams?
The Brooklyn borough president and New York City mayoral candidate was at the center of everyone's attention when a Politico New York report came out calling into question whether or not he even lives in New York, or is residing in New Jersey. Adams owned or has owned several properties, including a New Jersey co-op he bought with his partner. In recent months, Adams has been spending many of his waking and sleeping hours at Borough Hall, and conflicting documents call into question which residence Adams actually calls home. He denied living in New Jersey and said he has lived in a basement apartment in the three-unit row house he owns in Bedford Stuyvesant, Brooklyn. He even invited reporters to take a tour of his apartment to prove that he lives there. Soon after the report came out, Adams released his E-Z pass records for the past year. They seem to throw water on the idea that he has secretly been living in New Jersey, showing just a handful of hits in the state during that time.
NYC mayoral candidates make their case before early voting
In the final debate before the start of early voting on June 12, candidates for mayor of New York City faced off to make their case to the voters. Adams – a front-runner in the race who initially indicated he would skip the debate – bore the brunt of attacks, still reeling from reporting calling into question where he lived. Overall, the debate was notably more civil than the chaotic previous debate with policy taking a center stage. After getting major endorsements from Rep. Alexandria Ocasio-Cortez and city Public Advocate Jumaane Williams, Maya Wiley continued to attempt to cement herself as the candidate for progressives after the implosion of Dianne Morales' campaign amid staff problems, and sexual misconduct allegations surrounding city Comptroller Scott Stringer. Andrew Yang touted his relationship with CNN anchor Chris Cuomo as evidence he could get along with his brother, the governor. And on a lighter note, debate moderator Marcia Kramer asked each candidate whether they'd rather be able to fly or turn invisible.