Excelsior Newsletter
What do NYC district attorneys do?
Preliminary results from the packed primary race for Manhattan district attorney have indicated that former state Chief Deputy Attorney General Alvin Bragg is the likely winner.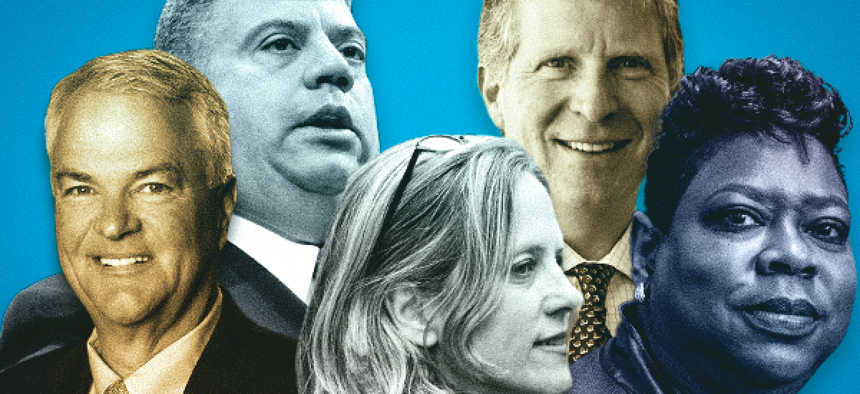 The power of an attorney
Preliminary results from the packed primary race for Manhattan district attorney have indicated that former state Chief Deputy Attorney General Alvin Bragg is the likely winner.
Throughout the course of his campaign, Bragg was able to win over progressives and moderates with his past work experience and plans to reduce incarceration, along with his promise to not prosecute a number of minor offenses. Bragg has also been vocal about how his own experience of being stopped and frisked by police has shaped how he thinks about the criminal justice system. However, Bragg's stances are not as far left as candidates such as civil rights attorney Tahanie Aboushi, the favorite of the activist left, who hoped to dramatically reduce prosecutions. Trailing close behind Bragg in second place is Tali Farhadian Weinstein, his biggest competition in the race, who spent millions of her own fortune on advertising that some thought could significantly sway voters.
While this was one of the few races, aside from the judicial primaries, to not use ranked-choice voting, as the position is technically a state elected office, voters are still going to have to wait for results from absentee ballots to be counted before we know the official winner.
As we wait for the official announcement to come in, let's take a moment to talk about what it is that a district attorney does and is supposed to do in New York City. 
Simply put, a district attorney acts as the top prosecutor of whatever county district they're in. Because each of the city's boroughs is its own district, each borough has its own district attorney, who is expected to conduct all criminal prosecutions within the county. Each term lasts for a total of four years, and the position is not term-limited, which means district attorneys can continue to run for the office as long as they like.

The Manhattan district attorney, more so than the city's other district attorneys, is considered especially powerful. Consider the high-profile cases that often end up being tackled by the district attorney, such as former President Donald Trump's dubious finances. The office also has over two dozen units and bureaus, dedicated to everything from cyber crime and identity theft to violent criminal enterprises, and hundreds of attorneys on staff to assist with cases.
The DA's discretion
Decisions, decisions
Like most elected offices, the way any given district attorney's office operates is heavily dependent on who the district attorney is. They can choose how they would like to prosecute a case, how to make plea bargains and whether or not to seek bail – and they can also confiscate property. 
Additionally, district attorneys have the power to opt out of prosecuting certain charges or cases, which in recent years has become much more important. For example, in April, Manhattan District Attorney Cy Vance announced that his office would no longer be prosecuting prostitution and unlicensed massage, explaining that the practice of doing so did nothing to make the borough safer and ends up "further marginalizing vulnerable New Yorkers." Vance's move represents the shift in perspective on the criminalization of sex work and the enforcement of certain anti-prostitution laws.
While decisions like these have made waves in recent years, district attorneys have long acted in a way they view to be just, regardless of what the state law says or allows for. In 1997, then-Manhattan District Attorney Robert Morgenthau, who was the longest serving district attorney in the office, announced that he would not seek the death penalty for a stockbroker who had murdered a police officer, despite ongoing calls from the public and prominent elected officials to do so. The death penalty was still legal in New York until 2004, when the state's court of appeals deemed it unconstitutional.

While Morgenthau said in a statement at the time that his decision not to seek capital punishment ''would not be the product of any personal philosophy attributed to me,'' he was known for being a fierce opponent of the death penalty, never once pursuing it during his tenure. "The death penalty exacts a terrible price in dollars, lives and human decency," Morgenthau once said.
How NYC district attorneys came to be
Mini history lesson
In 1796, New York was split into seven counties, each with their own assistant attorney general, or what is now known as a district attorney. While the other boroughs fell under the first district of New York and had their own district attorney, Manhattan has not always had its own DA as it does now. Before 1801, when New York County became a part of the first district of New York, all criminal cases in New York County (Manhattan) were prosecuted by the New York state attorney general. 
Until 1822, district attorneys in New York were appointed by the since-obsolete Council of Appointment. In this period, the DA served "during the council's pleasure" (creepy), so there was no defined term of office. The position then had three-year terms, and in case of vacancy, the governor was able to make an interim appointment. 

In 1846 the position became an elected office following a constitutional convention. Since the 1930's the Manhattan district attorney's office has only had four elected DAs: Thomas E. Dewey, Frank H. Hogan, Robert M. Morgenthau, and current Manhattan DA Cy Vance. All Manhattan DAs so far have been *surprise surprise* white men.
Get to know NYC's DAs
Power Players
Cy Vance: Cyrus Vance Jr., son of Jimmy Carter's secretary of state Cyrus Vance Sr., was first elected Manhattan DA 2009 and reelected in 2017. Vance ran on the idea of "community-based justice." However, his office's record on sexual assault cases has repeatedly drawn attention throughout the years. This includes a 2011 decision by a prosecutor from Vance's office to ask for notorious abuser Jeffrey Epstein's sex-offender status to be lowered. The hearing, which Vance claimed to be unaware of, drew much scrutiny in 2019 when Epstein was arrested and charged for sex trafficking. Critics have also questioned Vance's handling of charges against Harvey Weinstein and the Trump family after contributions to Vance's reelection campaign from Weinstein's lawyer and a Trump lawyer. In 2019, Vance filed indictment charges against Paul Manafort, former chair of Donald Trump's 2016 campaign, which were later dismissed by a judge. Later in the year, Vance's subpoena for Trump's personal and business tax returns would be upheld after several appeals, and Vance's office is currently investigating the returns.
Darcel Clark: Darcel Clark was elected Bronx DA in 2016, and is the first woman to hold the position, as well as the first woman of color to be a New York state district attorney. Clark's platform centered on targeting Rikers Island cases and lowering backlog. However, Clark's office has been the subject of multiple accusations of corruption and cronyism, including accusations of requesting the resignation of a disabled prosecutor, retaliation against a police officer for ticketing a City Council member and encouraging prosecutors to slow down cases.
Eric Gonzalez: Kings County District Attorney Eric Gonzalez became acting district attorney in 2016 after his predecessor Kenneth P. Thompson died, and was elected to office in 2017. Gonzalez has become known as a progressive prosecutor, focused on reforms and internal investigations, such as a report detailing wrongful convictions in Brooklyn. Still, Gonzalez has come under fire from activists as a "reformist," and has also been critiqued by police union leaders for actions like releasing a list of police officers with questionable credibility. 
Melinda Katz: Melinda Katz, a lifelong politician, narrowly defeated public defender Tiffany Cabán to be elected to the office of Queens County district attorney in 2019. Katz, like Gonzalez, has promised to be a progressive prosecutor. While she seemed to follow through in her first year by stopping the prosecution of most low-level marijuana arrests and forming a unit to investigate claims of innocence, it remains to be seen how Katz will handle prosecutorial misconduct. Katz, Vance and Gonzalez have all pushed for the dismissal of prostitution cases.
Michael McMahon: Michael McMahon, Richmond County district attorney, was elected to office in 2015 after previously serving in Congress. McMahon has focused on Staten Island's opioid crisis, spearheading initiatives to offer outreach programs as an alternative to incarceration. McMahon has also stated that he will not prosecute police officers who "accidentally" violate the city's recent diaphragm law, which prevents cops from sitting or kneeling on people's necks, backs and chests while making arrests.
Can DA's impact policy?
Somewhat.
Even though district attorneys are mostly concerned with prosecuting cases in their county, their rulings and stances on particular issues can often help shift lawmakers' perceptions on laws and policies. 
A prime example of this would be Brooklyn District Attorney Eric Gonzalez's decision in 2019, to no longer prosecute a loitering law that activists called the "walking while trans" ban, which disproportionately affected trans women of color, prior to the law's repeal in February. This led other district attorneys, such as Nassau District Attorney Madeline Singas, to follow suit and signaled to state lawmakers that it was time to overturn the outdated law. Gonzalez's against the law is credited with helping change people's view of it.
– With reporting from Isabel Beebe and Maryam Rahaman.