New York City
Who has gotten ticker tape parades up Broadway
The U.S. women's soccer team will receive a ticker tape parade down Manhattan's Broadway on Wednesday, the 207th such parade in New York City history. Past honorees have included pianists, hunters, aviators, astronauts and a few controversial figures.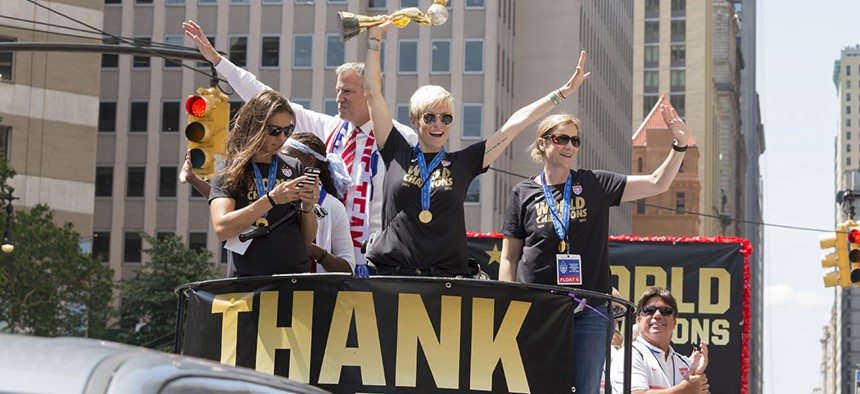 New York City Mayor Bill de Blasio promised a parade once the COVID-19 pandemic subsided – and he plans to deliver on July 7 by inviting doctors, nurses, first responders and other frontline workers to become the 208th recipients of a plaque embedded on the traditional parade route that stretches through the Canyon of Heroes from Bowling Green to City Hall.
The time-honored tradition goes back to 1886. Since then, New York City has honored athletes, astronauts, military heroes, foreign leaders and others. The city might not do this as much as it used to – but a mayor can call for a ticker tape parade anytime he or she wants. The current mayor has only called for three parades during his tenure – two in honor of World Cup victories by the U.S. women's soccer team and the upcoming one for frontline workers.
Historically, ticker tape parades have fêted obvious heroes, such as the Apollo 11 astronauts. Other times, parades have been given for people who are less famous, like the 1958 celebration of the first winner of Moscow's International Tchaikovsky Competition.
Some mayors have had relatively few parades, while others – including Fiorello La Guardia, Jimmy Walker and Robert Wagner – had dozens during their tenures. Here is how the tradition has played out over the years.
1886 – A spontaneous celebration erupts in lower Manhattan as New Yorkers greet the dedication of the Statue of Liberty. The New York Times credited "imps of office boys" with gathering the ticker tape that was used until the 1960s to transmit stock quotes. A tradition was born.
1899 – The first parade for a living person is held in honor of Admiral George Dewey, hero of the Battle of Manila Bay in the Spanish-American War.
1910 – Former President Theodore Roosevelt, a former New York governor and Assembly minority leader, gets a parade after shooting hundreds of animals on a safari in Africa – including some rare white rhinos. Some of these specimens were donated to the American Museum of Natural History.
1917 – Marshal Joseph Joffree, a French commander during World War I, is the first foreigner to get a parade.
1926 – Richard Byrd gets the first of his three ticker tape parades after flying over the North Pole with Floyd Bennett.
1926 – Gertrude Ederle is the first woman to get a parade, outside of royalty, after she swims the English Channel.
1931 – Philippe Pétain, marshal of France, gets a parade for his heroism in World War I. His plaque on Broadway has become controversial in later years because of his Nazi sympathies as the leader of Vichy France.
1932 – Amelia Earhart struts her stuff down Broadway after becoming the first woman to fly solo across the Atlantic.
1936 – Olympian Jesse Owens is first person of color to receive a parade.
1947 – The crew of the French warship Georges Leygues get some love for bringing rare French tapestries across the ocean to the Metropolitan Museum of Art.
1950 – New York City Mayor William O'Dwyer resigns in disgrace after a police scandal, but gets a ticker tape parade on his way out of town after accepting a sweetheart appointment by President Harry Truman – himself a past parade honoree – as the U.S. ambassador to Mexico.
1954 – New York City Mayor Robert Wagner holds the first of 68 ticker tapes held during his 12 years in office – by far the most of any mayor, for President Celâl Bayar of Turkey.
1954 – Ethiopian Emperor Haile Selassie, a messianic figure in Rastafarianism, heads up Broadway.
1954 – New York firefighters get the first of four parades in their honor, the only municipal uniformed service ever to receive a parade, for Firemen's Day.
1957 – Ngo Dinh Diem, president of South Vietnam, is celebrated six years before being killed in a military coup.
1960– Democratic presidential nominee John F. Kennedy and GOP presidential nominee Vice President Richard Nixon, along with President Dwight Eisenhower, get separate parades weeks apart.
1962 – The New York Mets, newly added to the National League, get a parade several years after the Dodgers abandoned Brooklyn for California.
1962 – The first of six parades to honor astronauts is held after John Glenn's successful orbit of the Earth.
1977 – The Yankees get the first of seven parades in honor of World Series wins.
1986 – The Mets win the World Series and get their second championship ticker tape.
1990 – Nelson Mandela walks free, heads to New York City for a parade.
1998 – Chicago Cubs slugger Sammy Sosa gets a parade for tying the single-season home run record. Mark McGwire, of the St. Louis Cardinals, breaks the record by the end of the season – but no parade for him.
1998 – U.S. Sen. John Glenn and fellow crew members of the space shuttle Discovery are the last people to get a parade who were not professional athletes.
2008 – The New York Giants get a parade after winning the Super Bowl, even though they play in New Jersey.
2015 – U.S. women's soccer team becomes the first female team to get a parade following their win in the World Cup.
2019 – The U.S. women's soccer team received a second ticker tape parade after another World Cup victory.