New vaccine mandates and MTA leadership
Rounding up the week's political news.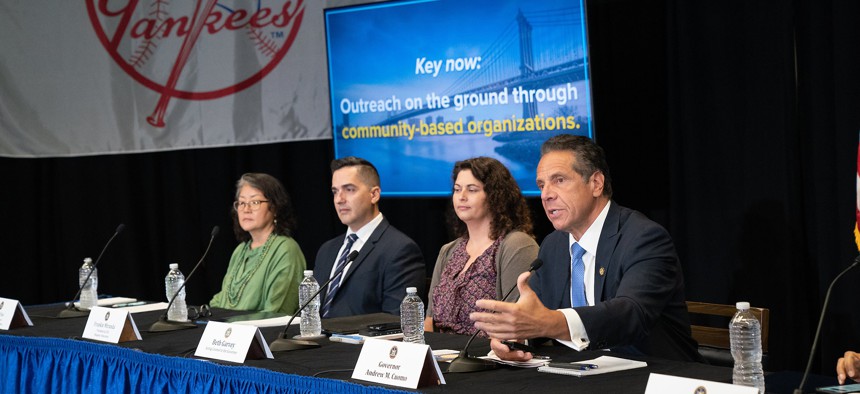 New York City is back, baby! Well, the spread of the delta variant is a cause for concern still, but the city is moving full steam ahead with a major summer concert blowout in Central Park. Attendees of the largely free concert must be vaccinated, so the hope is that it will serve as further incentive to get the jab. That is, if the concert draws a crowd. The lineup received … a mixed reception from the Big Apple's young folks. With acts like Barry Manilow, LL Cool J, Bruce Springteen, Earth, Wind & Fire, Elvis Costello and Andrea Bocelli, the concert doesn't exactly scream "2021." Sure, "September" is a certified bop, and The Boss is classic, but the lineup could use a little more input from the youth. 
New vaccine mandates
At both the New York City and state levels, municipal workers will have to get vaccinated, or else get weekly COVID-19 tests. Mayor Bill de Blasio made his announcement first with a start date of Sept. 13 – those unvaccinated by then will be subject to the testing requirement. Unvaccinated workers will also be required to wear a mask. Those who don't won't be allowed to work and won't get paid. The new mandate comes about a week after de Blasio imposed a similar requirement for all public hospital and health workers to get the shot by Aug. 2 or face testing. For noncity employees, the mayor also said that those who get voluntarily vaccinated at a city-run site can get $100. Soon after de Blasio, Gov. Andrew Cuomo announced that all state employees need to be vaccinated by Labor Day or submit to weekly testing. For any public facing state health workers, there won't be a testing option. They must get the shot or else they won't be allowed to work. Neither de Blasio nor Cuomo has issued new mandates yet regarding indoor masking in public spaces in light of new federal recommendations in response to the spread of the delta coronavirus variant. However, de Blasio is expected to make an announcement on Monday.
A mayorless Buffalo?
A Buffalo Common Council member is suggesting that the city abolish the role of mayor and replace it with a city manager position chosen by the Common Council with input from the community. The Council will release a report on the prospect in a few months. Council Member Rasheed Wyatt, who proposed the idea, has been a frequent critic of Mayor Byron Brown, but said it was not an indictment of Brown. Instead, Wyatt said that the current system has not helped poor neighborhoods in the city, which he said have been divested from over the past several decades. However, a decision to eliminate the role of mayor would have a greater impact on India Walton, the Democratic socialist who beat Brown in the Democratic primary and is expected to win the general election in November. It would also have to go to residents for a vote, something that can't happen this year, so Brown may be long gone by the time this idea could take effect.
Infrastructure funds coming to New York
The U.S. Senate finally reached a bipartisan deal to pass a $1.2 trillion infrastructure deal after weeks of negotiations. And New York is set to get a big chunk of cash. The MTA will get at least $10.7 billion from the package, which will be used for a number of major ongoing projects including the Gateway Project and the Second Ave. subway extension. The state's airports are also in line to get $937 million in total.
New MTA leadership
After the state Senate failed to pass legislation splitting the roles of the Metropolitan Transportation Authority chair and CEO, Cuomo appointed the agency's construction chief Janno Lieber as the acting head. Cuomo wanted to appoint Lieber to the role of CEO without state confirmation under his proposed new leadership structure, but time ran out before former MTA head Pat Foye left on July 30. Interim New York City Transit President Sarah Feinberg also stepped down from her role, citing a desire to spend more time with her young daughter. Cuomo had wanted Feinberg to serve as chair of the MTA – subject to state Senate approval – as part of his plan for the agency's management structure. Although Feinberg is leaving, she said she would return if the Legislature ends up approving the bill and she gets nominated as chair.