Politics
Four months on, City Council flouting de Blasio's return to offices
A continuation of remote work has kept some 700 employees out of sync with the mayor's plan until now.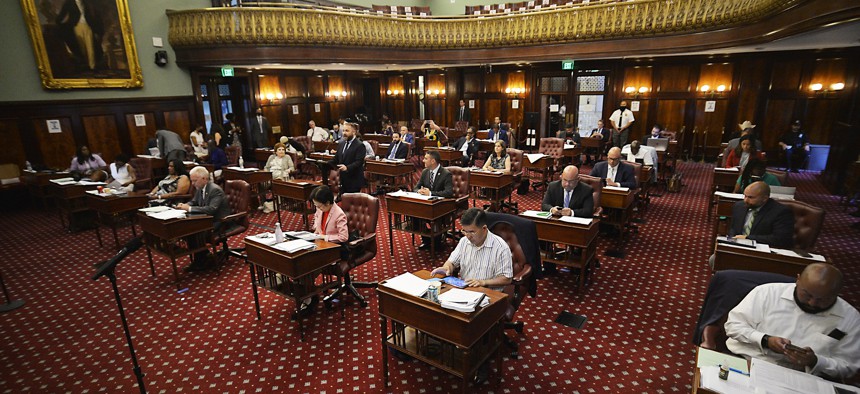 Emboldened by low transmission rates of COVID-19 and hoping to set an example for private employers to get the economy humming, New York City Mayor Bill de Blasio ordered some 80,000 white-collar municipal employees to work in their offices again – at least part time – starting on May 3. But the hundreds of employees of the City Council never joined in. Nearly four months after de Blasio's effort, Council employees still aren't being asked to work from City Hall or from the Council's office suite across the street at 250 Broadway. In fact some staffers who have tried to visit their offices in Lower Manhattan have been turned away at the door. Now, the Council plans to ask employees to spend at least one day at the office in-person starting on October 4 – a full five months after de Blasio required the same of city employees.
It's a remarkable disagreement between de Blasio and City Council Speaker Corey Johnson, who leads the coequal branch of government with around 700 employees. It's a part of de Blasio's city government in some ways, and independent in others. And while Johnson's apparent dispute with de Blasio has gotten little attention, apart from a recent report in the New York Post, it's either a bold sign of independence from a Council speaker who ran on that principle, or another sign of a legislative branch that's gone quiet during the coronavirus pandemic and election season.
De Blasio himself downplayed the disagreement, saying at a virtual press conference Wednesday that it "has not been one of the primary issues I've been focused on." But the mayor sounded like he wished Johnson would have joined the back-to-office push. "I don't think it makes sense. I think people should come back," he said. "These work environments are very safe, and we need to do the best work we can do for the people. And this is the thing with public servants, our job is to help people through this and onto our recovery, and that's best done in person."
Not all City Council members and staffers have been working exclusively from home. Roughly half of Council employees are member staff, who work for one of the 51 Council members. Each of them have district offices, and many members have chosen to reopen their storefronts, either full time or under reduced hours. But each member also has legislative office space at 250 Broadway where staffers can work. That office space has been closed to member staff since March 2020, and some staffers have complained that security guards have barred them from entering, even if only for a short visit. "Member offices at 250 tend to be small, which makes social distancing difficult," City Council spokesperson Jennifer Fermino said in a statement emailed to City & State. Right now, it's central staff only."
The other half, roughly 300 employees, are part of central staff, which serve the Council as a whole. They've been working fully remotely since March 2020, though a few have had to work in Lower Manhattan occasionally in recent months. After Gov. Andrew Cuomo let the COVID-19 State of Emergency expire on June 24, all government meetings – including City Council meetings and hearings – have legally had to be held in person once again. That period has largely coincided with the Council's quiet summer months, where the body only holds one stated meeting a month, as opposed to the usual two, and traditionally holds fewer hearings. But it's a big change for the Council. While the state Legislature has conducted its business in a hybrid manner during the pandemic, with some lawmakers meeting in Albany and others joining on video, the City Council has held every meeting fully remotely from April 2020 until June 30, 2021.
Fermino defended the Council's continuation of remote work, writing that "because CDC guidelines on masks and indoor activities have been changing rapidly, we have been proceeding with caution." She said that a phased-in return to the office will begin after Labor Day, with a goal of having staff spend at least one day a week back in the office by Oct. 4. Fermino said the Council expects to maintain a partially in-person, partially remote workplace through the end of the calendar year, when Johnson's term expires.
While the Council's approach has been out of whack with the rest of city government, it's much more aligned with the city's private employers, many of whom have been reluctant to bring remote-working employees back into office settings. Slowly rising COVID-19 test positivity and hospitalization rates, likely driven by the spread of the delta variant, have further delayed some employers' plans, despite the city's relatively high vaccination rate. And the Association of Legislative Employees, the newly formed union that represents Council staffers, is on board with Johnson's hesitancy. "Staff greatly appreciate that (Johnson) continues to work with us towards a safe, phased reopening of Council headquarters as we endeavor to keep the Delta variant in check," the union tweeted as part of a longer statement.
Of course, not everyone has been pleased with the Council's policy – or at least the way it has been enacted.
"The thing that is more upsetting from a staffers' perspective is not the fact that we haven't gone back but the fact there's been absolutely no communication from the speakers office," said one Council staffer who asked for anonymity because Johnson has a reputation for being vindictive. "That's the thing that's been mind-boggling, it's been complete radio silence."
Another anonymous staffer put it succinctly: "Communication has been ludicrously lacking to the point of being insulting."
The staffers told City & State they didn't hear any guidance about returning to offices for months. Members of central staff received an email on Aug. 12 – about five months after de Blasio announced his plans for remote city employees to start returning to the office.
Asked Wednesday if de Blasio's plans for employees returning to the office full time had changed, he focused on getting city workers vaccinated. "Everything, you know, has proceeded on pace," he said. "We clearly put a mandate on our city workers, you know, vaccination or test, which is helping to encourage more and more vaccination … that's what's going to keep everyone safe, but the best way for us to do that is for people to be at their work, doing their job and getting vaccinated."