New York State
Gov. Andrew Cuomo resigns
The three-term governor stepped down in the face of likely being impeached over sexual harassment and assault allegations.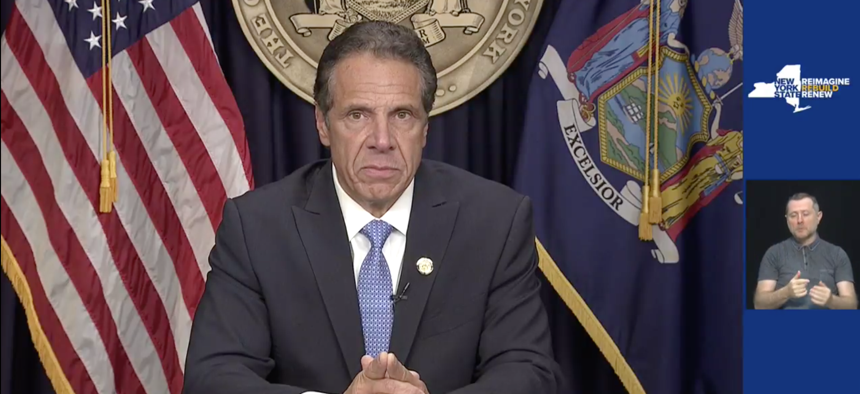 As he continued to defend his record and deny accusations of improper intentions and conduct, Gov. Andrew Cuomo resigned from office in a virtual press conference Tuesday afternoon. The governor said he is "a fighter," but that the political environment would not allow him to continue to serve. 
With Cuomo's stunning fall, Lt. Gov. Kathy Hochul is poised to become the first female governor in state history.
"Government needs to function," Cuomo said in virtual remarks after denying any wrongdoing. A report from state Attorney General Letitia James corroborated allegations of sexual harassment from 11 women. "New York Tough means New York loving, and I love New York and I love you. And everything I have ever done has been motivated by that love ... the best way I can help now is if I step aside." He committed to leaving his post in two weeks.
For the governor, the alternative to resignation would have been ugly. Assembly Speaker Carl Heastie said Monday that his chamber was ready to move quickly on impeaching the three-term governor following the release of the attorney general's damning report that confirmed allegations of unwanted kissing, touching and harassment that first sparked massive calls for his resignation six months ago. Secretary to the Governor Melissa DeRosa resigned Sunday evening, shortly after Cuomo's assistant Brittany Commisso came forward publicly after being identified only as Executive Assistant No. 1.
Cuomo said Tuesday that he would work to ensure a smooth transition with Hochul. A source close to the lieutenant governor told City & State on Monday that she had already begun discussions with state agency heads and others about how she would hit the ground running. "It is the nature of the role of lieutenant governors to prepare for these scenarios on day one," the source said. "She's built a huge statewide network of folks just throughout her time as lieutenant governor and going back to her time in Congress."
In a short statement after Cuomo announced his resignation, Hochul said he did the right thing. "I agree with Governor Cuomo's decision to step down. It is the right thing to do and in the best interest of New Yorkers. As someone who has served at all levels of government and is next in the line of succession, I am prepared to lead as New York State's 57th Governor."
Immediate challenges include COVID-19 and a surge in gun violence across the state. The unexpected first female governor of the state will also have just a few months to propose a state budget for the start of the legislative session in January and create a legislative agenda while preparing to possibly run for a full term in office in 2022.
Powered By
NEXT STORY: Cuomo's appointees scrutinize their boss