This Week's Headline
Impeachment probe back on as Hochul searches for her LG
Rounding up the week's political news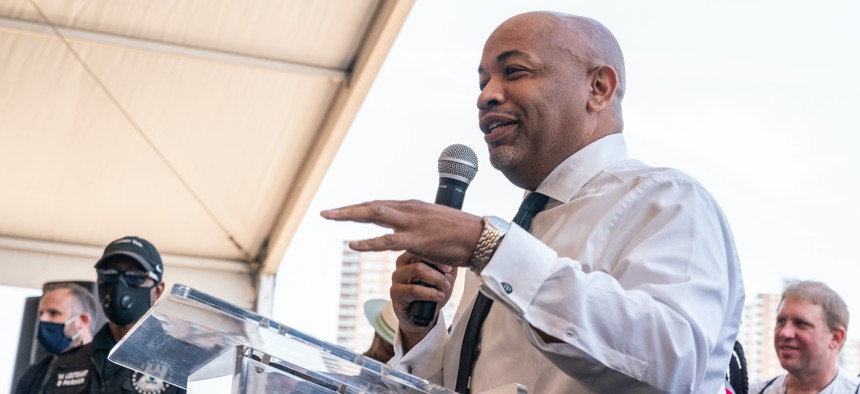 Homecoming Week kicked off in New York City, with jam-packed concerts coming to each of the five boroughs. Concerts had stacked lineups for New Yorkers eager for some live outdoor entertainment after a very long year and a half. That included special guest U.S. Senate Majority Leader Chuck Schumer – or "Killah Chuck" as he was dubbed for his rap contributions on the stage. Everyone and their mother in New York has heard Schumer's graduation speech. ("There I was. No scholarship, no trip around the world, no girl.") So the freestyling was certainly a refreshing change of pace. Keep reading for the rest of this week's news.
Impeachment probe back on 
Just as quickly as Assembly Speaker Carl Heastie announced that Gov. Andrew Cuomo's resignation would bring an end to his chamber's impeachment probe, he reversed course. Heastie made his original announcement bringing the investigation to a close before the chamber's Judiciary Committee was even scheduled to meet in the wake of Cuomo's resignation. But the decision was met with backlash, with both Democrats and Republicans calling to continue with impeachment even after Cuomo is gone. Just days after his initial announcement, Heastie backtracked. Still before the Judiciary Committee was set to meet, the speaker said it would release an impeachment report based on the monthslong investigation conducted by outside attorneys hired by the committee. It remains unclear whether the Assembly will draft and vote on articles of impeachment. And Heastie has not definitely committed to a time frame for the release of the report, saying in his most recent comments on the matter that the chamber would work "expeditiously" to get it out.
Hochul narrows search for LG
As Lt. Gov. Kathy Hochul prepares to make the leap to governor, speculation abounds over who she will pick to replace her through 2022 and serve as her second-in-command. Although she has made no commitment yet, Hochul said her pick will come from New York City, balancing out her Western New York roots. Her choice of lieutenant governor could signal that she's looking to have a better relationship with the city after Cuomo's acrimonious one. Meetings with Mayor Bill de Blasio and Public Advocate Jumaane Williams point in this direction as well, although Williams said he has no interest in the lieutenant governor role despite seeking it in the 2018 Democratic primary. The list of prospective lieutenant governors is a long one, with a number of downstate lawmakers jockeying for the position. However, state Sens. Brian Benjamin and Jamaal Bailey seem like front-runners, with Hochul reportedly vetting them for the role. Her appointment will likely be her first major act as New York's new governor.
Final moves from Cuomo
In the waning days of Cuomo's time as governor, he has refrained from doing anything too noteworthy, but that doesn't mean he's going out in silence. While keeping himself out of the public eye, Cuomo announced a new vaccine requirement for all health care workers in the state. Previously, he only required public health care workers to get the shot. Cuomo also commuted the sentences of five men convicted of felonies, and pardoned five others who faced deportation because of their criminal records. The governor signed a couple of bills, including one piece of legislation meant to aid in the conversion of commercial properties and hotels into housing.
COVID-19 mandates still coming
Cuomo was not the only one making moves to combat the coronavirus and the concerning delta variant. New York City officially began its vaccine passport program that requires residents to show proof of vaccination to enter a wide variety of businesses from restaurants to gyms. It's up to the individual businesses to enforce the requirement, or risk a fine, and many are already pushing back against the new mandates that they think will further harm struggling small businesses. The New York City Police Department is requiring unvaccinated cops to continue wearing masks. Hochul advocated for mandatory masks in schools once classes begin, a decision that until this point Cuomo has said would need to be made by each district. He said the same thing of vaccine mandates for school staff, although at least some districts are already acting. The most recent one to implement a vaccine and testing mandate is the Rochester City School District.
Powered By
NEXT STORY: Businesses challenge New York City's COVID-19 vaccine mandate