New York City
Parents, advocates rally against expansion of family enrichment centers
They said the centers' ties to New York City's child welfare system will discourage parents from seeking support.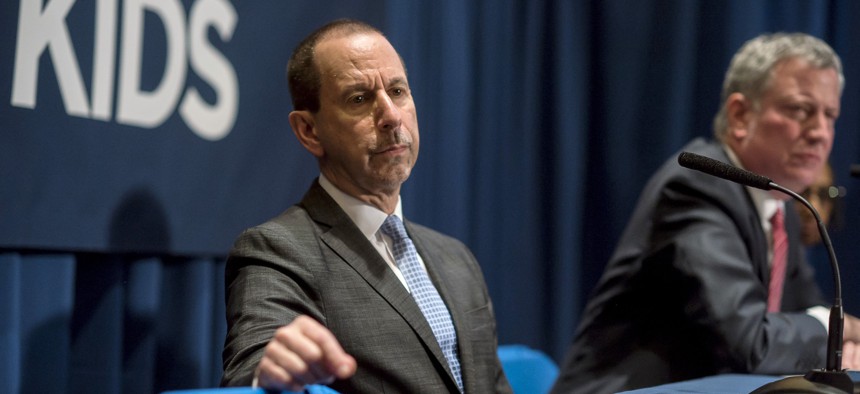 A small group of parents and advocates for families affected by the child welfare system gathered outside New York City Hall on Friday afternoon to criticize the city's plan to expand family enrichment centers because of the centers' ties to the Administration for Children's Services.
The Family Enrichment Center system, which was launched in 2017, is made up of walk-in community centers run by city-funded nonprofits and community members that are aimed at providing families with resources to connect with other parents, such as workshops or recreational activities.
The three current centers are located in East New York in Brooklyn, and in Highbridge and Hunts Point in the Bronx, and the city plans to add an additional 30 sites over the next four years in neighborhoods hit hardest by the COVID-19 pandemic.
New York City Mayor Bill de Blasio said in May that the centers will "connect children and parents to resources that are critical to long-term success and stability."
"Parents and families are involved in every aspect of the centers, from the types of services that are offered to how the centers actually look and feel," said Sideya Sherman, executive director of the city's Taskforce on Racial Inclusion and Equity, during a press conference announcing the expansion. 
But advocacy organizations like Rise, which organized Friday's rally and is led by parents impacted by the child welfare system, said these centers discourage families from seeking help because they are run by the Administration for Children's Services, which disproportionately investigates Black families. The city agency has the power to remove children from their parents and is responsible for investigating possible child abuse and neglect. Rise's mission is to support parents seeking to dismantle the current child welfare system, and it publishes articles on racial disparities in the child welfare system.
Instead, parents and advocates said the city should take the money it intends to use for expanding the centers and put it toward peer support. That includes training parents in communities affected by the child welfare system to "intentionally build connections with their neighbors, offer emotional support and make connections to trusted community resources," according to an article written by Rise's leadership in June.
"If you are a parent who believes that all parents should get the same support in New York City, take another step forward to us. If you are a parent here who is here to support Rise's movement to oppose the enrichment centers, take another step closer to us," said Jeanette Vega, co-executive director of Rise, on Friday afternoon.
Despite it being nearly 100 degrees out, around 20 people gathered outside City Hall to tell their stories. Posters reading "building parent leadership" and "nothing about us without us" bobbed in the air, held aloft by cheering supporters.
"We do not want the enrichment centers in New York City," Vega said. "We hope that everyone hearing this today will reach out to Rise, reach out to their government officials and let them know that we want community support that is not connected to the child welfare system and we want what parents say they want and need in New York City." 
Imani Worthy, public speaking coordinator at Rise, read the experience of a mother of four who felt isolated and cut off from others in her interactions with the Administration for Children's Services but found support by building connections with other community members.
"Reintegrating my community saved my life and my family. Peer support and community care are so important because it helps bring parents hope and helps us feel seen," Worthy read. "The system isolates us by nature. It judges our lifestyles, our communities, our family. It tells us our communities are not good enough to raise children, but will not provide us with support to build a stronger safer community."
A recent evaluation of the centers conducted by Youth Studies Inc., which provides research and evaluation support to youth-serving nonprofits, in collaboration with the Administration of Children's Services said the centers have enhanced members' social support, family functioning and their emotional connection with their children.
"Each Family Enrichment Center is unique because it's co-created with families in the community and its offerings represent responses to community-identified needs," Administration for Children's Services Commissioner David Hansell said in a statement. "Citywide expansion of the Family Enrichment Centers underscores Mayor de Blasio's commitment to addressing racial equity and inclusion in the communities that have suffered disproportionately during the COVID-19 pandemic, and ACS's commitment to investing in services that strengthen families and reduce the likelihood of child welfare involvement."
Joyce McMillan, an advocate for parents' rights who wants to end what she described as a racist child welfare system, said in an earlier interview with City & State that parents who aren't well-versed in the child welfare system might think the centers are a good idea.
While the concept of the centers might be a good one, she said, involvement from the child welfare system is alarming for some vulnerable parents.
"This is how we prevent change. We utilize what should be good that looks good at first glance to draw people to a place where we are going to collect data and information about them and have mandated reporters and other people that are surveilling them and draw them into a space to make our jobs easier to weed them out," McMillan said, arguing that instead of a mandated reporting system that targets Black and brown families there should be "mandated supporters" instead.
"I don't think it should be expanding. I think it's a danger to the community," she said. "You can put things in communities that are already being utilized."
Powered By
NEXT STORY: New York's resilient media industry