New York State
What lies ahead for Kathy Hochul if she becomes governor?
"We all know Kathy Hochul." Democratic insiders say the lieutenant governor could become the next Democratic power broker.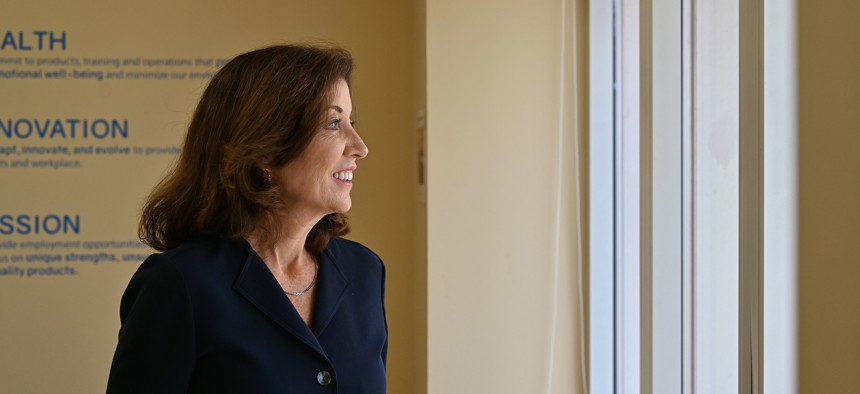 The fall of Gov. Andrew Cuomo appears imminent. A current aide has detailed her groping accusation against him in a bombshell TV interview broadcast Monday morning. Secretary to the Governor Melissa DeRosa has resigned. Members of the Assembly say they could impeach the three-term governor in the coming weeks. That would make Lt. Gov. Kathy Hochul, who was photographed last week with a hat that read "Fight like a girl," as she rode a New York City subway train, the first woman to ever serve as governor. 
Just how big of a deal this might be remains to be seen, but let us say for now that it will be significant considering how Hochul compares to a well-known alpha male like Cuomo. She would replace him on a temporary basis if Cuomo gets impeached until an impeachment trial either acquits the governor or removes him from office by a two-thirds vote. The latter scenario would allow her to fill the remainder of his term through 2022. Whether she could go on to win a full term as governor, however, is a challenge that some of her longtime allies say the Western New York native was always meant to face. 
She would become the governor in unprecedented circumstances for the Empire State. COVID-19 cases are once again increasing. Shootings continue to plague cities from Buffalo to New York City. Assuming the current timetable for impeaching Cuomo and removing him from office holds, she would have little time to prepare a state budget and legislative agenda for the upcoming year. A source close to Hochul said Monday morning that she was well prepared to take over. "It is the nature of the role of lieutenant governors to prepare for these scenarios on day one," the source said. "She's built a huge statewide network of folks just throughout her time as lieutenant governor and going back to her time in Congress." The source added that state agency heads, longtime friends and elected officials alike have reached out to Hochul in recent days to discuss her possible succession of a governor who has dominated the state Capitol for more than a decade. 
Democratic insiders say Hochul would be better positioned than many to win a primary next year. She has built a low-profile, but expansive, network of political support as a loyal surrogate of the governor without getting involved in any of the scandals that appear likely to oust Cuomo in the upcoming weeks. A lack of connections to New York City complicates the potential rise of the Western New York native, but her moderate politics and knack for campaigning could make her a strong contender for a full term in office. 
There are a number of contenders for the 2022 Democratic gubernatorial primary. State Attorney General James, state Comptroller Thomas DiNapoli, New York City Public Advocate Jumaane Williams, state Sen. Alessandra Biaggi of the Bronx and Suffolk County Executive Steven Bellone are some of the people who have been mentioned as possible candidates if Cuomo resigns or is removed from office (and banned by a second vote from running for governor ever again), but by the primary Hochul would have already had more than a half year to demonstrate her leadership of the state. "She is going to be the incumbent governor, and you cannot count out an incumbent governor," said one Democratic insider who requested anonymity to speak frankly. "If she does a good job of running the administration, then she'll obviously be in a much stronger position and be able to compete in the primary." A crucial first step is differentiating herself from the governor she has loyally served for years while inheriting as much of his political support as possible. 
Key decisions in assuming power include which current officials would continue working under a Hochul administration. Some current officials like state Budget Director Robert Mujica and Counsel to the Governor Beth Garvey – neither of whom responded to requests for comment by publication time – could provide crucial institutional memory on matters like the state budget and outstanding bills passed by the Legislature. Yet, both officials have past ties to the former Republican state Senate majority – a curious feature of the Cuomo administration that some Democrats interviewed for this story quietly say they would want discontinued under Hochul. Most current state agency heads have said little publicly about the allegations against Cuomo and might continue to hold their positions under Hochul. How she manages the headlines of whatever officials are coming and going could go a long way toward defining her brand of politics in a state where a recent Quinnipiac Poll showed a big chunk of New Yorkers have no opinion of her.
Continuity among agency leaders could also affect how a Gov. Hochul might respond to existing problems like COVID-19 or gun violence, which will be early tests of her effectiveness as governor. One possibility is that she takes a less public role than Cuomo did with his high-profile press conferences where he (rather than public health officials and other experts featured in other states) has had the leading role. Longtime political allies say Hochul's work ethic, which includes visiting all 62 counties each year, is her greatest advantage. "She really does the legwork, and she really shows up," said Jack O'Donnell, a political consultant who has known Hochul since her time on the Hamburg Town Board, as Erie County clerk and most recently as the unexpected victor in a 2011 congressional race in one of the most conservative districts in the state. She will also benefit from a honeymoon period of sorts if and when she takes over. "We all know Kathy Hochul," state Senate Deputy Majority Leader Michael Gianaris of Queens said. "We're all anxious to get the state moving back in the right direction, and get all that work done, so she's going to have a lot of people in government ready to be cooperative." The political peace, however, will end at some point, leaving Hochul with whatever political allies and smarts she has accumulated during her years in public life.
She will need to handle current crises and somehow expand her political support in New York City, Democratic insiders say. The odds of her becoming governor and winning a full term in office remain tough. She has been best known in recent years as a loyal administration official who has quietly attended events like ribbon cuttings while Cuomo and other officials like DeRosa have dealt with the real problems facing the state. "As the head of a ticket? I just don't see that," one longtime Democratic insider said in an interview. "Nice person, perfect LG." Hochul will have to counter such perceptions this fall and winter before potential rivals can position themselves for the primary early next year. 
The most dramatic way that Hochul will differ from Cuomo is also the most obvious. She will be the first woman to be governor of a state that has been defined in recent years to a significant degree by the various feuds and rivalries of older white men like Cuomo, New York City Mayor Bill de Blasio and former President Donald Trump. The pandemic has highlighted more than once how cooperation (or lack thereof) among political leaders can help or hinder a government response to a problem. Hochul could replicate the moderate politics of Cuomo. She could try to channel the power of the political left like de Blasio. Maybe her ability to work a crowd could recruit some Republicans away from a party that is still hoping to run against the scandal-plagued Cuomo. But she has cultivated a reputation as a self-styled elder stateslady of sorts on issues for years and has already made it clear how she intends to push ahead during unprecedented time for the state. While Cuomo is still facing accountability from all sides, Democrats say they are only too eager to see Hochul replace him sooner rather than later. "She will be welcomed with open arms," Assembly Member Amanda Septimo of the Bronx said in a text. "Everyone will be excited to turn the page."
Powered By
NEXT STORY: Forget Manhattan. Brooklyn is the seat of NYC power.