This Week's Headline
A new LG in town as storm recovery continues
Rounding up the week's political news.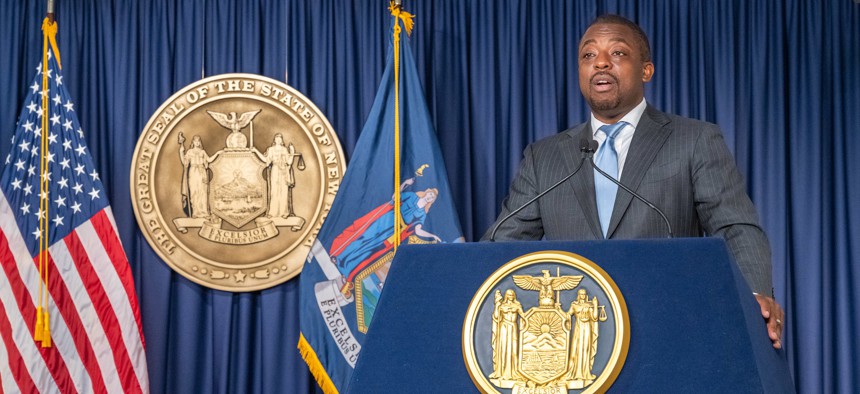 Recent deadly flooding in New York City exposed just how vulnerable the city is to extreme weather events that will only become more common with climate change. But the flooding also led to another unusual phenomenon, both morbid and pretty gross. Overflowing waters in the sewers resulted in the mass drowning of rats that live below ground in Gotham, and their carcasses washed up on beaches and littered city streets. The floods also forced the rats that survived to venture to the surface in numbers many have not seen before as they made new homes in parked cars and apartments. It's the rats' city now, we just live in it.
A new LG in town
Brian Benjamin got sworn in as the state's new lieutenant governor and Gov. Kathy Hochul's partner in the Executive Chamber. She announced her pick last month, but Hochul waited until after Labor Day to make it official so that the special election to replace him in the state Senate can coincide with this year's general election. At the ceremony, Hochul said she wanted a real partner in government who would offer advice and guidance, signaling a shift away from the largely ceremonial role that lieutenant governors play and a closer relationship than she indicated she had with former Gov. Andrew Cuomo. Benjamin said his agenda coming into office right now includes three main priorities: getting the COVID-19 vaccine to hesitant communities, helping to distribute rent relief money and chairing a task force on the New York City Housing Authority. Hochul also mentioned criminal justice as an issue that he will work on, although Benjamin did not offer specifics on that issue at his swearing in.
Buffalo mayoral race heats up
The race for mayor in Buffalo took another turn for the interesting when two courts, both federal and state, ruled that Mayor Byron Brown must be placed on the ballot despite submitting petition signatures well past the filing deadline. After losing the Democratic primary to socialist India Walton in June, Brown launched a write-in campaign for the general election after the Buffalo Board of Elections rejected his late petition signatures to run on a third-party line. But the court rulings change the calculus and help Brown. Both the Board of Elections and Walton have already appealed the decisions in an attempt to remove him from the ballot again, but Brown expressed confidence he will remain. Although a state appellate court placed a stay on decision putting Brown on the ballot, the federal decision still holds. The pair also faced off head-to-head in their first debate, after Brown declined to debate Walton during the primary, laying bare the stark differences in their visions for Buffalo.
Hochul looks to booster shots
As the delta variant of the coronavirus continues to spread in New York and across the country, Hochul is making plans to distribute booster vaccine shots to the public once they get officially approved. She said that she doesn't expect supply to be an issue like during the initial rollout of the vaccine, which she likened to "The Hunger Games." Hochul said she plans to work with local health departments to get the shots out, including in determining whether to reopen mass vaccination sites, and will allocate $65 million to local governments for the effort. She also announced a new digital campaign to get more children between the ages of 12 and 17 vaccinated as they prepare to return to school. Vaccination rates among that age range remain very low. Meanwhile, de Blasio announced a new vaccine mandate for child care and after-school workers.
Storm recovery continues
President Joe Biden came to New York to survey damage from the remnants of Hurricane Ida in Queens. His visit was after the federal government officially declared areas of New York and New Jersey major disaster zones, approving federal aid to help with recovery efforts. New York will get at least $50 million. Debate over basement apartments, where the majority of flood-related deaths in New York City occurred, continued as well. The flash flooding caused multiple people living in garden apartments to drown in their own homes when water came rushing in, while others barely escaped with their lives. Mayor Bill de Blasio said that he didn't have an "immediate solution" to the problem of illegal basement dwellings, which house some 100,000 people but are not up to code for safety.
Powered By
NEXT STORY: Backlash grows over Hochul DFS nominee