Bill de Blasio faces political reality by not running for governor of New York
The former New York City mayor says he is devoting post-mayoral life to fighting inequality in New York state.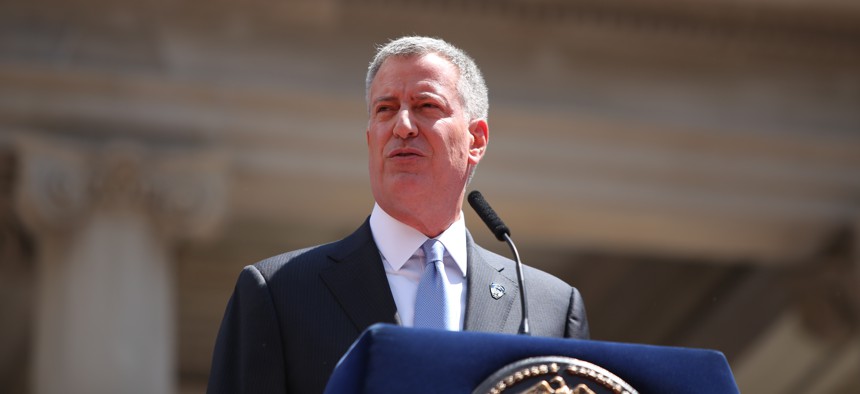 Former New York City Mayor Bill de Blasio ended months of speculation Tuesday morning about his future political plans. "No, I am not going to be running for governor of New York state," he said in a video released online Tuesday morning. "I am going to devote every fiber of my being to fight inequality in the state of New York ... I'm going to share some more news with you in the days ahead." Thus ended what would have been an uphill campaign for the Democratic nomination for governor. 
De Blasio had been coy about his political future in his final months as mayor, leading many to believe he was on the verge of launching a gubernatorial campaign. "There's a number of things I want to keep working on in this city, in this state," he told reporters in September. "I want to serve. I'm going to figure out the right way to serve and the right time to serve." Multiple news cycles contained the latest whispers from political insiders saying he would officially announce sometime in early 2022.  
His record of winning elections against the odds made it seem like a de Blasio victory could not be ruled out, but there were good reasons to believe that a gubernatorial campaign would repeat the failures of his much-mocked failed 2020 presidential campaign. Gov. Kathy Hochul has already locked up key endorsements and raised a formidable war chest. What political support de Blasio had after his two terms as mayor appears insufficient to inspire him to get in the race.
"I made my fair share of mistakes," he said in the video. "I was not good with groundhogs. At all. Probably shouldn't have gone to the gym. But you know what? To change things in this town. Pre-K for every child now 3K coming on. Hundreds of thousands of affordable apartments. We changed policing to make it fair. We showed you can do big things: Green New Deal, cutting carbon emissions, making the city greener and cleaner for the future. We proved we could do big things. We took on COVID."
A Siena College poll released Tuesday showed de Blasio with 12% support among registered Democratic voters. That was 34 points behind Hochul and ten points behind "Don't know/no opinion" – and one more sign of how the odds remained stacked against de Blasio, who led Black voters in the poll, despite his single-digit leads over New York City Public Advocate Jumaane Williams and Rep. Tom Suozzi of Long Island. Endorsements for Hochul from political power brokers like the Hotel Trades Council – a group that was a key donor to de Blasio's presidential campaign – have also underscored the difficulty that de Blasio would have faced in a primary challenge against her. 
Once considered a progressive darling, de Blasio promised to close the city's wealth gap, create more affordable housing and reverse troublesome police practices during his campaign for New York City mayor, a job that's been called the second-toughest in politics.  Depending on who you ask, he has both succeeded and failed to carry the Democratic party and its strong base of voters in New York City further left. The election of his successor, Eric Adams, was widely seen as a rebuke to the progressive movement championed by de Blasio. Adams – a former New York City Police Department officer – has already vowed to undo many of the criminal justice reforms implemented by his predecessor. De Blasio's handling of policing issues, especially during protests last summer in the wake of the police killing of George Floyd, has been lambasted, even by his own allies.
The city also struggled with an all-time high in homelessness under de Blasio, directly intertwined with a mental health crisis that often played out in violent ways in the subway system, disproportionately consuming police and jail resources. His plan to help New Yorkers experiencing mental health issues, dubbed ThriveNYC and managed by his wife Chirlane McCray, was largely seen as an expensive failure. His signature achievement is the expansion of free, full-day pre-K to include spots for every New York City four-year-old. By 2023, the program is expected to extend to three-year-olds.
De Blasio, 60, began his career in politics in the 1980s as a staffer in the administration of former Mayor David Dinkins, where he met McCray. They married in 1991 and have two children, Dante and Chiara. He then went on to work under Cuomo for the U.S. Department of Housing and Urban Development, before managing Hillary Clinton's successful campaign for the Senate in 2000. The former mayor, who is originally from Massachusetts, was first elected to office in 2001 to represent Brooklyn's Park Slope neighborhood as a City Council member, then rose to public advocate, and finally, mayor.  He handily secured the Democratic nomination in 2013 and went on to win election to become the city's 109th leader, replacing Michael Bloomberg. He was reelected in 2017. 
He is now back to living in Brooklyn full time after leaving Gracie Mansion at the beginning of the year. Wherever politics might take him in the future remains unclear, but de Blasio says the path once again begins in Brooklyn. "This is my block right here in Brooklyn," he said in the video released Tuesday. "This is where Chirlane and I raised our family. We love this place. We love our neighbors ... let's keep this fight going."