New York State
Cuomo's groping charge is officially dismissed
The ex-governor made his first public appearance since resigning from office during the Friday court hearing.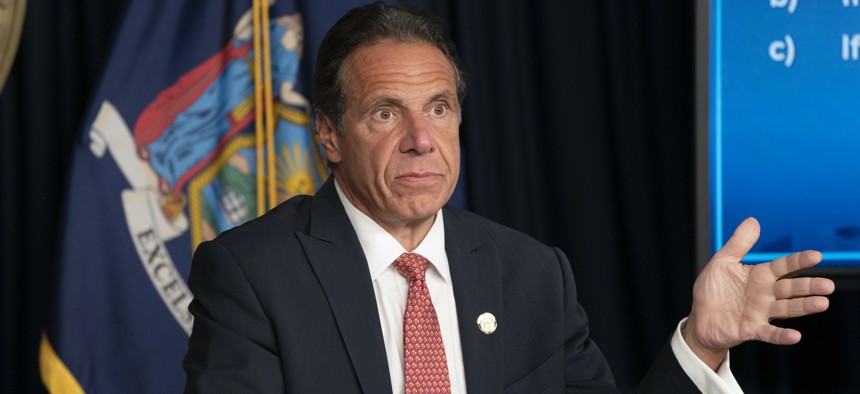 Former Gov. Andrew Cuomo showed his face publicly, in an official capacity, for the first time since he resigned in disgrace during a court appearance Friday, in which the criminal groping charge against him was dismissed. 
Albany City Court Judge Holly Trexler, in the virtual hearing, granted the request made by both prosecutors and Cuomo's camp to toss the misdemeanor forcible touching charge.
Cuomo was on camera for less than a second when his lawyer, Rita Glavin, turned the lens on the expressionless ex-governor, who was wearing a navy suit and purple tie while sitting alongside Glavin's associate, Sareen Armani. If Cuomo was still sporting the goatee he's been seen with in recent social media photos, it was hidden behind a black medical mask. He did not speak during the brief hearing, which was also attended by Albany County prosecutors Michael Wetmore and Jennifer McCanney, along with Cuomo lawyer Michael McDermott.
Cuomo was facing a charge of groping the breast of his former aide, Brittany Commisso, inside the Executive Mansion in late 2020, without her consent. Commisso's claims first came to light in Attorney General Letitia James' August report that eventually forced Cuomo's resignation.
Following the dismissal, Glavin issued a statement reiterating Cuomo's innocence. 
"This case has now been shown to be what it always was, which was a blatant political act by an … unprofessional and rogue sheriff," she said, "No jury would have found Ms. Commisso credible. That is why this case was dismissed. As the governor has said, this simply did not happen. Today reason and the rule of law prevailed, not politics, rhetoric or mob mentality."
In a separate statement issued by Cuomo spokesperson Rich Azzopardi, his team went back to their oft-repeated claim that James' investigation was politically motivated and connected to her now-defunct run for governor.
"The James report was not a legal review, but a sham to generate a press frenzy and political firestorm to clear the way for her own run for higher office," Azzopardi said. "James' position that 'we believe all women' is not a legal determination made by a professional Attorney General's office – particularly when there is an abundance of exculpatory evidence and suspect motivations."
The Friday hearing was held after Albany County District Attorney David Soares announced this week that he would no longer seek criminal charges against the former governor, following a 60-day review of the case. 
Soares previously asked Trexler to delay the initial Nov. 17 arraignment until today, citing a lack of coordination with the Albany County Sheriff's office, the law enforcement agency that filed the initial criminal complaint.
Soares said on Tuesday that while his office found Commisso's claims "credible" and he was "deeply troubled" by them, they did not rise to a level of criminality that warranted prosecution.
Two days after Soares' declaration, Cuomo's camp filed a motion to dismiss the case, and the DA's office consented to the motion on Friday.
One legal expert expressed shock that the case was dismissed without specific explanation from the prosecutor outside of some legalese about not being able to "meet our burden at trial."
"It's a classic, he said, she said. A lot of sexual assault cases are that way. They can still be brought," criminal defense attorney Kevin Kearon, a former Nassau County prosecutor and founding partner at Barket Epstein, told City & State. "It used to be, in the state of New York, that a man could not be prosecuted for rape, or sexually assaulting a woman unless there was independent corroboration of the truthfulness of the woman's allegations, which most of the time was impossible … That was the Stone Age. In New York, corroboration is no longer a requirement in this state." 
Cuomo could face civil penalties if Commisso follows through with her threat to file a lawsuit against him, Kearon said, noting a conviction would have made her case easier. 
"There's no requirement that there'd be a criminal conviction, or even a criminal charge for that matter before a person can bring a lawsuit," Kearon said. "Certainly this decision does not prohibit a lawsuit."
Politically, the dismissal marks a win for Cuomo in the many ongoing investigations against him, but whether it's enough to mount a comeback for office has yet to be seen, political watchers said. 
"Is it hard to come back from these kinds of scandals? The answer is absolutely, yes. Is there a path for him? Not this year, but he has $18 million that he's probably going to use to punish those he feels that injured him unnecessarily," veteran New York political analyst Hank Sheinkopf told City & State, adding he predicts Cuomo will instead take up some form of advocacy work to rebuild goodwill with the public before jumping back into political waters.
"He'd rather be the governor, but he's happier not to have handcuffs on," Sheinkopf said.