Health Care
New state data shows exactly how many people are hospitalized because of COVID-19
A majority of hospital patients who test positive for the coronavirus do not need treatment for the virus.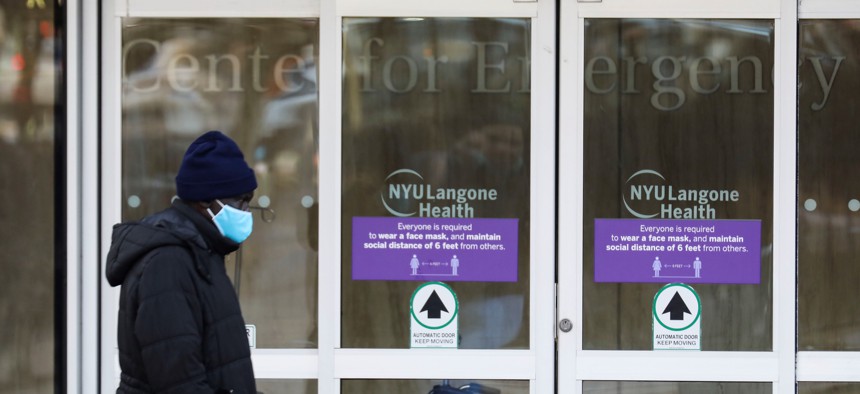 There are more people hospitalized with the coronavirus in New York than at any other time since April 2020 when the first wave of COVID-19 was overwhelming facilities across the state. 
New data shows how hospitalizations are growing many times faster among teens than adults. The omicron variant appears likely to keep the ongoing surge going through January and that could mean many more cases of Long COVID down the proverbial road. None of that is good, but the epidemiological situation as a whole might be less dire than some public health metrics suggest.
Data released by Gov. Kathy Hochul Friday shows that a majority of hospitalized people who test positive for the novel coronavirus are pursuing treatment for something other than COVID-19. That suggests the health care system is better positioned than some data suggest to handle the thousands of seriously ill people currently needing treatment for COVID-19 though new variants are continuing to drive total caseloads upwards like never before.
"People who present themselves at hospitals are automatically tested as a matter of routine now – which is good," Hochul said at a Manhattan press conference. "They're testing positive for COVID, but they're there for other reasons. Think of all the other reasons people end up in a hospital. It's an overdose. It's a car accident. It's a heart attack."
Newly-released state data shows 28,500 people hospitalized across the state for one reason or another, with about 11,500 of them having tested positive for the coronavirus as of Jan. 6. While serious COVID-19 are growing, about 40% of total COVID-19 hospitalizations are people admitted to the hospital for some other type of ailment. Other state data shows that one out of five people who came to emergency rooms over the past day merely wanted to get tested for the virus, according to state data. A report from the state Department of Health released Friday also shows that the number of children hospitalized for COVID-19 has grown substantially in recent weeks as well – especially among unvaccinated teenagers and preteens – though they remain a fraction of cases among adults. 
While the number of people hospitalized because of COVID-19 is small compared to those who test positive for the virus, it still amounts to thousands of cases across the state at a time when health care staffing shortages have added additional strain on the hospital system. Hochul has faced criticism over an ongoing shortage of tests, as well as how vaccine mandates have led to a small fraction of health care workers quitting their jobs. The state has ordered 12 million new tests for New Yorkers recently, according to Hochul, and there are enough tests available to implement a new "Test to Stay" program to keep public schools open. The upcoming days and weeks will show just how much Hochul really has the situation under control.
The state Department of Health did not respond by publication time to a request for comment on how the latest data on hospitalizations compares to last winter and spring 2020 when it comes to the relative numbers of COVID-positive hospital patients versus people hospitalized for COVID-19 specifically. However, the numbers released by Hochul underscore how the pandemic situation is not as bad as some of the data might suggest. Vaccinations, masking and social distancing have undoubtedly played a role in this, but they have not been good enough to prevent the current wave of cases. It might very well crest in the coming weeks, but that still means plenty of suffering across the state, even though omicron appears to cause less serious illness than other variants. 
"We can expect a difficult January," Dr. Mary Bassett, acting state health commissioner, told reporters Friday. "Things should be much better by February, but as ever, we just have to keep tracking the data day by day."