News & Politics
New York congressional members unified in condemning Russian invasion of Ukraine
Lawmakers from both parties called for heavier sanctions against Russia on Thursday and denounced 'tyrant' President Vladmir Putin.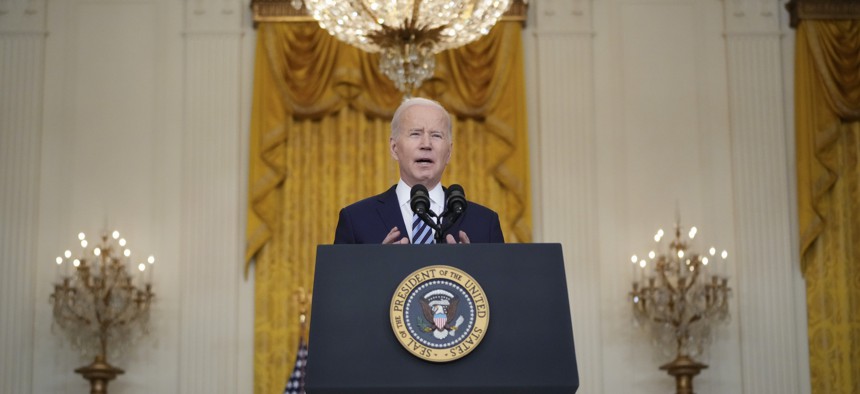 New York's congressional delegation was united in condemning Russia's invasion of Ukraine on Thursday – with Republicans placing blame squarely on the Biden administration and what members called a "weak" approach to dealing with Russia.
Republicans took aim at Biden over the timing of his sanctions, accusing him of waiting too long to implement the economic penalties he announced on Tuesday and Wednesday against Russia, which they said were not strong enough. 
Democrats, meanwhile, expressed their support for the president and urged cooperation with U.S. global allies in aiding Ukraine.
Members of both parties strongly criticized Russian President Vladmir Putin, including Republicans aligned with former President Donald Trump, who on Tuesday called Putin's decision to declare the independence of two Russian-backed territories in eastern Ukraine "genius" in a radio interview.
"After just one year of a weak, feckless, and unfit President of the United States and Commander-in-Chief, the world is less safe. Rather than peace through strength, we are witnessing Joe Biden's foreign policy of war through weakness," Republican Rep. Elise Stefanik, an ardent Trump ally, said in a statement in which she called Putin a "war criminal and deranged thug" who launched an "unwarranted and unjustified invasion."
Rep. Nicole Malliotakis also described the attacks as "unprovoked" in a series of Tweets, urging Biden to "act decisively and with strength to unleash crippling sanctions to bring Putin's economy to its knees."
Biden is expected to announce additional sanctions, on top of the penalties implemented earlier in the week, following Russia's invasion of Ukraine late Wednesday. Putin, in an address announcing the military action, said it was an effort to "demilitarize" Ukraine and warned that any country who interfered would face "consequences they have never seen."
Democrats joined with Republicans in calling on the Biden administration to ramp up the economic penalties on Thursday.
"I support rushing further support to Ukraine and implementing severe sanctions on Russia, including sanctions which directly target Putin, his financial institutions, and his oligarch supporters," Democratic Rep. Sean Patrick Maloney said in a statement.
Rep. Jamaal Bowman, also a Democrat, said in a statement he is "committed to supporting the Biden administration in holding Putin and his oligarchs accountable" without direct U.S. military involvement. Bowman, along with Rep. Alexandria Ocasio-Cortez, is among more than 40 members of a bipartisan coalition that asked Biden earlier this week to seek congressional approval before sending U.S. troops to Ukraine. Already, the U.S. has sent weapons and military aid to Ukraine as Russian troops moved closer to its border, but Biden has said repeatedly he will not send troops there. 
Democratic Sen. Kirsten Gillibrand, along with Republican Reps. Lee Zeldin and Stefanik, encouraged the U.S. to lean on its NATO partners in its approach to the crisis.
"The U.S. must lead the effort to hold Russia accountable. Together with our allies, the U.S. must impose crushing sanctions on Russia and strengthen the defenses of our NATO allies," Gillibrand said in a statement. "The world must be united and resolute against this act of aggression."