New York State
Judge allows elections to move forward, despite GOP-led lawsuit against redistricting
Democrats were told by a Steuben County court that they still must comply with a plaintiff investigation into whether they acted unconstitutionally in redrawing the maps.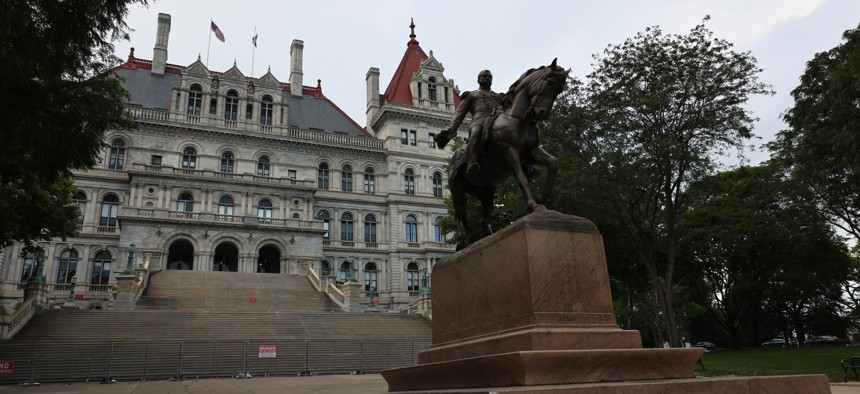 A state judge said this year's election schedule can continue as planned, despite a Republican-led lawsuit to toss out newly drawn redistricting maps that help Democrats' secure their holds over Congress and the state legislature.  
State Supreme Court Judge Patrick McAllister of Steuben County ordered Democrats on Thursday to comply with discovery requests from the plaintiffs by a March 12 deadline. Doing so "will not have the potential of chilling legislative actions in the future," he said, adding that "I'm not going to make any rulings on anything until the discovery is done."
McAllister said he would not immediately toss the congressional and state Senate maps, because of the tight timeline between now and the June primary election. 
The respondents have an "extremely high level of proof" needed to determine the legislature "acted in an unconstitutional way in creating the congressional and Senate maps," he said. "Therefore, striking these maps would more than likely than not leave New York state without any duly elected congressional delegates." 
If the maps are determined unconstitutional and need to be redrawn, it's more likely the court would require new elections next year, McAllister said. 
The maps in question, approved by the state legislature in February, would give Democrats an advantage in 22 of the state's 26 congressional districts. The new state Senate map adds two new districts and better-positions Democrats in three Republican-held districts. 
The maps were drawn by the Democratic-majority legislature after the state's Independent Redistricting Commission, established in 2014 to prevent partisan gerrymandering, could not reach an agreement.
The lawsuit, filed by a group of GOP-backed voters almost immediately after the maps were approved, claims "the Democratic Party politicians who control the New York Legislature and Governor's office brazenly enacted a congressional map that is undeniably politically gerrymandered in their party's favor."
Democrats argue the state Senate map is a fair correction to lines drawn in 2012 that favored Republicans, and the congressional maps accurately reflect New York voters' political makeup. 
Powered By
NEXT STORY: How New York is joining Ukraine's fight against Russia