Amazon workers on Staten Island vote to join first union
Self-organized workers at a large Amazon facility on Staten Island made history by voting to become the company's first labor union.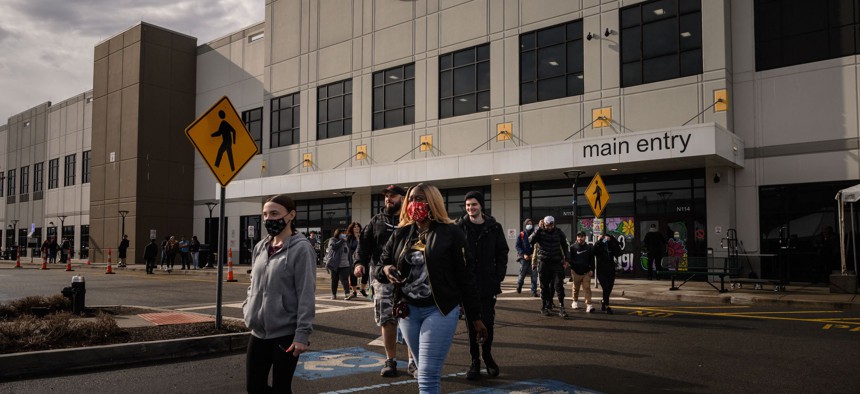 Amazon workers made history in Staten Island on Friday as they voted to create the company's first unionized warehouse after a series of failed organizing attempts at the behemoth employer's facilities across the country. 
According to the final tally announced by the National Labor Relations Board, workers at Amazon's JFK8 fulfillment center on Staten Island voted 2654 to 2131 in favor of joining the Amazon Labor Union – an upstart union led by Chris Smalls, who was fired from the facility during the COVID-19 pandemic after raising concerns about health and safety conditions, and Derrick Palmer, a current JFK8 employee. The NLRB said that the facility had roughly 8,000 eligible voters, and counted over 4,700 ballots cast in the election – marking a relatively high turnout. Only 67 ballots were contested, far too few to compromise the union's 523 vote lead. "We @amazonlabor has just (become) the first union for @amazon in The United States of America!," Palmer tweeted after the final tally was announced.
On Thursday afternoon, when the union's lead was still growing, Smalls told a reporter that he thought the Amazon lawyers watching the vote count were getting nervous. "I love watching them squirm. They're drinking mad water," he told Vice's Lauren Kaori Gurley.
"We're disappointed with the outcome of the election in Staten Island because we believe having a direct relationship with the company is best for our employees," Amazon said in a statement on Friday afternoon. "We're evaluating our options, including filing objections based on the inappropriate and undue influence by the NLRB that we and others (including the National Retail Federation and U.S. Chamber of Commerce) witnessed in this election." It's unclear exactly how Amazon is suggesting that the NLRB exerted undue influence, but the statement links to an article on the U.S. Chamber of Commerce's website noting that the NLRB filed a court injunction to reinstate a fired union activist at the JFK8 warehouse.
New York lawmakers congratulated the union for its historic win. "Truly a David vs Goliath moment and I am so friggin proud of these guys! And to think it happened on Staten Island!" state Sen. Diane Savino wrote on Twitter.
"Felicidades to @amazonlabor for building real worker power & winning where it was supposed to be impossible. Welcome to our labor family!" State Sen. Jessica Ramos tweeted.
The organizing in Staten Island is led by an independent union, not an established union like the Retail, Wholesale and Department Store Union, which is leading a separate union election drive in Alabama. Palmer predicted last fall that the Amazon Labor Union's independent organizing would work to their advantage. "Any other unionization effort at Amazon has been kind of a third party or already an established union. Them being on the outside makes a big difference," Palmer told City & State in September. "I'm able to see exactly how Amazon is union busting, and I'm able to talk to workers that may feel discouraged and give them the facts so that they're able to at least have a fair judgment on whether or not they want to join."
By voting to join the Amazon Labor Union, the Staten Island workers claim a historic victory after a series of failed efforts across the country to organize the company's workers – in large part thanks to Amazon's well-funded resistance to any organizing. The online bookseller turned cloud computing giant, made a billionaire out of founder Jeff Bezos and has staunchly opposed organizing efforts at its rapidly expanding warehouses. Throughout the organizing process, workers have reported being subjected to anti-union propaganda and captive audience meetings.
The Amazon Labor Union is asking for a $30 minimum wage – the company has long boasted about its $15 minimum wage for warehouse employees – more regular breaks and increased sick days, among other things. Employees have said that working at the warehouses can be grueling. "I (used to) tell every new hire, 'If you have a gym membership, you might want to cancel it,'" Smalls told City & State last year. "You're going to be on your feet for 10-hour days."
Smalls, a former assistant manager at the facility, was fired in late March 2020 after organizing a walkout over what he and others said were unsafe working conditions at the start of the pandemic and a lack of transparency about the spread of COVID-19. (Amazon representatives have denied both of these claims.) Amazon said that it fired Smalls because he violated the company's quarantine policy – Smalls at the time had been told to stay home because he came in close contact with someone who had tested positive for COVID-19. But Smalls maintained that he was fired in retaliation for his speaking up about working conditions at the warehouse.
Smalls' firing caught the attention of state Attorney General Letitia James, who opened an investigation into the company's labor practices in April 2020. In February 2021, James sued Amazon alleging that it failed to protect warehouse workers at its facilities in Queens and Staten Island during the pandemic, and retaliated against employees who spoke up about working conditions. Amazon sued James just days before that in an attempt to preempt her from bringing those charges and argued that the claims she eventually made didn't represent an accurate picture of the company's pandemic response.
Despite not working at the facility for two years, Smalls founded the Amazon Labor Union and has worked with current and former employees to rally support among the thousands who shuffle in and out of JFK8 and the neighboring warehouses every day. At a company meeting attended by Bezos, an Amazon attorney insulted Smalls' intelligence as he emerged as a leading critical voice, according to a leaked memo obtained by Vice in the spring of 2020. "He's not smart, or articulate, and to the extent the press wants to focus on us versus him, we will be in a much stronger PR position than simply explaining for the umpteenth time how we're trying to protect workers," Amazon General Counsel David Zapolsky wrote, according to notes from the meeting.
Smalls didn't let that go unnoticed in declaring victory on Friday. "@amazon wanted to make me the face of the whole unionizing efforts against them…. welp there you go!" Smalls tweeted.
While pro-union workers on Staten Island won their vote, workers voting in a separate union election at an Amazon warehouse in Bessemer, Alabama appear to have narrowly voted against joining RWDSU, but a final result in both elections may come down to challenged ballots. This is RWDSU's second union vote at the Bessemer warehouse; the union lost by a wide margin in a 2021 vote but successfully argued to the National Labor Relations Board that Amazon improperly interfered in the vote and secured a second election.
The Staten Island warehouse workers' victory could open the floodgates for more organizing at Amazon facilities across the country. Already, at a separate Amazon warehouse on Staten Island – known as LDJ5 – employees organizing with the Amazon Labor Union have secured an election and are set to start voting in late April.