New York State
Brian Benjamin's ethical controversies
The lieutenant governor has been accused of stretching the rules as a state senator and candidate for New York City comptroller.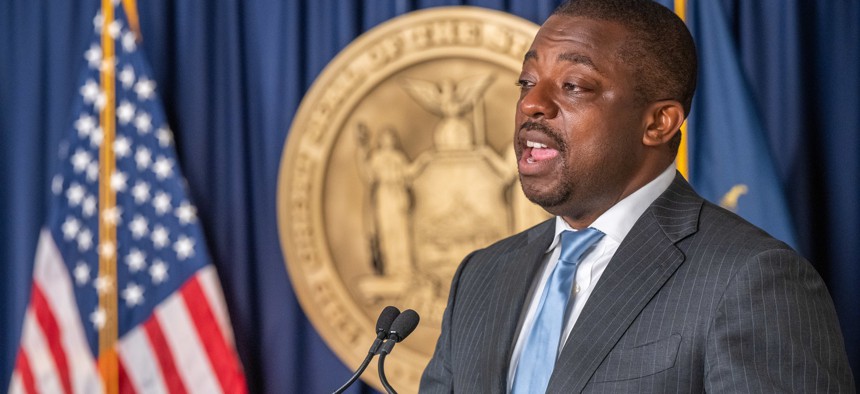 Gov. Kathy Hochul has promised to make state government more ethical following the resignation of her scandal-ridden predecessor, but Lt. Gov. Brian Benjamin is not making her look so great on this front.
Benjamin has faced a number of accusations in recent months about how he might have used public money to benefit himself or supporters as a state senator and 2021 candidate for New York City comptroller. He was formally indicted by the Southern District of New York on Tuesday morning with charges of bribery, wire fraud conspiracy and for falsification of records filed to government agencies in relation to campaign contributions made to him by a real estate developer. Political rivals are leveraging that to their full advantage ahead of the June Democratic primaries.
Here is a list of recent ethics controversies in recent years involving Benjamin, as of April 12.  
Arrested after the Southern District of New York filed an indictment against Benjamin
Tuesday, the U.S. District Court of the Southern District of New York filed a 23-page indictment against Benjamin. The charges listed are in connection with money taken by his campaign during his run for New York City Comptroller in the months leading up to his appointment to the position of lieutenant governor to Hochul. Benjamin pleaded not guilty to the charges. This comes after Benjamin falsely claimed that he had not provided "false information in vetting forms" to the New York State Office of General Services during a press conference with Hochul the prior week. The indictment states that he had filed a questionnaire to the office addressing the accusations made against him pertaining to suspicious fundraising where he "falsely stated, among other things, that he had never 'directly exercised [his] governmental authority (either as a Legislator or Executive official) concerning a matter of a donor [he] directly solicited.'" SDNY alleged that between October 2019 and January 2021, Benjamin personally met with and coordinated $25,000 in campaign contributions from a real estate developer referred to as CC-1 in the official indictment in exchange for him transferring $50,000 in state grant money to a nonprofit organization operated by CC-1. In a press conference on Tuesday, U.S. Attorney Damian Williams stated that Benjamin's actions were "quid pro quo…this for that." 
State and Municipal Facilities Program funding
Federal investigators subpoenaed people working for the state Senate, state Division of the Budget and Dormitory Authority of the State of New York in relation to grants supported by Benjamin during his time as a state senator, the Daily News reported March 25. In the indictment filed by SDNY, a $50,000 state grant was procured by Benjamin, which he had promised to CC-1 and the nonprofit organization run by CC-1 in exchange for campaign funding. So-called SAM funding has a rich history as a top source of pork projects for state lawmakers. 
Travel reimbursements as a state senator
An analysis by the Times Union published in February found a dozen instances when Benjamin sought $2,100 in travel reimbursements as a state senator while seemingly using a campaign account for expenses. This includes money spent in Providence, Rhode Island, where Benjamin is a trustee of his alma mater Brown University. Benjamin said that money was spent appropriately, but the state Board of Elections began an investigation that resulted in Benjamin repaying about $3,500 in gas expenses to his campaign account. This apparently slipped Benjamin's mind in late 2021 when he told state police vetting him to be lieutenant governor that he had never been contacted by a regulatory body. Benjamin subsequently had attorneys review the forms, WSKG reported at the time. 
Suspect donations to 2021 New York City comptroller campaign
Prosecutors indicted Gerald Migdol, who Benjamin had nominated for various community awards, last November for alleged wire fraud, conspiracy and identity theft in relation to suspicious donations made to Benjamin's 2021 campaign for city comptroller, where he came in fourth in the Democratic primary. This includes money supposedly provided to the campaign by a toddler related to Migdol, NBC News reported. The City had previously reported that at least three men said they had never heard of Benjamin though donations to his campaign were made in their names. Benjamin ended up returning at least a dozen different donations. 
Making a wedding reception into a community event  
Campaign finance records show that the Benjamin for New York campaign account spent $6,693 on a 2018 constituents services event that happened just about when Benjamin and his wife held a wedding celebration at a Harlem jazz club. "Had an incredible time at the Harlem celebration of our wedding!" Benjamin posted to Instagram at the time. A campaign spokesperson defended the event by likening it to how elected officials leverage their birthdays for events. The Daily News also reported in March 2021 about $1,200 in auto repairs charged in Virginia days after Benjamin attended a nearby funeral for his father-in-law. Benjamin eventually repaid nearly $26,000 to his state Senate campaign account for questionable expenses, according to the Times Union. 
Powered By
NEXT STORY: Calls grow for Brian Benjamin's resignation following arrest