A special election is expected to fill N. Nick Perry's Assembly seat
The race could feature a revived Brooklyn rivalry – plus possible mayoral involvement.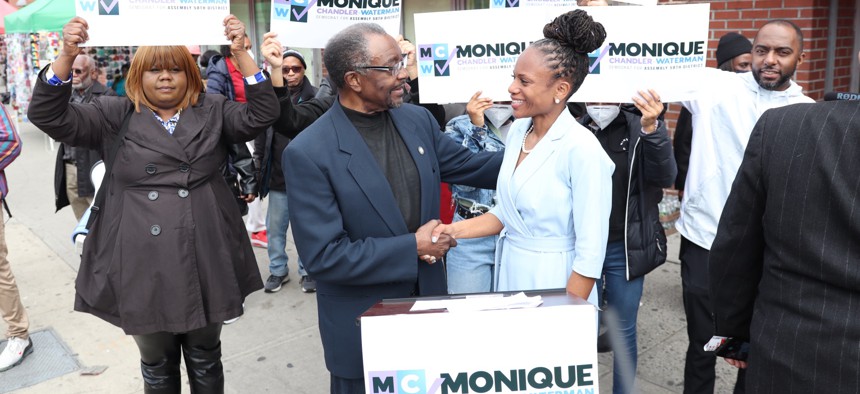 How late can you go? The next Assembly member for parts of East Flatbush and Canarsie in Brooklyn might end up serving for two days of the legislative session – if any – before running for reelection.
N. Nick Perry resigned as an Assembly member at 11:59 p.m. on March 30 to become the U.S. ambassador to Jamaica. If he'd waited another day, the seat would be empty until right after the regularly scheduled November general election for his District 58 seat. But by resigning ahead of April 1, it's expected to trigger a special election under state law in mid-to-late May. Gov. Kathy Hochul has until Saturday to formally call a special election within 40 to 50 days – meaning an election would most likely be held May 24.
That will give the local county committee – controlled by Assembly Member Rodneyse Bichotte Hermelyn – more control over who wins, since whoever is granted the Democratic Party line in the special election is effectively guaranteed victory in the overwhelmingly Democratic district. The expected choice is Monique Chandler-Waterman, a longtime nonprofit leader and most recently a special assistant to Perry. She's backed by Perry, New York City Public Advocate Jumaane Williams, City Council Member Mercedes Narcisse, the Working Families Party and others. Also expected to run are Otis Danne Jr., a charter school administrator and small-business owner, and Hercules Reid, an aide to Mayor Eric Adams. 
But one question mark in the race is Cory Provost, one of the two local district leaders, who told City & State last year he was thinking about running. Provost didn't respond to a request for comment and has not shown any signs of running in the scheduled June primary – not yet filing petitions as of Tuesday and not filing as an Assembly candidate with the city Board of Elections. However a special election could provide him an opening. If Provost were to run, county party spokesperson Sabrina Rezzy told City & State that she would expect him to have the county committee's support, and therefore the Democratic line in the special election.
It would not be surprising for Bichotte Hermelyn to be searching for an alternative to Chandler-Waterman. They were on opposite sides of the 2019 City Council District 45 special election, when Chandler-Waterman said that Council Member Farah Louis only won by allying with that district's Orthodox Jewish community, many of whom supported former President Donald Trump. And in this race, Chandler-Waterman is backed by the WFP, a frequent electoral foe of the Brooklyn Democratic Party.
Another wildcard in the race could be played if Adams decides to throw his support behind his longtime aide, Reid. Team Adams isn't showing its hand yet – the mayor's chief of staff Frank Carone said it's too early to address it – but Adams would probably love to have another staunch ally in Albany. The mayor could be influential in the district, however, Chandler-Waterman's campaign is expected to be strong, and it isn't clear how much political capital Adams would be willing to spend in a difficult race.
No matter what happens, Chandler-Waterman's team is confident. "Monique Chandler-Waterman will be the Assembly woman. She will win (the) county committee," said Kyle Ishmael, a consultant for her campaign.
The winner of a special election would serve out the term through the end of 2022, but they wouldn't get much time in Albany. After Assembly Member Brian Cunningham was picked in a special election in a neighboring district on March 22, he was sworn in on March 30. If that same schedule is followed, the winner of this District 58 special would take office June 1 – one day before the last scheduled day of the legislative session.
There will also be another election right around the corner. Assuming the recent redistricting rulings don't shake things up, there will be a Democratic primary on June 28, with early voting starting June 18. The winner there would be expected to win the general election in November and would then serve a full term starting in 2023 – when they would get far more than two days of legislating.