Hochul calls for stricter gun laws, social media monitoring in wake of deadly Buffalo mass shooting
The apparently racially-motivated attack left at least 10 dead after the shooter posted a manifesto detailing his plan to target Black New Yorkers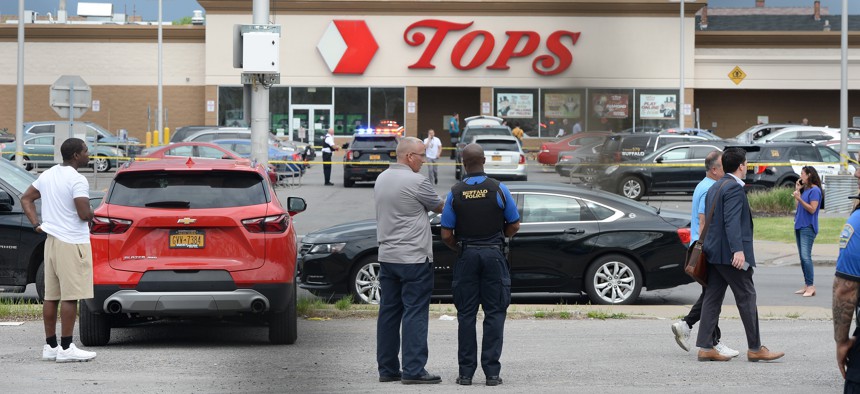 This story has been updated and was last updated Sunday at 11:30 a.m.
Authorities said a gunman opened fire at a Buffalo supermarket Saturday afternoon, killing at least 10 and leaving another three wounded. The 18-year-old shooter drove for hours from Broome County in the Southern Tier to reach the majority-Black neighborhood he targeted. He live streamed the shooting and officials are already calling it a hate crime fueled by white supremacy. 
Speaking in the aftermath of the shooting in Buffalo, Gov. Kathy condemned the shooter's ability to stream his attack, taking aim at social media companies for allowing the video to continue broadcasting people's murders, and accusing them of allowing white supremacist ideology to spread on their platforms. "We will continue to work at the federal, state and local level with our community partners to help identify these messages as soon as they arise on social media," Hochul said. "That is our best defense right now."
Hochul repeated her call for better oversight from social media companies in order to promptly remove hate speech before it escalates to actual violence in a series of national news interviews she gave Sunday morning. "It's spreading like a virus now," Hochul said on ABC News' "This Week." In her State of the State address in January, she had called for greater scrutiny of social media to prevent deadly attacks like the one Buffalo. In an interview on NPR later the same morning, Hochul said she would like to see the establishment of some sort of alert system when someone posts hate speech that indicates potential violence.
The shooter, Payton Gendron, has already been arraigned on first degree murder charges. The Department of Justice has already begun investigating the shooting as a hate crime, and Hochul said she had directed the state police Hate Crime Task Force to assist in the investigation as well. The FBI is pursuing potential domestic terrorism charges as well as a case of racially-motivated violent extremism.
"The Justice Department is investigating this matter as a hate crime and racially-motivated violent extremism," federal Attorney General Merrick Garland said in a statement. "The Justice Department is committed to conducting a thorough and expeditious investigation into this shooting and seeking justice for those innocent victims."
The apparent racial motivation for the shooting as well as white supremacist ideas the shooter previously posted online, including a manifesto that laid out the plans for the attack, has led to officials already declaring it a hate crime as that invesgitation continues. "It was straight up, a racially motivated hate crime," Erie County Sheriff John Garcia said. "This person was pure evil." Gendron notably subscribed to the "great replacement" conspiracy pushed by some on the right, including dog whistles made by New York Republicans, which asserts that people of color will replace all the white people in the United States.
Political leaders concurred. "It is my sincere hope that this individual, this white supremacist, who just perpetrated a hate crime on an innocent community, will spend the rest of his days behind bars," Hochul said. "And heaven help him in the next world as well." At a Sunday morning church service for the victims in Buffalo, Hochul called the attack an "an act of terrorism." State Senate Majority Leader Andrea Stewart-Cousins offered similar sentiment, calling it "a racially motivated hate crime" that was a "targeted attack against Black Americans." Of the 13 people Gendron shot, 11 were Black.
The attack took place in the district of Assembly Member Crystal Peoples-Stokes, who is also the majority leader of the Assembly. "The shooter committed an act of terror and an act of hate," Peoples-Stokes said in a statement. "I grieve the brutal murder and horrific massacre of innocent lives." She repeated Hochul's characterization of the event as terrorism Sunday morning as well. State Sen. Tim Kennedy, who also represents the area, said the son of one of his staffers was among those injured and is currently hospitalized.
Hochul confirmed on Sunday that the shooter purchased his gun legally, but utilized a high capacity magazine that is illegal in New York. She additionally called for greater gun regulations at the federal level. "We need national laws to deal with this," Hochul said on NPR, referencing the flow of guns and gun paraphernalia into New York from other states despite strict gun laws locally.
In the immediate aftermath of the shooting, Hochul's gubernatorial primary opponent Rep. Tom Suozzi offered criticism of the governor's handling of crime in the state. "Multiple people were just shot and killed at an East Side @TopsMarkets supermarket," Suozzi said in a tweet. "Hochul refuses to make fighting crime a priority. I will." The comment, made before many of the facts of the shooting were known, drew sharp criticism of its own online for making political hay of the attack. Suozzi did not return a request for comment, but doubled down on his callout of Hochul on the issue of crime in an interview with the New York Post Saturday night.
During the press briefing in Buffalo, Hochul said that she had already planned to announce a "comprehensive gun package" to institute additional reforms and protections. She also highlighted the Interstate Task Force on Illegal Guns created under her leadership that includes nine states in an effort to better track the movement of guns. "We're gonna continue addressing this every single way we can," Hochul said, adding that the state is preparing for the upcoming decision by the Supreme Court on the constitutionality of a New York City ban on concealed carry licenses. "This is New York. We're here to protect our people."