New York City
Where are your old council members now?
There is life after the New York City Council.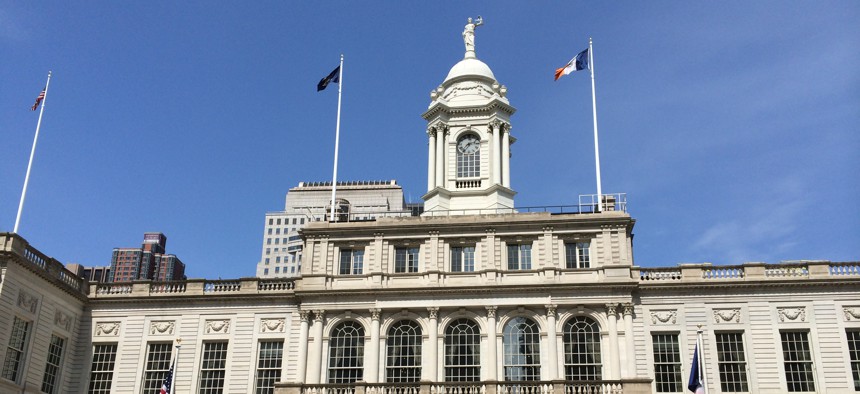 With all the excitement about the dozens of new lawmakers joining the New York City Council, the term-limited and departing members who left the council at the end of 2021 have gone a bit overlooked.
Some of those members have joined Mayor Eric Adams' administration, others are in new elected offices, while even more are stepping back from political life for the time being. If you're wondering what your old council member is up to now, City & State has you covered.
This list has been updated as of May 4.
Brad Lander
The former council member from Central Brooklyn is one of several who rose to a higher elected office this year. Lander was sworn in as the city's comptroller after beating out a crowded primary field last year that included former City Council Speaker Corey Johnson and current Lt. Gov. Brian Benjamin. Lander's new position will have him staying close to City Hall, however. He's already appeared at press conferences with council members. 
Mark Levine
Mark Levine and Gale Brewer have effectively traded places. Levine won the Manhattan Borough President election last year – his new office just a stone's throw from City Hall – and Brewer left the borough presidency for a second tour in the City Council.
Antonio Reynoso
Former Council Member Antonio Reynoso has arrived at Brooklyn Borough Hall, and he's already making his mark as borough president by cracking down on parking around the building. Whether Reynoso will be sleeping at Borough Hall like his predecessor remains to be seen. 
Vanessa Gibson
Vanessa Gibson made history last fall when she became the first woman to be elected Bronx borough president. After four years in the Assembly and two terms in the council, Gibson is staying booked and busy as Bronx beep. 
Ben Kallos
The one-time Upper East Side Council member was always proud of having the best website in City Hall. Now, per his LinkedIn, he's bringing his talents to the federal government as a digital services expert for product and strategic engagement at the United States Digital Service – a unit in President Joe Biden's office focused on improving government websites and digital services.  
Helen Rosenthal
The Upper West Sider is enjoying time off, and not jumping straight into a full-time job. She's now planning a May trip to Poland to work with Women Take the Wheel, a program where women provide safe car rides for women and children displaced by the war in Ukraine. 
Ydanis Rodriguez
Former chair of the City Council's Committee on Transportation, Ydanis Rodriguez was long rumored to be joining Eric Adams' administration in a transportation-related role. Late last year, Adams appointed Rodriguez as commissioner of the Department of Transportation, where he'll have the opportunity to build on initiatives he championed in the council, including pedestrian and cyclist safety.
Eric Ulrich
Adams – a former Republican himself – isn't just hiring Democrats like Rodriguez for his administration. Former Republican Council Member Eric Ulrich scored a gig with Adams too, serving as senior adviser to the mayor. Then on May 3, he got a promotion to the commissioner of the Department of Buildings.
Mark Treyger
The former chair of the City Council's Committee on Education, Mark Treyger must have aced his Adams administration entrance exams, seeing as he was named director of intergovernmental affairs for the city Department of Education.
Peter Koo
Peter Koo had his eyes on a deputy mayor spot under Eric Adams, and he's getting pretty close, after being named senior adviser to Deputy Mayor for Public Safety Phil Banks. A City Hall spokesperson said Koo will focus on engaging with different communities regarding crime and public safety.
Paul Vallone
The Vallone dynasty may not have a place in the City Council anymore, but it does in the Adams administration. Former northeast Queens Council Member Paul Vallone now serves as the deputy commissioner for external affairs in Adams' Department of Veterans' Services. 
Alicka Ampry-Samuel
Former Council Member Alicka Ampry-Samuel lost in the Democratic primary last June to Darlene Mealy, but it didn't take long for her to line up new prospects. The Daily News reported in September that Ampry-Samuel was slated to be appointed by President Biden as New York-New Jersey regional administrator for the Department of Housing and Urban Development. She started the job in January.
Corey Johnson
Former New York City Council Speaker Corey Johnson – who once aspired to run for mayor and lost his bid for comptroller last year –  is now taking a turn for the private sector. Israeli electric vehicle charging company ElectReon announced that Johnson is joining as a strategic adviser, focusing on the electrification of New York City and state's vehicle fleets. Johnson has also formed a lobbying practice, Cojo Strategies LLC, and has reported two clients so far: a subsidiary of the Brooklyn Nets and the Central Park Conservancy.
Jimmy Van Bramer
One of several former council members joining the nonprofit sector, Jimmy Van Bramer is now the chief growth and strategic partnerships officer at Girl Scouts of Greater New York. Van Bramer helped to form Girl Scouts Troop 6000, which serves girls who are experiencing homelessness.
Stephen Levin
Greenpoint's former council member, Stephen Levin, is going green in taking over as chief executive officer of Solar One, a sustainability nonprofit. The organization manages Stuyvesant Cove Park and provides education and a workforce development program focused on sustainable construction.
Steven Matteo
Staten Island Council Member Steven Matteo resigned from his seat early, at the end of November, leaving to become CEO of United Activities Unlimited, a social services agency.
Costa Constantinides
The Western Queens City Council member also resigned before the end of his term, leaving office in April 2021 to take a job as CEO of the Variety Boys and Girls Club of Queens.
Bill Perkins
Former Council Member Bill Perkins was not term-limited, but left office after losing to Kristin Richardson Jordan in the Democratic primary last year. Perkins said at the time that he would retire at the end of the year.
Robert Cornegy Jr.
The 6'10" Brooklynite has started a consulting firm named after his record-breaking height: The 610 Collective, where he serves as founder and CEO. The Doe Fund, a social services provider for formerly homeless and incarcerated men, appointed Cornegy as its executive vice president of external affairs. Additionally, Cornegy is a principal with Green Stone First Consulting and teaches at the NYU Schack Institute of Real Estate.
Fernando Cabrera
Former New York City Council Member Fernando Cabrera joined Mayor Eric Adams' administration as a senior adviser in the Office of Faith-Based and Community Partnerships. But like a number of the mayor's other appointments, this one wasn't without controversy. Cabrera, a pastor who represented the Bronx, has expressed anti-gay sentiments – most notably during a trip to Uganda in 2014 – but Adams said Cabrera had "acknowledged the pain that his past comments have caused and has apologized for the words he used."
Laurie Cumbo
The former City Council majority leader endorsed Adams on the day his campaign launched and has been rewarded by being named commissioner of the Department of Cultural Affairs – in spite of controversy over some previous comments that some thought were racist. The job, though, was a natural fit for the Brooklynite who founded the Museum of Contemporary African Diasporan Art.
Rubén Díaz Sr.
The Bronx reverend who chose not to seek reelection is no stranger to controversy and has stayed in the mix by delivering frequent political analysis with his "What You Should Know" emails and by inviting disgraced former Gov. Andrew Cuomo to speak on behalf of his New York Hispanic Clergy Organization.
Margaret Chin
The last few weeks of Margaret Chin's time in the City Council were eventful, but she now appears to be enjoying a blissful retirement.
Barry Grodenchik
Queens' Barry Grodenchik is enjoying retirement too, according to his Twitter account.