Where do the District 10 congressional candidates stand? We asked some experts
Former New York City Mayor Bill de Blasio, Rep. Mondaire Jones and Assembly Member Yuh-Line Niou are the most prominent candidates, so far.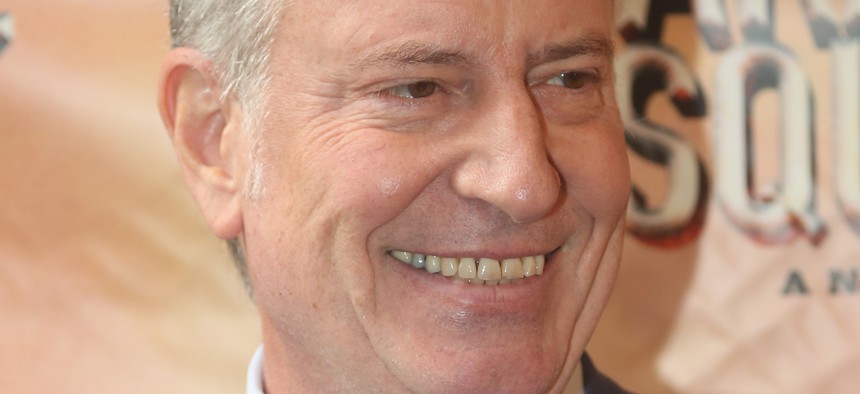 Just days after New York's congressional districts were finalized, the District 10 race has emerged as one of the biggest talkers in local politics.
Drawn by an independent expert hired to retool the lines after they were deemed unconstitutional by the state's high court, the district was reconfigured to include Red Hook and Sunset Park and eliminate the Upper West Side and Bensonhurst in Brooklyn. The district also encompasses Borough Park, portions of brownstone Brooklyn and all of Lower Manhattan below 14th Street. The new District 10, 77% of which voted for President Joe Biden, is 49% white, 22% Asian, 19% Hispanic and 6% Black.. A state Supreme Court Judge approved the final maps early Saturday. 
Following the release of "special master" Jonathan Cervas' draft maps last Monday, current NY-10 Rep. Jerry Nadler announced he planned to run for the 12th District instead, creating an open seat. A flurry of candidates with notable name recognition have since jumped in to compete in the Democratic primary. While several bowed out over the weekend, others announced they would join the crowded field. Prospects who opted to run elsewhere include Assembly Member Robert Carroll, who, after announcing last Monday he was considering a District 10 candidacy, decided against it by Saturday. State Sen. Brad Hoylman, who also briefly eyed NY-10, said he will instead run for re-election in Senate District 47. Those who have officially announced a run for NY-10 include former New York City Mayor Bill de Blasio, Assembly Member Yuh-Line Niou, and current Congressional District 17 Rep. Mondaire Jones. New York City Council Member Carlina Rivera, State Sen. Simcha Felder, former New York City Council Member David Yassky, former New York City public advocate candidate and lawyer Dawn Smalls, and former lawyer to House Democrats, Dan Goldman, have also reportedly expressed interest. 
City & State reached out to a range of experts to ask for early thoughts on the hottest race of the moment.
Their responses have been edited for length and clarity. 
George Arzt, president and CEO of George Arzt Communications
De Blasio's strength is his name recognition. His weakness is that he's got name recognition. People had de Blasio fatigue after eight years. I think that's going to impact him. Mondaire Jones, a lot of people like him, but he's coming way south from his old district. However, this is a brand new district. Yuh-Line is a progressive, like Mondaire and like de Blasio, so they'll split some of that vote ideologically. 
Crime is the number one issue. Homelessness is an issue, so is the need for affordable housing. Part of the district is a transportation desert, and there's a need for more buses and trains. 
De Blasio has had eight years of trying to do something and all he can point to really is universal pre-K, so on the critical issues of crime, homelessness, and housing – he'll say he made progress, but progress is in the eyes of the beholder, and people in that part of Brooklyn and parts of Lower Manhattan will not see that. 
Christina Greer, associate professor of political science at Fordham University and co-host of "FAQ NYC" podcast
Anytime someone's a sitting elected, they've got a bit of an advantage, largely because they have this built-in base. So Mondaire and Yuh-Line are already in the game, because their fundraising and organizational campaign efforts are still fresh. 
The last time Bill de Blasio ran in New York City was 2017. We're not going to talk about all the other runs that he had. Even though he ran citywide and was successful in a very crowded race, we still have to recognize that the city has changed quite substantially since he last mobilized a real campaign. Bill de Blasio still has a fundraising apparatus. Obviously the real estate world still believes in Bill de Blasio. 
I still don't know who his base is and who would be interested in having Bill de Blasio as a member of Congress, but then again, we know that the big donor class oftentimes has other reasons as to why they are interested in someone being elected. So I wouldn't discount someone who's been the 109th mayor of New York City for two terms. I would not turn my back on him. He's also a white male, and I know that a lot of folks are saying 'we're not necessarily in the moment where we're interested in this kind of cis white male leadership,' however, we do know that still has a cachet and is still pretty powerful when it comes to to fundraising and the polls.
Mondaire has been progressive – a pragmatic progressive. The way the district is redrawn and cut up, even though it doesn't necessarily have a very large African American population, it has a population that is interested in what he's selling.
Yuh-Line, she too has progressive bonafides. She has shown that she can lose a race, and then come back and fundraise to win a race. She's got her New York-squad equivalent that can do a lot of heavy lifting and groundwork for her. 
Those are the three that I'm paying attention to, but I'm still keeping my eye on Carlina and Dawn, especially as women of color.
Carlina Rivera is a sitting elected, so she has a base. And also, we keep having conversations in New York about the lack of Latinx representation on local, state and federal levels. So that could be of interest to quite a few people who want to see more Latina representation. 
There's also Dawn Smalls, who's run before and wasn't successful, but if you look at the numbers, she knows how to raise money. She's also a Black woman, and when you look at where she was able to get money from, I think that makes her someone who's of interest in this race.
Tony Melone, New Kings Democrats communications director
We're not going to say anything in support of any candidate at this point in this race. 
In terms of what happened in the redistricting process, there are a cascade of failures that got us to this point. First of all, it was the Cuomo administration's flawed redistricting plan. And then our own state party's failure to support and pass ballot measures last November that would have fixed some of the problems with the law. And then, the conservative Cuomo appointees on the Court of Appeals threw out the maps the Legislature drew. So we're left with a situation that is very confusing for voters. 
And the way the party is behaving on all levels – it's not what we're looking for from our party. We're looking for a party that is transparent and accountable, and that is more interested in serving the voters than in protecting incumbents. It looks like there's a lot of incumbent protection going on. I don't want to criticize any particular candidate, but it feels like, in many cases, incumbents are more interested in making sure they win re-election than making sure the principles voters are concerned about are being carried out. Sean Patrick Maloney, the chair of the Democratic Congressional Campaign Committee, wanting to run in a safer district caused another candidate to run for a district far from where he's represented. 
Hunter Rabinowitz, Brooklyn Young Democrats president
This is going to be a really exciting race. The way that Manhattan and Brooklyn are split this time around are really important and really interesting. A large majority is in the 52nd Assembly District, which is the highest turnout voting district in all of New York state, and that is a really significant fact about the way this race is going to shape up. 
Obviously you have Bill de Blasio who appears to be the only official Brooklyn candidate to announce and you have Yuh-Line Niou, who is the only official Manhattan candidate to announce. So I think what you're really going to see is a play out between Brooklyn and Manhattan candidates. 
When push comes to shove, Mondaire Jones obviously has a lot of money in his bank, and it's going to help him, but I think what you're seeing here is a matter of disconnect between party politics and actual, on-the-ground politics here. What I mean by that is, obviously a lot of this has come from Sean Patrick Maloney announcing he is going to continue to run in what is now Mondaire Jones' district. Given his status in the larger Democratic Party, it's clear that this is a shift that was done, whether officially or unofficially, by larger party politics. As much as I understand that plan, I do think that Mondaire Jones has been quite a great legislator. He definitely has a lot of money, but he's also not even from New York City. 
There are still more players to come out here, but I do think that you're going to see how strong party politics is compared to community politics in this race.
Frank Seddio, former Brooklyn Democratic Party chair and former Assembly Member
Anyone can run. I hear Mickey Mouse is coming up from Orlando to run in District 10.
To be honest with you, I'm giving some consideration to running myself.
Mondaire Jones, the interloper. Have the balls to run where your home is. I think what happened is, he decided, because 'I'm God's gift to Congress, I should be able to run any place I want.' We have enough candidates in Brooklyn. We have the whole world in Brooklyn. We don't need him. Stay where you are. Even the guys at the Alamo knew they were going to lose, but they stayed.
Democrats eat their own. That's what we're doing here. The only good thing here is it will be a Democrat, whichever one survives this whole mess. 
Eric Soufer, Tusk Strategies Crypto + FinTech group leader and former adviser to New York Attorney Generals, Assembly Speaker and state Senate Majority leader
It's pretty much a toss-up right now. I'm not someone who's going to totally discount Bill de Blasio. I don't think he's as popular as he wants people to think he is with the voters that he's been representing since he was in the City Council. I think a lot of those voters are some of the people who are most sick of him, according to polls. At the same time, you can't beat someone with no one, and it's not that there's nobody running against him, but there are people who haven't spent much time in the Brooklyn part of the district at all. 
Mondaire Jones has a great personal story, and he's got a record to pull from as an incumbent member of Congress, albeit from a different district. But he's likely to be seen as what the facts tell you, which is that he is a suburban member of Congress going into a very civically engaged, city-proud district that he will now have to move into in order to represent long term. I think Mondaire could build a positive profile very fast, he's just got to get to doing it. And he's going to have to become highly adept in the New York City media market, which is something that's really hard to learn really fast. He's fortunate he's going against Bill de Blasio, who was probably the most disliked person in New York City political press.
A fair share of Yuh-Line's Assembly district is in District 10. So that gives her an immediate base of support. The challenge there is, can she really go beyond her base? And has she alienated parts of her base over time because she represents a district that can be rather conservative on some major issues like crime? Yuh-Line has staked out much more progressive positions on those hot button issues, like bail reform and crime reduction. I think she could be a fit for hardcore progressives and brownstone Brooklyn. But as we saw with the mayor's race, a lot of these same voters didn't choose the most quote unquote, progressive or leftist candidate. They chose Kathryn Garcia. There was definitely Maya Wiley support as well, so that is reason for optimism for Yuh-Line. 
Joe Viteritti, Thomas Hunter professor of Public Policy at Hunter College, and author of "The Pragmatist: Bill de Blasio's Quest to Save the Soul of New York"
With no incumbent, theoretically, the race is wide open. However, with no incumbent, it really turns on name recognition. And de Blasio delivers that. He's not really just a Brooklyn candidate. He was mayor. People in Manhattan voted for him. I think Bill de Blasio kind of has a natural advantage here as a more progressive type who could appeal to Lower Manhattan in that whole corridor of brownstone Brooklyn.