Heard Around Town
Punishment? Council members didn't get credit for additional discretionary funds in NYC budget
Seven members had their names pulled from a $41.6 million pot Speaker Adrienne Adams has for pet projects.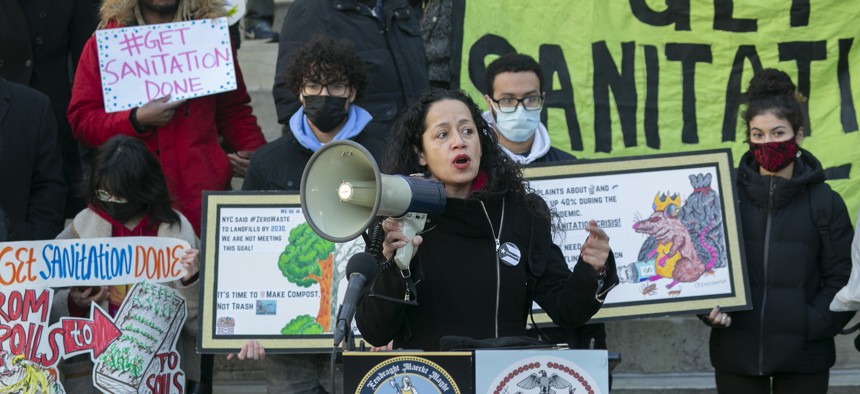 Correction: After we initially published this story, the speaker's office provided more information on use of funds in the "Speaker's Initiative to Address Citywide Needs." We initially reported that certain council members were excluded from receiving funding for projects they championed. That was incorrect. While those members' names were not included in the budget document, projects they supported did receive funding for community programs and initiatives. This story has been corrected accordingly. Read more about the process and our reporting in a follow-up story here.
What's a New York City budget process without a little last-minute drama?
Mayor Eric Adams and City Council Speaker Adrienne Adams shook hands on June 10 to seal a budget deal that reflected just how 100% completely on the same page the administration and City Council are, and the council is set to vote to officially adopt that rosy budget tonight. 
But it won't be a unanimous vote in favor, and some of the members who are likely to vote against the budget or who have expressed criticism of it, found an unwelcome surprise in a budget document released on June 13. A budget document outlining the council's discretionary spending shows that the six council members who voted against the budget were not credited for projects they supported and had funded in something called the "Speaker's Initiative to Address Citywide Needs," a broadly named pot of $41.6 million in discretionary funds that Adrienne Adams can dole out to pet projects supported by different members or caucuses in the council, like $50,000 for an adult literacy program or $100,000 for a food pantry. This pot of funding is on top of the more than $400,000 in discretionary funds that every member gets to allocate to local programs or nonprofits as they please – including those on the outs with the speaker.
The six members who voted against the budget – Tiffany Cabán, Sandy Nurse, Alexa Avilés, Chi Ossé, Charles Barron and Kristin Richardson Jordan – were not credited and received on average less for organizations they supported than the members who voted yes. 
Council Member Kalman Yeger, who voted yes on the budget, was the only other member who did not get his name attached to any projects receiving funding in the speaker's initiative. However, Yeger chooses not to submit requests like the other members do, and has never been included in the initiative in his five years on the council.
Adams denied that there was retaliation against members who voted against the budget. "The discretionary funding is not about any single council member," she said Monday night. "Every New Yorker benefits from this budget. Every New Yorker." 
These members are a part of caucuses or delegations – like the LGBTQ Caucus or Queens delegation – that sponsored programs that received funding, however.