Campaigns & Elections
Real estate campaign cash causes clash in west side Assembly race
Two candidates running for the 75th Assembly District are calling on fellow candidate Layla Law-Gisiko to return contributions from a billionaire mogul.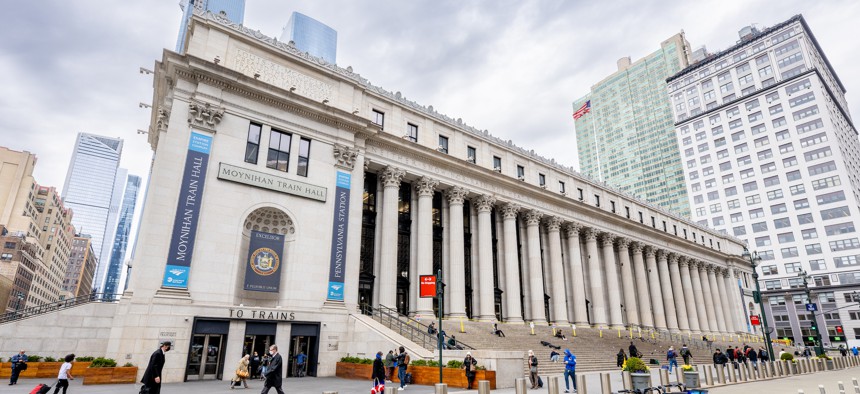 In the race to replace retiring Assembly Member Richard Gottfried on Manhattan's west side, two candidates are banding together to demand a third return campaign contributions from a wealthy real estate mogul. At the heart of the issue: the Penn Station redesign plan. 
Harrison Marks and Tony Simone, both candidates in the upcoming Democratic primary, are calling on Layla Law-Gisiko to return money she has received from Arnold Gumowitz and entities tied to him. The City recently reported that Gumowitz, his son, businesses tied to him and a super PAC to which he is the only donor are the main sources of funding for Law-Gisiko. Marks and Simone, who have both refused real estate support in their campaigns, are now calling on Law-Gisiko to "disavow" Gumowitz and his donations.
"People should not be able to buy elections in their own self interest," Marks and Simone said in a joint statement. "Voters in the 75th District would want to know that there is a billionaire backer
of Donald Trump trying to buy their Assembly seat." Gumowitz has donated to a variety of both Democratic and Republican candidates, including Trump. This election cycle, he has given significantly to both Gov. Kathy Hochul and Rep. Tom Suozzi, who are running in the Democratic primary for governor in June. 
Marks and Simone further accused Law-Gisiko of breaking her pledge not to accept real estate money, calling into question the voters' ability to trust her. "Even though we're running against one another, we're coming together to stand up and call for transparency and accountability," they said.
However, Law-Gisiko has said that she would not accept money from real estate developers, not necessarily from the industry more broadly. Gumowitz is technically not a developer; he simply buys, sells and manages a lot of buildings. In particular, he has resisted selling a key piece of real estate essential for the governor's Penn Station redevelopment plan. And he's one of the staunchest opponents fighting against the plan with an ally in Law-Gisiko. 
Law-Gisiko has made her opposition to the plan to redevelop the area around Penn Station the key tenet of her campaign. That also happens to be the top political issue for Gumowitz at the moment. But Law-Gisiko is hardly the only person in the race demanding the state rethink its plans for Penn Station and its surrounding neighborhoods. Simone, who has Gottfried's endorsement, has not been shy about sharing his opinion that the state must rethink its plan, even after Gov. Kathy Hochul made some changes to what former Gov. Andrew Cuomo originally proposed. "New York must deliver a better, bold vision for Penn Station, because the current plan can't yet leave the station," Simone wrote in an op-ed in Gotham Gazette last month. He and Law-Gisiko even attended the same rally in front of Penn Station on Thursday demanding new ideas to improve the transit hub that did not rely on reshaping the neighborhood. Marks has also expressed his opposition. But Gumowitz has not given a cent to either.
"This type of smear from my opponents shows their desperation," Law-Gisiko said in a statement to City & State. "I've built a broad coalition of stakeholders to oppose the corrupt ex-governor Cuomo and greedy developers and their mega-development plans for Penn Station. Anyone contributing to my campaign is standing with me in that fight."
Editor's note: This post has been updated with a comment from Law-Gisiko.
Powered By
NEXT STORY: Mayor Eric Adams and City Council strike $101 billion budget deal