Left-wing movement expands its grip on NYC with state Democratic primary victory going to Kristen Gonzalez
Hers is one of several wins assuring progressives' continued power and influence in Albany and delivers a fresh blow to establishment Democrats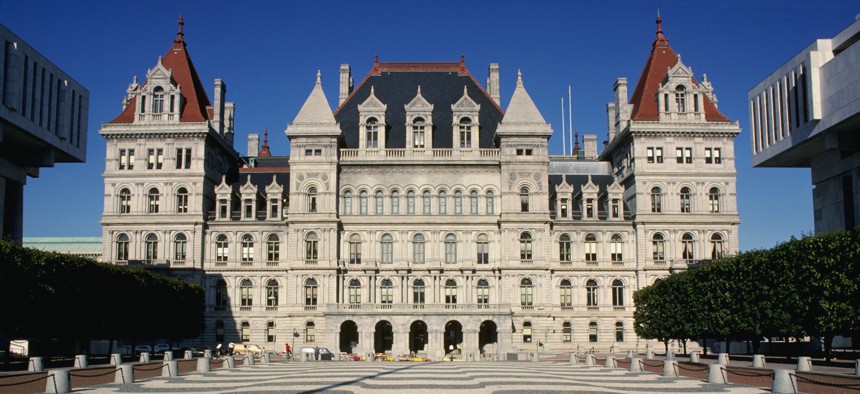 Astoria has gone red, just not in the way you might be thinking. 
The western Queens neighborhood gained its latest democratic socialist representative with the victory of Kristen Gonzalez in the newly drawn District 59, which includes waterfront neighborhoods in that borough, Brooklyn and Manhattan. That means a large part of Astoria, which has been at the heart of the left-wing movement in New York City, will have democratic socialists representing in it the City Council, Assembly, state Senate and Congress after Gonzalez presumably wins a non-competitive November election. Hers is just one of several progressive victories in the Democratic state Senate primaries, an assurance of the left wing's continued power and influence within state government even with the loss of two of its leading voices.
Gonzalez attributes her success to the strength of the Democratic Socialists of America and the movement it has built up in recent years and months in New York City. "Our success actually is a result of the success of our Assembly campaigns," Gonzalez told City & State, referring to a slate of candidates endorsed by the DSA in the June primaries for the lower chamber, most of whom lost their races. She pointed specifically to the campaign of Illapa Sairitupac, who ran to replace Assembly Member Yuh-Line Niou in lower Manhattan. "Our Manhattan operation was fueled by Illapa's volunteers …  that were cultivated on his campaign," Gonzalez said. "So for us it's bigger than a single campaign and a single seat."
The DSA movement has certainly gained significant momentum since state Sen. Julia Salazar became the first DSA candidate to win a primary back in 2018. Gonzalez will now be the third democratic socialist in the state Senate along with Salazar and state Sen. Jabari Brisport, and join the ranks of fellow Astoria rep Assembly Member Zohran Mamdani as part of the larger class of socialists currently in the Legislature as a whole. "They're the people who I've always admired, they're the people who inspired me to run," Gonzalez said. 
Gonzalez's victory also represents a fresh blow to establishment Democrats by easily besting former New York City Council Member Elizabeth Crowley. A member of a once powerful Queens political dynasty, Crowley spent over half a million dollars, an enormous sum for a primary and far more than Gonzalez spent. She also benefited from a real estate-backed super PAC that ran attack ads against Gonzalez. New York City Mayor Eric Adams also offered his endorsement to Crowley, who ultimately became one of many unsuccessful moderates the mayor backed.
Aiding in Gonzalez's successful campaign was state Sen. Michael Gianaris, the No. 2 in the state Senate and head of his conference's campaign operations. He also currently represents Astoria and a chunk of Gonzalez's new district. "I had a personal stake in making sure that those communities continue to be represented well," Gianaris told City & State. But this is hardly the first contentious primary he's had a hand in, having helped to orchestrate the ousting of several former Independent Democratic Conference members in 2018. "For me, it's nothing magical," Gianaris said. "I just support people that work for their communities and have the support of their communities." He said the success of candidates he has backed speaks to the levels of political education of voters at the grassroots level in recent years that may not have existed before. 
State Sen. Gustavo Rivera is another progressive candidate Gianaris worked to help win his election, this time to keep a seat in the chamber rather than win a new one. Rivera faced a tough challenge from Bronx Democrats-backed Miguelina Camilo, a moderate. Rivera was one of several left-wing lawmakers who faced insurgents this year, and was the closest to losing his seat. Like with Gonzalez, outside spending played a large role in Rivera's race as super PACs backed by charter school and real estate interests spent big against him. "All these folks, a million dollars, and they couldn't get us," Rivera said in an election night victory speech to supporters. He, like Gonzalez, attributed his success to grassroots efforts to reach out to community members with his message. 
But the victories were not limited to downstate. In what has become a solidly blue district in the Southern Tier, Working Families Party-backed Lea Webb also won the open race against her more moderate opponent. She now goes on to face Republican Richard David in November to decide who will replace Broome County Sheriff and former state Sen. Fred Akshar. The redrawn district voted overwhelmingly for Joe Biden in 2020, whereas the old district was much more Republican. It means there's a good chance that Webb will become the latest upstate progressive to join the state Legislature, part of a growing trend. 
The Legislature will lose two of its strongest progressive voices in Assembly Member Yuh-Line Niou and state Sen. Alessandra Biaggi, who both lost their respective congressional bids and gave up their seats for those runs. With Rivera's race as close as it was, and challenges to other left-wing lawmakers, the state Senate could have experienced a significant power shift this year. But progressives once again proved that despite midterm election concerns and crime at the top of many voters' minds, their movement remains strong and their influence in state government is not going anywhere.