New York State
Rep. Lee Zeldin faces complaint over allegedly fraudulent signatures
State Sen. Zellnor Myrie asked the Albany County district attorney to investigate more than 11,000 signatures in question.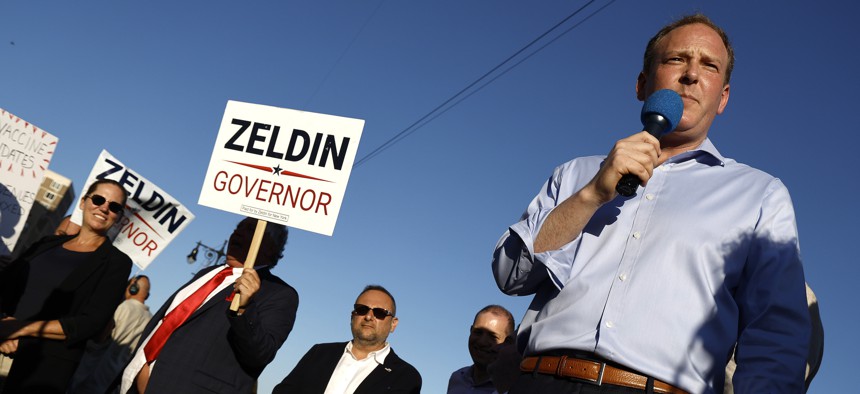 Rep. Lee Zeldin has spoken extensively about his concerns regarding voter fraud and election integrity when he questioned the results of the 2020 presidential election. But now, he may find himself at the heart of an election fraud case after a Democratic state senator filed a complaint about thousands of allegedly photocopied petition signatures submitted on behalf of Zeldin's campaign for governor.
State Sen. Zellnor Myrie filed a complaint with the Albany County District Attorney David Soares, asking that he investigate allegations that Zeldin's campaign submitted over 11,000 photocopied petition signatures in order to appear on the Independence Party line in November. Last month, the state Board of Elections tossed out about 13,000 invalid signatures, more than enough to lose Zeldin – and the rest of the GOP statewide slate included in the petition – the extra ballot line. Although the Libertarian Party, which challenged many of the signatures, claimed that 11,000 of them were fraudulently photocopied, election officials don't assess potential criminality as part of their review.
That's why Myrie, who chairs the state Senate Elections Committee and has sponsored numerous election reforms, has implored Soares to open a criminal investigation. "In my role as Chair of the Senate Elections Committee, I have not hesitated to defend our system of elections from spurious allegations of fraud," Myrie said in the complaint shared exclusively with City & State. "However, when actual election fraud appears to have occurred, as it does in this case, it is essential for the public trust that potential violations
are investigated fully and swifty."
Myrie specifically mentioned Eric Amidon, Zeldin's campaign manager and longtime chief of staff, in addition to the candidate himself, and suggested that petition gatherers acted at their behest. He claimed that campaign agents "presumably under the watchful eye and at the direction of … Eric Amidon, and potentially the candidates named in the Petition," began putting together petition sheets with photocopies mixed in. Myrie asserted his belief that those involved with filing the petitions were "clearly aware of or involved in that fabrication."
The allegations and the new complaint came after Zeldin made waves for perpetuating unfounded claims of election fraud in the 2020 presidential election, and he decided to vote against certifying those results on Jan. 6, 2021. "When people, especially elected leaders, make false claims about our elections and claim fraud without evidence, we need to forcefully call that out," Myrie said in a statement to City & State, referring to Donald Trump's lie that he won the 2020 presidential election. "If those same leaders turn around and violate election law themselves, WITH evidence, we need to call that out too."
Petition fraud can result in a litany of charges, including felonies, several of which Myrie laid out in his complaint. He suggested that the alleged misconduct could constitute forgery in the second degree or tampering with public records in the first degree, both Class D felonies. Myrie also listed other misdemeanors that may be applicable depending on the outcome of an investigation, including misconduct in relation to petitions.
In a previous statement, a spokesperson for the Zeldin campaign denied knowledge of or involvement with any allegedly photocopied signatures.