Politics
Sean Patrick Maloney has $2.4 million on hand as super PAC funding starts flowing into 17th Congressional District race
Alessandra Biaggi, who is challenging Maloney's reelection, has been the target and beneficiary of independent spending in the race.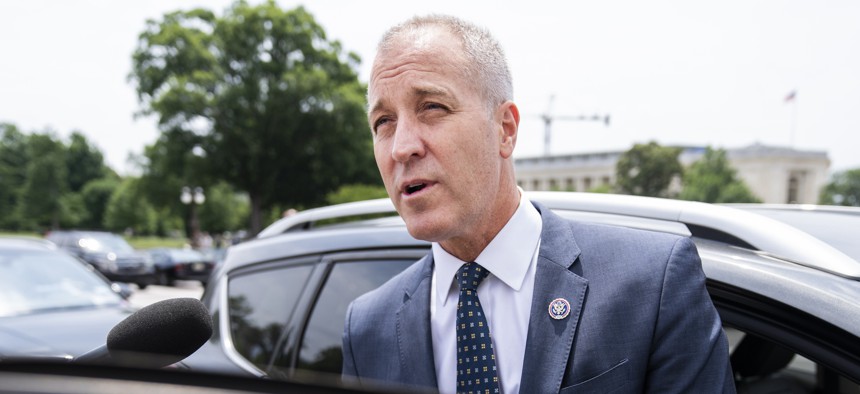 Rep. Sean Patrick Maloney continues to bring in big money in his reelection bid for Congress against state Sen. Alessandra Biaggi, raising just over $428,000 in the past month. Maloney's total was shared exclusively with City & State ahead of the Thursday filing deadline for fundraising between July 1 and Aug. 3. Maloney's campaign said it had just over $2.4 million on hand heading into the Aug. 23 primary day. Biaggi's campaign declined to preview her fundraising totals, but the progressive challenger has lagged behind the incumbent, who has national influence as chair of the Democratic Congressional Campaign Committee. Biaggi had raised $698,000 and had reported $281,000 on hand as of June 30.
Super PAC money is also starting to flow into the 17th Congressional District primary in the Lower Hudson Valley, with nearly $300,000 of spending reported so far. Maloney has gotten a boost from super PACs, with just over $171,000 spent independently on his behalf so far from the New York City Police Benevolent Association, the National Realtors Association and Our Hudson PAC. It isn't clear who is behind the last group, which is newly created, and hasn't disclosed its donors, but it has sent mailers attacking Biaggi for her tweets that were critical of police. Biaggi supporters have fought back – a super PAC for the Working Families Party just reported spending $100,000 on digital ads supporting her. 
In a statement, Maloney told City & State he was proud of the "overwhelming support" for his reelection. "Whether in donations, outreach, or endorsements, the momentum is on our side thanks to the strong local voices and support behind our campaign." 
Biaggi campaign manager Ana Hall pushed back, calling their opponent "Wall Street's favorite politician, because he delivers for his corporate donors in Washington," and adding that, unlike Maloney, Biaggi has doesn't take money from corporate political action committees "because she's in this to deliver for working people." The campaign cited Maloney's 2018 vote joining the then-Republican majority to roll back Dodd-Frank financial regulations, among others. 
Maloney campaign spokesperson Mia Ehrenberg responded, writing "Rep. Maloney has always stood up to special interests to get things for the Hudson Valley, from banning oil barge anchorages on the Hudson to fighting to negotiate and lower prescription drug prices." Ehrenberg also pointed to Maloney's endorsement from End Citizens United, an advocacy group for campaign finance reform.
The winner of the Democratic primary may face a serious Republican challenge in the district in November. Assembly Member Mike Lawler is the favorite to win the five way Republican primary. He reported $436,000 on hand, after raising $161,000 in the last month.