Heard Around Town
Who's running an ad blaming Jerry Nadler for rising crime? Nobody will own up to it.
It's not the only mysterious outside spending in the 12th Congressional District primary.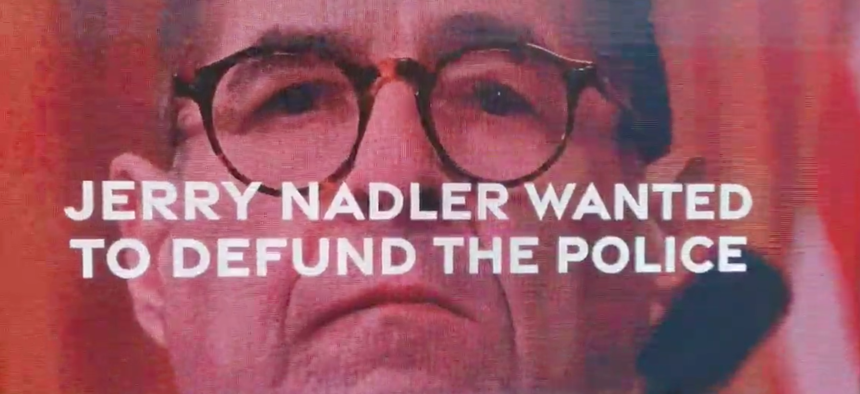 Somebody is running a fearmongering video blaming Rep. Jerry Nadler for rising crime rates – but nobody wants to own up to making it.
A source spotted a video truck running the ad yesterday on the Upper West Side. At the end it says "paid for by Committee for Sensible Government Inc." That super PAC's president, Michael Nussbaum – a longtime city fixture and publisher of the Queens Daily Eagle – disavowed it. "I have no fucking idea how it got on there. I didn't request it. No (independent expenditure) money was ever spent for an IE production."
The committee, which is primarily funded by cosmetics heir Ron Lauder, previously spent against Democratic Socialists of America-aligned City Council candidates in 2021, but while Nadler is progressive, he's hardly DSA. A nonprofit associated with the Real Estate Board of New York also donated back in January, but a spokesperson said they had nothing to do with the anti-Nadler ad.
Right after the video ad played on the truck, a digital ad appeared supporting Nadler's chief rival in the 12th Congressional District primary, Rep. Carolyn Maloney. On it, there was a clear "Paid for by Carolyn Maloney for Congress." But it can't be illegal coordination with a super PAC if nobody claims responsibility. "We knew nothing about it," said Maloney spokesperson Bob Liff, denying that the campaign shared the ad with the truck, or even had knowledge of what was going on.
Maloney's campaign hasn't been shy about tying Nadler, who has the endorsement of the progressive Working Families Party, to crime, however. A digital ad from the campaign that did not play on the truck reads "Jerry Nadler's pals are making NYC less safe" over the image of bullet holes in glass – an apparent attempt to tie the member of Congress to the city's increased rate of overall crime. City statistics show shootings are slightly down so far from the previous year, but the number of reported shootings is still notably higher than previous years in this decade.
No matter who paid for the crime ad, one consultant unaffiliated with any of the candidates in the race questioned the strategy of placing the truck on the Upper West Side, where Nadler has the most supporters. "Sign truck against Nadler in his backyard? That's a (get-out-the-vote) wake-up call to remind Nadler's people to vote," they said in a text message. "Nadler can thank them Tuesday night."
Still, the anti-Nadler ad isn't the only mysterious outside spending in the primary. A newly created super PAC called the Democracy Protection PAC has reported spending $260,000 on TV and digital ads that criticize Maloney for siding with anti-vaccine activists more than a decade ago. That PAC has not disclosed any donors.
Other outside spenders in the race included the Indian American Impact Fund, which has reported spending more than $172,000 supporting attorney Suraj Patel, another candidate in the primary. The J Street Action Fund, which supports candidates with more liberal views on Israel, has also spent $70,000 backing Nadler.
The candidate's own campaigns have been spending far more than super PACs, however. Maloney reported spending nearly $3 million through Aug. 3, while Nadler and Patel each spent more than $1 million before that deadline. A fourth Democrat on the ballot, Ashmi Sheth, has spent nearly $250,000, though much of that was before redistricting pitted the two 30-year incumbents against each other.